Hands-on, Practical Guidance for Educators
From math, literacy, equity, multilingual learners, and SEL, to assessment, school counseling, and education leadership, our books are research-based and authored by experts on topics most relevant to what educators are facing today.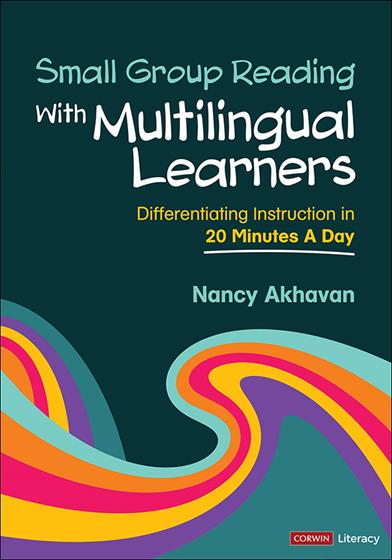 Small Group Reading With Multilingual Learners
Differentiating Instruction in 20 Minutes a Day
Ready to gain traction in teaching reading to multilingual students? High-support lessons address oral language, phonics, spelling, vocabulary, comprehension, and more. Build on linguistic assets!
Product Details
Grade Level: PreK-12
ISBN:

9781071904145

Published By: Corwin
Series: Corwin Literacy
Year:

2023



Page Count: 248

Publication date:

May 08, 2023
Price: $39.95
Description
Watch multilingual students excel with high-engagement reading lessons
Students acquiring English tend to bust every stereotype. The truth is, these learners come to school with linguistic assets, not deficits. They will excel with lively, just-right challenge lessons, and they thrive with opportunities to collaborate with peers. In this authoritative resource, bestselling author Nancy Akhavan shows teachers how to support students at the small-group table in acquiring English as well as developing as readers—simultaneously. Ready-to-go tools include:
Essential background on the five stages of language acquisition
How-tos for differentiating instruction based on students' levels of language proficiency as well as their reading proficiency
Lesson sequences integrating oral language, phonics, spelling, vocabulary, word work, comprehension, and writing about reading
Routines that augment talk about texts so multilingual learners can verbalize their knowledge and articulate thinking
A companion website and multimodal scaffolds to support students across reading, writing, speaking, and listening
When we gather at the reading table, we have just twenty minutes—we need to make it count. Now we can.
Table of Contents
Introduction: An Abundance Mindset for Language Learning
PART ONE: SUPPORTING MULTILINGUAL LEARNERS
---
Chapter 1: How Students Learn Languages
Chapter 2: Apprenticeship Experiences in Small Groups
Chapter 3: A Menu of Options for Powerful Routines
Chapter 4: Lesson Sequences
PART TWO: TEACHING IDEAS
---
Chapter 5: Oral Language Development
Chapter 6: Phonics & Spelling
Chapter 7: Vocabulary
Chapter 8: Word Work
Chapter 9: Comprehension
Chapter 10: Writing to Build Reading
Appendix
---
Reviews
This is a carousel with review cards. Use the previous and next buttons to navigate.
"Nancy Akhavan has provided a much-needed, comprehensive approach to small-group literacy and language development for multilingual learners. She skillfully weaves research, theory, and application throughout the text while educating the reader about the unique needs of multilingual learners. This book values the assets multilingual students bring to the classroom and acknowledges the relationship between language and literacy development. Small Group Reading With Multilingual Learners provides an excellent resource to teachers, instructional coaches, and teacher educators seeking to enhance their understanding of small group literacy instruction for multilingual learners."
Norma Carvajal Camacho
Assistant Superintendent of Educational Services, Azusa Unified School District
"While there are many books on how to teach literacy to multilingual learners, few are as detailed and approachable as Nancy Akhavan's framework. As I read this book, I felt like I was being mentored by a highly skilled educator who patiently models how to turn principles of reading into practical actions for teachers of multilingual learners. I predict that this will be an invaluable resource for many who want to provide responsive, assets-based approaches to teaching MLs to read."
Tan Huynh
English language development specialist, author, podcaster, blogger
"Nancy Akhavan began working with our district in 2020. She worked with . . . two pilot schools that were both willing and open to examining and changing their practices that would reduce the number of students qualifying for special education as well as realigning practices to concentrate on good first instruction. We have benefited from Nancy Akhavan's expertise and look forward to reducing overidentification of students as having a disability. Small Group Reading With Multilingual Learners can help districts, schools, and teachers to start this important work, too."
Rebecca McHaney
Director of Special Services, Madera Unified School District
"In Small Group Reading With Multilingual Learners, Nancy Akhavan provides practical strategies for teaching foundational reading skills to multilingual learners at different stages of language development during small group reading instruction in just 20 minutes a day! An extensive menu of easy-to-implement strategies for each foundational reading skill makes this book especially practical for all elementary educators."
Beth Skelton
Multilingual consultant
"Nancy Akhavan provides a fresh look at supporting multilingual learners. She provides educators with research-based, easy-to-understand educational practices. She provides implementation guides that help leaders of schools and classroom teachers systemize instruction. I've seen firsthand the shifts that can be made in classrooms when using Nancy Akhavan's recommendations and guidance. I highly recommend her book for any educator who wants to improve their practice."
Janet Samuelian
Curriculum Administrator, Clovis Unified School District