Hands-on, Practical Guidance for Educators
From math, literacy, equity, multilingual learners, and SEL, to assessment, school counseling, and education leadership, our books are research-based and authored by experts on topics most relevant to what educators are facing today.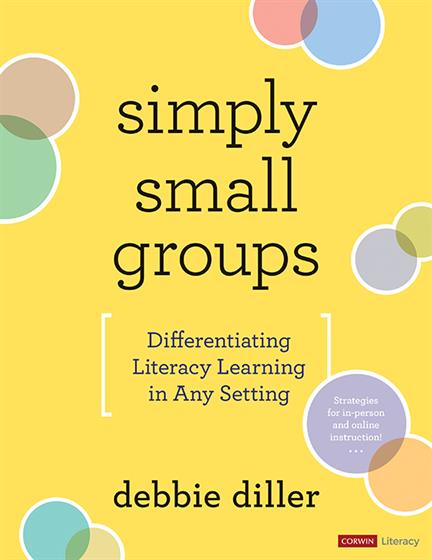 Look Inside
Simply Small Groups
Differentiating Literacy Learning in Any Setting
This timely handbook offers concrete guidance for tailoring the small-group experience to literacy instruction in order to give every reader a pathway to success.
Product Details
Grade Level: PreK-12
ISBN:

9781071847060

Published By: Corwin
Series: Corwin Literacy
Year:

2021



Page Count: 288

Publication date:

August 26, 2021
Price: $32.95
Description
Small groups accelerate student reading growth
Elementary students need personal attention from a teacher and a connection with their peers to progress as readers. Small groups offer both! When you work with just a few kids at a time on skills specific to their assets and goals, you provide a safe, trusting environment that encourages students to challenge themselves.
Organized by developmental reading stages—emergent readers, early readers, transitional readers, and fluent readers—this timely handbook shows how to engage students where they are, regardless of grade level, and help them progress to the next stage.  You'll learn how to assess student skills and needs, flexibly organize groups, plan and teach lessons, select appropriate texts, and differentiate instruction to give every reader a pathway to success. Features include:
· Phonics and phonological awareness, reading fluency, vocabulary, and reading comprehension strategies and tools   for each reading stage
· At-a-glance charts for assessing current skill level and identifying next instructional steps
· 70 downloadable teacher and student resources for planning and instructional use
· Dozens of easy adaptations for use in online learning
· Over 100 full-color photographs so you can see small groups in action
· Reflection prompts and guiding questions for personal and PLC use
Whatever your instructional setting, you and your students need the relationships that are best forged in small groups. With this book, you'll be able to differentiate instruction in a way that's manageable and sustainable – and build those relationships that help young readers achieve success.
Key features
· Tips for setting up a small group area and a list of essential materials to include
· Dozens of lesson plans differentiated by skills specific to each reading stage— emergent readers, early readers, transitional readers, and fluent readers
· Tools to help with formative assessment and in-the-moment instructional decision making
· Text selection guidelines for each reading stage
· If You See This, Try This . . . charts for each reading stage
· Over 100 full-color classroom photographs
· Teaching tips specific to of English Language Learners throughout
· Overview of reading level systems, including Lexile Levels, Developmental Reading Assessment (DRA), Fountas & Pinnell (F&P), and Reading A-Z
· Online teacher resources—assessment and planning charts, schedules, checklists, lesson plans, teacher and PLC reflection tools, and more.
· Online student resources—focus boards, high-frequency words, printable take-homes, blending lines, multiple meaning cards, book club questions, and more.
Table of Contents
Letter from Debbie
---
Section 1. Small Group Basics
---
Section 2. Teaching Emergent Readers
---
Section 3. Teaching Early Readers
---
Section 4. Teaching Transitional Readers
---
Section 5. Teaching Fluet Readers
---
Section 6. Reflection and Printable Tools
---