Hands-on, Practical Guidance for Educators
From math, literacy, equity, multilingual learners, and SEL, to assessment, school counseling, and education leadership, our books are research-based and authored by experts on topics most relevant to what educators are facing today.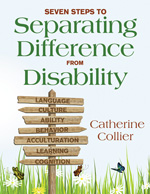 Look Inside
Bestseller!
Seven Steps to Separating Difference From Disability
Based on the RTI model, this comprehensive book provides seven steps to determining appropriate instruction, intervention, and services for culturally and linguistically diverse students.
Product Details
Grade Level: PreK-12, Elementary, Secondary
ISBN:

9781412971607

Published By: Corwin
Year:

2010



Page Count: 176

Publication date:

October 22, 2010
Price: $39.95
Description
"This is a complete book for practitioners, helping me determine at what stage in the process my child study team is and where we should go next."
—Margarete Couture, Principal, Seneca Central School District, Interlaken, NY
"This book contributes significantly to the body of literature on RTI. No professional library will be complete without this book for addressing the multicultural perspective."
—Karen Kozy-Landress, Speech/Language Pathologist, MILA Elementary School, Merritt Island, FL
Ensure appropriate placement and services for your school's diverse students!
When a culturally and linguistically diverse (CLD) student struggles in school, how can you tell whether language or cultural differences are the cause, or if the student has a learning or behavioral disability? Because the reason can be difficult to pinpoint, having the right assessment process in place is crucial. Seven Steps to Separating Difference From Disability shows how educators can adapt the widely used Response to Intervention (RTI) model to make sound decisions regarding a student's education.
Catherine Collier presents a framework that breaks down the process into seven clear steps for determining each student's unique strengths and needs, helping educators make appropriate decisions regarding resources, referrals, and integrated services. Principals, school administrators, and RTI team members will find:
Instruction, intervention, and assessment techniques specific to the challenges faced by limited-English-proficient (LEP) students and English language learners (ELLs)
A step-by-step process that works within an RTI framework, supporting collaboration among teachers, specialists, and administrators
Realistic, research-based guidance on key considerations such as cognitive learning style, language acquisition, acculturation, and the role of family and community
A running case study that demonstrates the book's strategies in action
Develop your team's ability to distinguish between learning differences and disabilities so you can better serve all students!
Key features
This book contains:

A 7-step process for separating difference from disability within an RTI framework
Resource materials for implementing the process
Reproducible forms
Recommended reading materials
Case studies
Self-study assessment worksheet
Glossary
Table of Contents
Acknowledgments
---
Introduction
---
1. Building and Sustaining a Foundation for Learning
Our Diverse Students
Enculturation and the CLD Student
Enculturation
José Case Study
2. Establishing and Supporting Resiliency
Cognition and Language
A Brief Review of Language Acquisition Issues
Cognitive Learning Style
José Case Study
3. Instructional Intervention and Differentiated Instruction
Culture and Language
Cognitive Learning Style
Experience
Sociolinguistic Development
Acculturation
José Case Study
4. Intensive Intervention and Progress Monitoring
Asking the Right Questions
How to Use the Information
José Case Study
5. Resolution or Referral
Testing
Adaptation of Assessments
José Case Study
6. Integrated Services
Bias in Service Plans
Emotional and Behavioral Disorders
Intellectual Exceptionalities
Learning Disabilities
Integrating Special Needs and CLD Needs
José Case Study
7. Maintaining and Sustaining CLDE Programs
Service Options
Teacher Preparation
Specific Skills and Competencies for Teachers
José Case Study
Conclusion
---
Glossary
---
References
---
Index
---
Reviews
This is a carousel with review cards. Use the previous and next buttons to navigate.
"The book is particularly useful to educators because it offers in-depth information about the influence of language and cultural differences. This helpful resource also outlines school-aged children's and adolescents' response to acculturation based on educators' perceptions and expectations of these individuals' school success."
Joyce Williams Bergin, Professor and Assistant Dean, College of Education
Armstrong Atlantic State University, Savannah, GA
"This book is timely and an important resource for all schools with diverse populations to have in their professional libraries and in their Child Study Team rooms. This book would also be a complete text to use in an ESOL certification class devoted to planning interventions for students of concern."
Karen Kozy-Landress, Speech/Language Pathologist
MILA Elementary School, Brevard County Schools, Merritt Island, FL
"This is a complete guide for practitioners. I would be able to pick up the book and determine my child's stage in the study team process and where we should go next. Each step in the book stands alone as a reference."
Margarete Couture, Principal
South Seneca Central School District, Interlaken, NY
"This book offers a detailed, easy-to-follow approach to determining the needs of students who are having difficulty learning, including assessments and interventions. I am putting the knowledge I obtained to good use, and will continue to use it as a reference." 
Kay Kuenzl-Stenerson, Literacy Coach
Oshkosh Area Schools, Merrill Middle School, WI