Hands-on, Practical Guidance for Educators
From math, literacy, equity, multilingual learners, and SEL, to assessment, school counseling, and education leadership, our books are research-based and authored by experts on topics most relevant to what educators are facing today.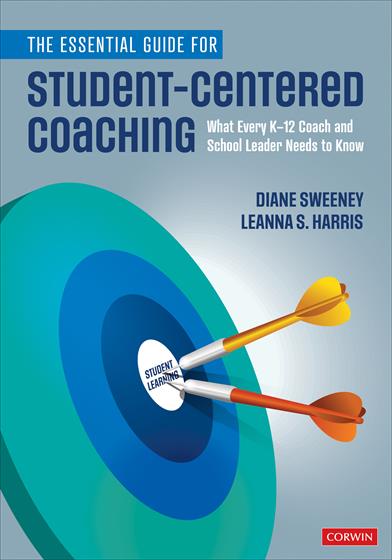 Bestseller!
The Essential Guide for Student-Centered Coaching
What Every K-12 Coach and School Leader Needs to Know
Grounded in the latest research and practical experience, this book is the essential guide for practicing Student-Centered Coaching across grade levels and content areas.
Product Details
Grade Level: PreK-12
ISBN:

9781544375359

Published By: Corwin
Year:

2020



Page Count: 192

Publication date:

April 30, 2020
Price: $39.95
Description
Insights, ideas, and inspiration to keep student learning at the center of instructional coaching
Diane Sweeney and Leanna Harris, whose best-selling books have influenced the practice of thousands of K-12 coaches, frame how Student-Centered Coaching serves as an evidence-based model of professional learning that focuses on student outcomes. Shifting the focus from "fixing" teachers to partnering with them to reach goals for student learning takes coaching to the heart of what matters most in schools. The Essential Guide for Student-Centered Coaching includes all-new material that is grounded in the latest research and the authors' extensive experience in the field of coaching. In it, readers will find
An emphasis on how coaching can be asset-based and focused on equity
Current research in adult learning and professional development
Examples of how to integrate curriculum into coaching cycles
Anecdotes that illustrate what Student-Centered Coaching looks like across grade levels and content areas
Designed to accompany Student-Centered Coaching: The Moves (Corwin, 2017) and Leading Student-Centered Coaching (2019), The Essential Guide for Student-Centered Coaching provides the reader with a clear vision for how coaching can promote both teacher and student learning.
"In an honest and heartfelt voice, Diane and Leanna provide guidance and practical advice to help coaches navigate the complexities associated with their role. Diane and Leanna's passion to ensure that student learning stays at the center of improvement work is evident throughout this book as they paint a path of implementation for coaching that will help educators in realizing collective impact."
--Jenni Donohoo, Author and Consultant
Table of Contents
List of Figures
---
Acknowledgments
---
About the Authors
---
Introduction
Why This Book Now?
Guiding Principles and Core Practices
The Path to Implementation of Student-Centered Coaching
Chapter 1. Why Student-Centered Coaching Matters
We Don't Have Time to Waste
How Student-Centered Coaching Compares With Other Approaches to Coaching
Core Practices for Student-Centered Coaching
Creating an Ecosystem for Professional Learning and Coaching
Coaching Toward Sustainability
Connections to the Visible Learning Research
Lesson From the Field
Tools and Techniques
A Final Thought
Chapter 2. Coaching Cycles: An Essential Practice
What Is a Coaching Cycle?
Making Time for Coaching Cycles
What About Curriculum, Programs, and Classroom Management?
What About Coaching Cycles With Groups?
Lesson From the Field
Tools and Techniques
A Final Thought
Chapter 3. Understanding Our Impact
Collect Anecdotal Evidence Through Exit Interviews
Other Ways to Use the Results-Based Coaching Tool
Monitoring Focus on a Unified Goal
Lesson From the Field
Tools and Techniques
A Final Thought
Chapter 4. Student-Centered Coaching Conversations
What Does Student-Centered Coaching Sound Like?
Crafting Conversations That Are Learning Focused
Providing Strengths-Based Feedback
Strengths-Based Feedback Within Coaching Cycles
Questioning and Listening
Lesson From the Field
Tools and Techniques
A Final Thought
Chapter 5. Building a Culture Where Student-Centered Coaching Thrives
Fostering a Culture of Learning
Embrace the Mess of Learning, With Every Member of the Community Taking the Stance of Learner
Use Student Evidence and Data to Drive Decision-Making
Reflect On and Adjust Practice Based on the Needs of Students
Use Shared Decision-Making so Teachers' Voices, Experiences, and Perspectives Are Taken Into Account
Focus School Improvement Efforts on a Single Goal or Strategy
Lesson From the Field
Tools and Techniques
A Final Thought
Chapter 6. Systems to Make Student-Centered Coaching Happen
Marketing and Messaging
Organize the Year Into Coaching Rounds
Start Small and Gain Momentum
Consistently Monitor for Impact
Lesson From the Field
Tools and Techniques
A Final Thought
Chapter 7. Supporting and Evaluating Coaches
First Things First: Hire Effective Coaches
What to Look For When Hiring Coaches
Provide Job-Embedded Support Through Coaching Labs
A Curriculum to Support New Coaches
Tools and Processes for Evaluating Coaches
The Role of the District in Supporting Student-Centered Coaching
Lesson From the Field
Tools and Techniques
A Final Thought
Resources
---
References
---
Index
---