Hands-on, Practical Guidance for Educators
From math, literacy, equity, multilingual learners, and SEL, to assessment, school counseling, and education leadership, our books are research-based and authored by experts on topics most relevant to what educators are facing today.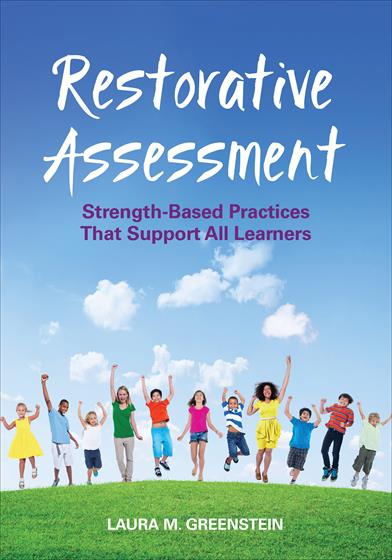 Restorative Assessment
Strength-Based Practices That Support All Learners
Learn to use restorative assessments to promote equity, reduce conflict, and encourage student success—with real-world examples, action points and reflection questions, and practical strategies.
Product Details
Grade Level: PreK-12
ISBN:

9781506390253

Published By: Corwin
Year:

2017



Page Count: 176

Publication date:

September 28, 2017
Price: $33.95
Description
Encourage achievement with assessments that promote growth—for every student!

Imagine a classroom where students can't wait to take tests. A dream? Maybe. But when you make restorative assessment part of your classroom culture, your students are more likely to feel safe, ready for challenges, and eager to showcase their knowledge whenever they have the chance.

Unlike ordinary testing, restorative assessments offer students multiple ways to demonstrate their learning—promoting equity and reducing conflict in the classroom. Since assessments happen regularly, you have more opportunities to check student progress and tailor your teaching accordingly. In this guide, you'll find:
Real-world examples of restorative assessment in practice
Cutting-edge research on personalized learning and assessment
Practical strategies for implementation
Action points and reflection questions
In today's diverse classrooms, one-size-fits-all learning is a thing of the past. Empower your teaching—and your students—by mastering restorative assessment and helping every student grow.


"
Restorative Assessment
provides excellent information and training for teachers and an in-depth understanding of students of today. The practices recommended in this book will transform schools and create challenging, healthy learning environments for all children."
Sister Camille Anne Campbell, President
Mount Carmel Academy
"Why waste time on assessment for just more data when you can have assessment that is restorative and intentionally creates more learning opportunities for all students? This book offers the structure for a purpose-driven assessment system that uses student-centered formative assessments as a means to respond to learning, re-engage students and immediately deliver specific, appropriate instruction to allow all students to succeed."
Renee Peoples, Teaching and Learning Coach
Swain West Elementary
Table of Contents
PREFACE
---
ACKNOWLEDGMENTS
---
ABOUT THE AUTHOR
---
INTRODUCTION
---
1. REVERTING ASSESSMENT TO ITS INTENDED PURPOSE
Assessment Matters
Assessment Literacy
Research-Based Best Practices in Assessment
Technically Sound Assessment
2. RESTORING BALANCE
The Importance of Balance
Types of Assessment
Seamless and Continuous Assessment
Merging Teaching, Learning, and Assessing
Multiple Measures
Assessing Through the Taxonomy
Planning for Assessment
Balanced Assessment Systems
3. REINSTATING MASTERY AND GROWTH
Cornerstones and Keystones
Supporting and Gauging Progress
Assessing Mastery
Assessment as Learning
Reporting Growth
Changing Assessment Mindsets
4. REFOCUSING ON LEARNERS
Students at the Center
Assessment-Capable Learners
Personalizing Assessment
Multiple Pathways
5. RECONSIDERING NONCOGNITIVE SKILLS
Cognitive and Noncognitive: Not an Either/Or
Skills and Dispositions for Success
Noncognitive for At-Risk Learners
Assessing Noncognitive Skills and Attributes
6. CONCLUSIONS AND NEW BEGINNINGS
Becoming Unstuck
Nurture Local Culture
Unify Policy and Practice
Partnering With Parents
REFERENCES
---
INDEX
---