Hands-on, Practical Guidance for Educators
From math, literacy, equity, multilingual learners, and SEL, to assessment, school counseling, and education leadership, our books are research-based and authored by experts on topics most relevant to what educators are facing today.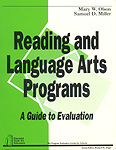 Reading and Language Arts Programs
A Guide to Evaluation
This volume will help teachers and administrators design, organize and conduct evaluations of their school's reading and language arts programmes - without needing to use complicated statistical procedures or research techniques.
Product Details
Grade Level: PreK-12
ISBN:

9780803960428

Published By: Corwin
Series: Essential Tools for Educators series
Year:

1993



Page Count: 120

Publication date:

January 27, 1993
Price: $28.95
Description
Perhaps no other educational activity draws closer scrutiny than reading; it truly is "fundamental." Because written communication is so important, it is equally important to know how well your school is living up to the expectations of parents, the public, and government -- as well as to the needs of the students themselves. This essential guide provides the specific information and working materials needed to objectively evaluate the progress and performance of any school's curriculum for reading and writing. If reading is the first rung in the education ladder, this guide to evaluation is the necessary measure of its effectiveness. This book is part of a seven-volume series for evaluating programs and services in today's K-12 schools. The "master plan" for this series is found in Evaluating School Programs: An Educator's Guide by James R. Sanders. It describes the steps involved in conducting the evaluation, including ways to focus the evaluation, identify specific evaluation questions, and collect, organize, analyze, and report the information. All volumes in the series, including this one, are designed to be mutually complementary and used in conjunction with Evaluating School Programs.
Table of Contents
Introduction
Vignette One
Evaluation of Library Resources
Vignette Two
Evaluation of Writing Programs
Vignette Three
Evaluation of Listening/Speaking Programs
Vignette Four
Evaluation of Reading Programs
Vignette Five
Evaluation of Writing Programs
Vignette Six
Evaluating an Integrated Reading and Language Arts Program
Conclusion