Hands-on, Practical Guidance for Educators
From math, literacy, equity, multilingual learners, and SEL, to assessment, school counseling, and education leadership, our books are research-based and authored by experts on topics most relevant to what educators are facing today.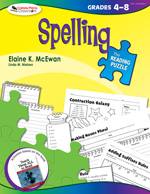 Look Inside
The Reading Puzzle: Spelling, Grades 4-8
Instill the joy of reading and give students the skills they need to succeed!

Based on Elaine K. McEwan's best-selling book Teach Them ALL to Read: Catching the Kids Who Fall Through the Cracks, The Reading Puzzle series makes it easy to use the author's research-based strategies to help students master the skills critical to reading success as recommended by the National Reading Panel. Offering grade-level activities and creative reproducibles for teaching children to read fluently, independently, and with comprehension, these ten books for Grades K–8 contain standards-based, ready-to-use activities to strengthen students' development in:

Phonemic awareness and phonics
Comprehension and fluency
Vocabulary
Spelling and word analysis
Product Details
Grade Level: PreK-12
ISBN:

9781412958264

Published By: Corwin
Year:

2008



Page Count: 96

Publication date:

February 28, 2008
Price: $18.95
Description
Give students the reading skills they need to succeed!
Can all your students read fluently, independently, and with understanding? As puzzle pieces fit together to complete a picture, reading skills are dependent upon one another to make reading meaningful for students. The Reading Puzzle series helps you organize instruction to better develop students' core reading skills—including phonemic awareness, phonics, vocabulary, fluency, and comprehension—to make them successful readers.
Derived from the research-based strategies in Elaine K. McEwan's bestseller Teach Them ALL to Read: Catching the Kids Who Fall Through the Cracks, these standards-based, easy-to-use activities will set students on the course to reading success. This book offers practical techniques that include teacher modeling, guided practice, and independent application, and provides creative reproducibles and ready-to-use tools such as graphic organizers and visual prompts.
Through fun and interactive activities, students can focus on one spelling skill at a time and internalize what they've learned before moving on to the next concept. A chart of spelling rules and their exceptions will help you organize instruction to cover:
Silent letters, plural nouns, and homophones
Prefixes, suffixes, and contractions
The difference between a and an, and using i before e
As students advance in spelling proficiency, their newfound confidence will significantly impact reading success and future academic achievement!
Table of Contents
Introduction
---
Put It Into Practice
---
Spelling Rules Table
---
The First Spelling Rules
Words with Silent Letters
Contractions
Plural Nouns
Prefixes
Suffixes
Homophones
Assessment
Answer Key
---
References
---