Hands-on, Practical Guidance for Educators
From math, literacy, equity, multilingual learners, and SEL, to assessment, school counseling, and education leadership, our books are research-based and authored by experts on topics most relevant to what educators are facing today.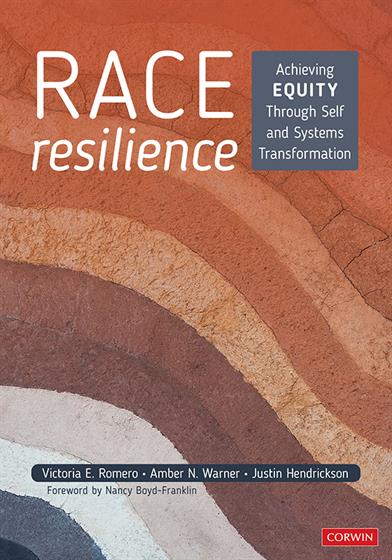 Race Resilience
Achieving Equity Through Self and Systems Transformation
Foreword by Nancy Boyd-Franklin

Race Resilience offers guidance to educators who are ready to rethink, review, and redesign their support systems and foster the building blocks of resiliency for staff.
Product Details
Grade Level: PreK-12
ISBN:

9781071833063

Published By: Corwin
Year:

2021



Page Count: 224

Publication date:

September 29, 2021
Price: $39.95
Description
Review, rethink, and redesign racial support systems NOW
As schools engage in courageous conversations about how racialization and racial positioning influences thinking, behaviors, and expectations, many educators still lack the resources to start this challenging and personally transformative work. Race Resilience offers guidance to educators who are ready to rethink, review, and redesign their support systems and foster the building blocks of resiliency for staff.
Readers will learn how to:
Model ethical, professional, and social-emotional sensitivity
Develop, advocate, and enact on a collective culture
Maintain a continuously evaluative process for self and school wellness
Engage meaningfully with students and their families
Improve academic and behavioral outcomes
Race resilient educators work continuously to grow their awareness of how their racial identity impacts their practice. When educators feel they are cared for, have trusting relationships, and are autonomous, they are in a better position to teach and model resilience to their students.
Table of Contents
Foreword by Nancy Boyd-Franklin, PhD
---
Preface
---
Acknowledgments
---
About the Authors
---
Chapter 1. The Implementation Process: Steps to Becoming a Race Resilient School
Year 1: Planning to Become a Race Resilient School
No Need to Reinvent the Wheel
Years 2–4 and Continuous Improvement
Chapter 2. The NEED: Societal Changes Change Schools
Changes in the Workplace
Household, Community, and Environment: The Three Realms of Adverse Childhood Experiences
Chapter 3. Creating the Culture for Developing a Race Resilient Climate
School-to-Prison Pipeline
Blind Spots Impact Other Groups of Students
Measuring Up: Culture and Climate Are Not Synonymous
Locus of Control
Chapter 4. Educators' Emotions Matter: Building Up Stamina for Developing a Race Resilient Climate
So How Do Educators Feel?
Our Daily Goal: Minimizing Distress and Maximizing Eustress
Our Hormonal Brain Under Distress and Eustress
Chapter 5. Racialization Can Be Blinding
Racial Positioning
United We Stand, Divided We Crawl
The "R" Word
2020 and America's Racial Awakening
Through the Eyes of a Child: Racialization and Historical Trauma
Historical and Generational Trauma
Genes Load the Gun, Environment Pulls the Trigger
E Pluribus Hurt, E Pluribus Healing
This Is Us
Chapter 6. Race Has Mattered in the School House
The Effects of Racialization: White Identity Dispositions, Internalized Racism, and Stereotype Threat
White Identity Dispositions
Internalized Racism and Stereotype Threat
Chapter 7. Mindful of Race
Mindfulness in Teaching and Learning
The Weight Room Versus the Wait Room
Positive Psychology's Five Building Blocks of Life
Chapter 8. Educator Resilience, Educator Race Resilience, and Mindfulness for Racial Equity
Transforming a District
Transforming a School
In the Space Between Is Mindfulness
Introduction to Space Between
Appendix
---
Appendix A. Processing for Racial Awareness and Creating a Race Resilient Action Plan
---
Appendix B. Race Resilient School Checklist
---
Glossary of Terms
---
References
---
Index
---
Reviews
This is a carousel with review cards. Use the previous and next buttons to navigate.
"Fostering Educator Resilience is practical, useful, and very realistic. I would love to use this book in professional development with my staff or in a workshop. The activities, vignettes, and reflection activities will help administrators create or change the culture and climate in whatever environment they find themselves."
Janice Wyatt-Ross
Program Director, Fayette County Public Schools, Lexington, KY
"Fostering Educator Resilience provides timely and immediately applicable guidance. The resources and ability to reflect on them with prompts guides your reflection. The book provides realistic and practical guidance that educators can easily relate to and that resonate with their current needs.


One of the major strengths of the book is the variety of ways resources are being shared. I walked away knowing new people I wanted to read up on, new resources I needed to check out, and thinking about how I could take the exercises in this book into my work. It's a resource full of resources!"
Tamisha Williams
Director of Equity and Community Initiatives, Potomac Schools, MD
"A major strength of this book is the reflective opportunities and personal perspectives which give the reader the opportunity to internalize the information that is presented."
Jayne Ellspermann
Jayne Ellspermann, 2015 NASSP National Principal of the Year