Hands-on, Practical Guidance for Educators
From math, literacy, equity, multilingual learners, and SEL, to assessment, school counseling, and education leadership, our books are research-based and authored by experts on topics most relevant to what educators are facing today.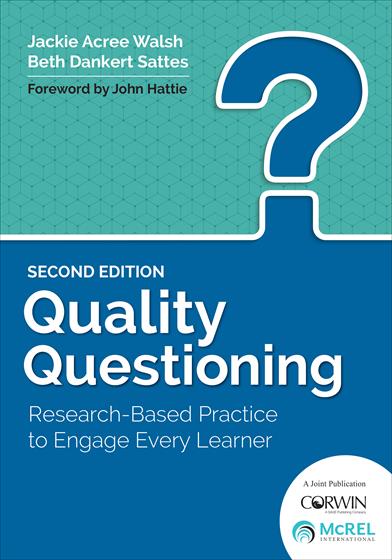 Look Inside
Bestseller!
Quality Questioning
Research-Based Practice to Engage Every Learner
Second Edition
A Joint Publication of McREL International
Foreword by John Hattie

Quality questioning enhances student outcomes by engaging all students to generate useful formative feedback and deep dialogue. Discover tools, strategies, and videos to support classroom use.
Product Details
Grade Level: PreK-12
ISBN:

9781506328874

Published By: Corwin
Year:

2016



Page Count: 264

Publication date:

November 01, 2016
Price: $39.95
Description
Realize the potential of quality questioning for student thinking and learning

Jackie Walsh and Beth Sattes present quality questioning as a process that begins with the preparation of questions to engage all students in thinking and culminates in the facilitation of dialogue that takes learning deeper. This new edition of the bestseller organizes questioning practices around the 6Ps framework, composed of Prepare and Present the Question, Prompt Student Thinking, Process Student Responses, Polish Questioning Practices, and Partner with Students. It extends and expands on timeless principles while adding significant new research-based practices and insights derived from the authors' own learning with and from classroom teachers. Designed for immediate classroom use, this guide includes:
Graphics, tools, and strategies to develop student skills and create a classroom culture that nurtures thinking and learning
QR codes that link to more than twenty new videos depicting students and teachers from elementary through high school

Tools and strategies to support teacher engagement in personal reflection, classroom observations, and collaborative dialogue that improve personal practice
This exciting new book demonstrates how to seamlessly integrate effective questioning strategies into daily practice, thereby energizing teaching and learning.
"Questions are the most important tool in a teacher's toolbox. Walsh and Sattes teach us how to sharpen those tools and use the right ones to maximize learning. They understand that questioning isn't interrogation, but rather frames dialogic instruction. You can see this come to life in the videos throughout this book! Quality Questioning belongs on every thoughtful educator's bookshelf."
—Nancy Frey, Professor, Department of Educational Leadership
San Diego State University, CA
"If you're ready to shift your purpose for questioning from answer-getting to provoking higher-order thinking, this book is a must-read. Never again will you take questioning for granted."
—Connie Hamilton, EdS, Curriculum Director
Saranac (Michigan) Community Schools

"Reading this book is like chatting with an amazing professional friend and mentor. It's a joy to read, to ponder, and to use as a constant resource.
—Susan Hudson, Educational Consultant and Former Exemplary Educator
Tennessee Department of Education
"A must-read for all teachers who continually strive to improve their practice to better impact student learning."
—Betsy Rogers, EdD, 2003 National Teacher of the Year & Associate Professor and Department Chair, Curriculum and Instruction
Samford University, Birmingham, AL
Key features
A complete guide to using effective questioning in the classroom to build higher-order thinking skills and student achievement.

Includes the latest research, including Hattie's meta-analysis and Webb's Depth of Knowledge

Designed for immediate classroom use, it incorporates theory-into-practice, reproducibles, checklists, rubrics, resources, lecturettes, practitioner voices, and evaluation methods

Includes QR codes linked to dynamic classroom video clips illustrating the processes
Table of Contents
List of "Partner With Students" Features
---
List of Videos
---
Foreword
---
Acknowledgments
---
About the Authors
---
Introduction: Sources of Renewal
---
Chapter 1. Setting the Stage: What Is Quality Questioning?
Chapter 2. Prepare the Question: What Are the Distinguishing Features of Quality Questions?
Chapter 3. Present the Question: How Can Teachers Engage All Students in Thinking and Responding?
Chapter 4. Prompt Student Thinking: How Can Teachers Assist Students in Making Connections?
Chapter 5. Process Responses: How Can Teachers Use Feedback to Deepen Student Thinking and Learning?
Chapter 6. Polish Questioning Practices: How Can Ongoing Reflection and Dialogue About Classroom Questioning Improve Teaching and Learning?
Appendix: Response Structures to Engage Learners in Thinking and Responding
---
References
---
Index
---