Hands-on, Practical Guidance for Educators
From math, literacy, equity, multilingual learners, and SEL, to assessment, school counseling, and education leadership, our books are research-based and authored by experts on topics most relevant to what educators are facing today.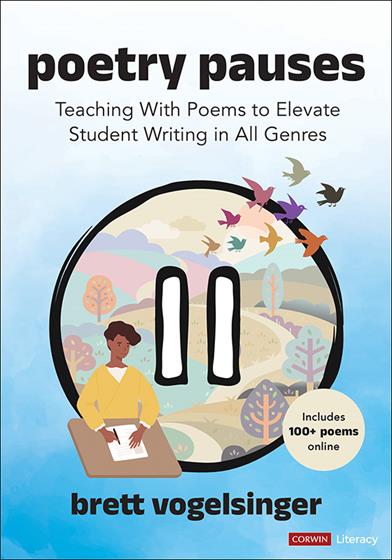 Poetry Pauses
Teaching With Poems to Elevate Student Writing in All Genres
Providing succinct examples of vivid writing, teaching poetry regularly helps students import techniques into any genre. Includes a companion website of practical resources and a bank of hundreds of recommended poems.
Product Details
Grade Level: PreK-12
ISBN:

9781071889022

Published By: Corwin
Series: Corwin Literacy
Year:

2023



Page Count: 208

Publication date:

February 16, 2023
Price: $33.95
Description
Unleash the power of poetry to boost all academic writing
Student writing outcomes will transform if we invest more time in the genre we too often ignore: poetry! With Poetry Pauses, Brett Vogelsinger asserts that all good writing takes us to deeper places, whether it's narrative, argument, informational, or verse. So why not use the palm-size examples of poems to develop students' skills?
This book helps you to
Teach techniques such as using sound, pattern, imagery, grammatical structures, and dialogue
Select poems from the online companion website for read alouds and writing warm-ups
Reshape students' attitudes about verse with contemporary spoken word and poems by today's favorite poets
Know how to tuck specific poems into any part of the writing process to build your students' understanding of brainstorming, elaboration, paragraphing, argumentation, and more
No matter what students go on to do in life, being able to reach a broad audience with language that engages the whole mind is a gift. The resources here and online will stoke students' logic and creativity immeasurably.
Key features
25+ brief activities to use poetry in your writing instruction with step-by-step instructions, teacher talking points, and extension ideas
Pro-Tips and suggestions for adjusting instruction nimbly and responsibly
An extensive poetry library on the online companion website to help teachers access great poems quickly
Bonus activities, downloadable handouts, and additional material on the online companion website to support your teaching
Table of Contents
Introduction: Purposeful Poetry Pauses
Chapter 1: Poetry to Bring on the Brainstorm
Chapter 2: Poetry Pauses for Writing Analysis
Chapter 3: Poetry Pauses for Crafting Narrative
Chapter 4: Poetry Pauses for Argument Writing
Chapter 5: Poetry Pauses for Writing Informative and Research Pieces
Chapter 6: Poetry Pauses for Improving Grammar and Punctuation Skills
Chapter 7: Poetry as a Healthy Literacy Routine
Appendices