Hands-on, Practical Guidance for Educators
From math, literacy, equity, multilingual learners, and SEL, to assessment, school counseling, and education leadership, our books are research-based and authored by experts on topics most relevant to what educators are facing today.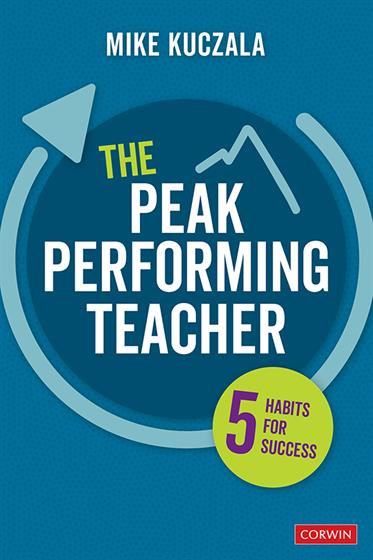 Look Inside
The Peak Performing Teacher
Five Habits for Success
Kuczala guides educators to embrace the critical practices and habits proven to significantly increase productivity and decrease anxiety and implement an action plan for self-care.
Product Details
Grade Level: PreK-12
ISBN:

9781071853252

Published By: Corwin
Year:

2022



Page Count: 128

Publication date:

February 17, 2022
Price: $28.95
Description
Develop and implement an action plan for self-care
Cultivating focus, re-energizing oneself, and improving daily habits are essential for educators' well-being and the good that they pass along to students. Mike Kuczala asserts that educators' greatest tool is a mirror—in it, teachers will find their greatest advocate for personal growth, power, wellness, and vision: themselves.
However, finding the time to implement new habits can be hard. Because small changes are easier to plan for and realize, Kuczala concentrates on the habits that are most likely to yield significant improvements. This book guides educators in meaningful self-reflection by providing:
Five critical practices to increase productivity and decrease anxiety

Reflection prompts and vignettes to guide readers in developing self-care strategies

Practical checklists and templates to help educators maintain goals
Grounded in new research connecting personal change to professional improvement, Kuczala's approach to well-being builds a bridge between mind and body to create a comprehensive path for success.
Table of Contents
Preface
---
Acknowledgments
---
About the Author
---
Introduction
---
The Most Important Piece of Equipment
The ABCs of Achievement
The Power of "Must"
Pain/Pleasure in Practice
Habit #1: Live the Physical Life
A Paradigm Shift
Embracing the Physical Life Does Much More Than Raise Your Level of Fitness
Exercise Is Life's First Answer to This Essential Question: How Do I Create a Life Worth Living?
Simply . . . Walk
Where Are Your Sneakers?
Vary the Environment
The Benefits Don't Stop at School (a Word About the Physical Classroom)
Habit #2: Change Your Mind
Challenge Your Thinking
Same Story, New Moral
Fifty States of Mind Where Stress Cannot Exist
Just Breathe
The Powerhouse
A Quick Revisit to the Brain/Body Connection
One Man's Insight
Stress in the Classroom
Habit #3: Sharpen Your Mental Focus: Creating Mission and Purpose
Part 1: The Personal Mission Statement
Creating Your Personal Mission Statement
Personal Mission Statement Rough Draft
Completed Mission Statement
Part 2: Setting Goals
Understanding the Difference Between a Good Idea and Writing a Goal
Creating the Future Now
Creating a Transformational Goal
The Rocking Chair Test
Goal Setting in the Classroom
Habit #4: Power Up Gratitude
Who Doesn't Want These Benefits for So Very Little Effort?
In the Business of Gratitude
Making It Real
Who Deserves Your Letter?
Gratefulness in the Classroom
One More Gratitude Quote for the Teacher Lounge
Habit #5: Make the Morning Count
The Morning Routines of Real Teachers
My Morning Routine
Putting It All Together
Understand the Power of the Moment
Create a Plan
Change Your Limiting Beliefs
Enjoy the Process
Start Now
Surround Yourself With Success and Positivity
A Final Word
References
---
Index
---