Hands-on, Practical Guidance for Educators
From math, literacy, equity, multilingual learners, and SEL, to assessment, school counseling, and education leadership, our books are research-based and authored by experts on topics most relevant to what educators are facing today.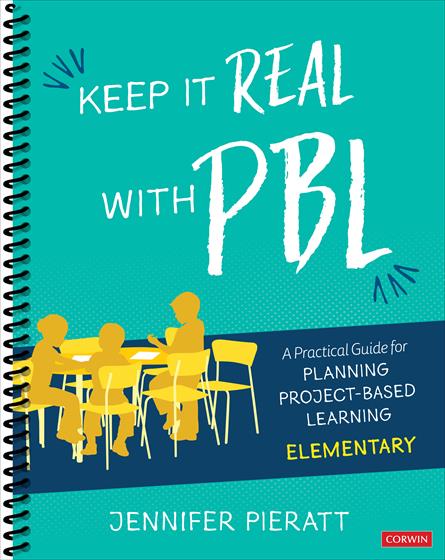 Keep It Real With PBL, Elementary
A Practical Guide for Planning Project-Based Learning
Written for busy teachers with realistic challenges in mind, this interactive, visually accessible guide introduces a clear and efficient process for planning enriching project-based learning units.
Product Details
Grade Level: PreK-12
ISBN:

9781544369341

Published By: Corwin
Series: Corwin Teaching Essentials
Year:

2019



Page Count: 160

Publication date:

November 05, 2019
Price: $39.95
Description
Plan enriching Project-Based Learning experiences with ease!
The book's companion website features an updated guide to help teachers integrate technology into PBL experiences for online and blended learning instruction.
Is project-planning a project in and of itself? Does project-based learning (PBL) feel more like a pipe dream than a reality in your classroom? Dr. Jennifer Pieratt, a consultant and former teacher herself, knows just where you're coming from.
Developed from the author's experience in the trenches of project-based learning over the past decade, this book will lead you through the planning process for an authentic PBL experience in a clear and efficient way. Project-based learning has been found to develop workforce readiness, innovation, and student achievement. In this book, the keys to implementing PBL effectively are explored in a simple, easy-to-use format. In addition to thought-provoking questions for journaling, readers will find a visually accessible style featuring
•
#realtalk soundbites that honor the challenges to implementing PBL
•
Tips and resources to support the project-planning process
•
Planning forms to guide you through planning your projects
•
Key terminology and acronyms in PBL
•
Exercises to help you reflect and process throughout your project plans
If mastering a PBL framework is on your list, prepare to cross it off with the help of this book!
Foreword INDIES Book of the Year Awards Winner
Key features
This is a practical guide that will provide simple and easy-to-use formats to aide in authentic Project-Based Learning experiences for elementary learners. Each chapter will focus on the context for each of the steps author Jennifer Pieratt has identified through backwards design. The guide will include vignettes and templates on the following:
• Brainstorming
• Project Planning
• Assessment/Rubrics
• Benchmarking
• Student Self-Assessment
• Calendar/Daily Learning (Pacing)
• Launching Your Project

Table of Contents
Acknowledgments
---
About the Author
---
Introduction
Letter to Elementary Teachers
How to Use This Book
Chapter 1: The What and Why of PBL
An Overview of Project-Based Learning
PrBL vs. PBL
Why PBL?
What Is HQPBL?
But They Aren't Ready!
Chapter 2: The Role of the Teacher in PBL
Chapter 3: Project Brainstorming
Where to Look for Ideas
Collaborative Brainstorming
PBL Brainstorming Planning Form
Chapter 4: Planning PBL for Your Year
Big Picture and Big Ideas
Make Content Connections
Pacing Your Project
Identify a Real Connection
Is There Enough Juice for the Squeeze?
Chapter 5: Planning With the End in Mind
Enduring Understandings
Driving Questions
Final Products
Voice and Choice
Culminating Experience
Chapter 6: Benchmarking Your Project
What Is Benchmarking?
Deliverables
Chapter 7: Assessment
Best Practices in Assessment Apply to PBL
How to Build Your Project Rubric
Planning for Formative Assessment
Student Engagement in PBL Assessment
Chapter 8: Planning Daily Learning in PBL
Create Your Project Calendar
Managing the Project
Daily Schedule
Chapter 9: Launching Your Project
The Hook
Knows/Need to Knows
Project Guidelines
Project Groups
Home Communication
Chapter 10: Next Steps
1. Prototype Your Project
2. Seek Out Collegial Feedback
3. Plan for Exhibiting Student Work
4. Collect Community Connections
5. Scaling and Sustaining HQPBL
Appendix A: Complete Project Plans
---
Grade 1
Grade 5
Appendix B: Blank Project Planning Forms
---
References
---
Index
---