Hands-on, Practical Guidance for Educators
From math, literacy, equity, multilingual learners, and SEL, to assessment, school counseling, and education leadership, our books are research-based and authored by experts on topics most relevant to what educators are facing today.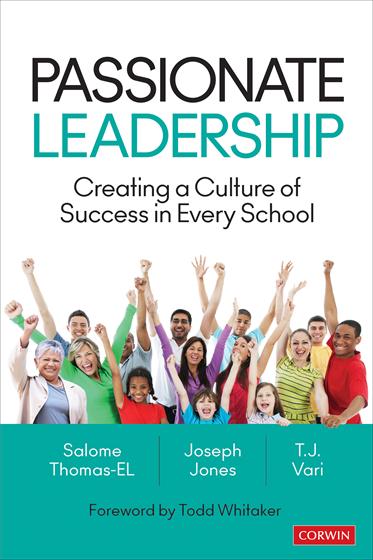 Look Inside
Passionate Leadership
Creating a Culture of Success in Every School
First Edition
Foreword by Todd Whitaker

The guidance, how-to's, and first-hand experiences in this book prove that you too can reignite the passionate leadership that is vital to serving children and ensuring student growth and success.
Product Details
Grade Level: PreK-12
ISBN:

9781544345697

Published By: Corwin
Year:

2019



Page Count: 216

Publication date:

June 26, 2019
Price: $32.95
Description
Watch the video!

Reignite your passion for serving children!

Have you fallen into a rut? Has your position become simply a "role" or a "job?" The authors of this book will remind you why education, the most important profession in our society, demands passionate leadership.

Passionate Leadership is an aspiring call to action for teachers and principals around the world to recommit to passionately serving children, building the communities children deserve, and celebrating our successes. Take ownership, push to new heights, and break old boundaries by following the strategies in this book. Discover
Practical ideas and suggestions for how to serve as a beacon of hope in the field
First-hand experiences from enthusiastic leaders modeling what passionate leadership looks like
Charts and graphs that will help you assess your strong points and identify areas you can improve on
Student success and growth begin with leaders who commit to taking courageous action!
Key features
The authors have identified the most common obstacles to passionate leadership (Trip Traps) and how to avoid them

Mantras to Live By – guides for a passionate start to every morning

The book is written by practitioners for practitioners with examples from the field including 3 inspirational stories and 6 vignettes with key takeaways

The authors divide passionate culture into three distinct features and provide easy-to-use charts to identify where cultures are lacking so you can work to improve them.

How-To's that reveal the practical next steps for leaders

Tips for hiring practices so that your passionate leadership efforts are sustainable for the future

Every chapter ends with Reflection Questions so that you can take inventory and take action right away

The authors conclude the book with an action-oriented reflection activity and self-assessment to be used by individuals or teams.
Table of Contents
Foreword
---
Preface
---
Acknowledgments and Dedication
---
About the Authors
---
Introduction: Fueling the Passion in Our Schools
---
PART I: INSPIRING TO GROW: A CULTURE OF STRONG RELATIONSHIPS
---
Chapter 1: A Learning Culture, Not a Teaching Culture
Everyone Works to Learn
Unintended Consequences
An Aligned System of Improvement
Growth From the Inside Out
Quality Levels of Support
Support and Growth Through Feedback
Leadership: Choosing Your Direction
Charting the Difference
Fueling Passion Through Opportunity
A Culture of Joy and Fulfillment
Creating A Learning Culture by Design: Commitment and Desire
Chapter 2: Developing the Desire for Change to Grow Faster
Speeding Up the Process
Feedback Faster: Creating Systems of Improvement
Systematizing PD and Feedback
Defining the Outcomes
Something for Everyone
Technical Tip #1: Everyone Gets a Personal Growth Plan
Technical Tip #2: Hire for a Growth Mindset
PART II: EVERYONE CONTRIBUTES: NO PASSENGERS ALLOWED
---
Chapter 3: The Wonder of a Work Ethic
Everyone Contributes
Everyone Means Everyone
Break the Cycle of Failure
Embrace an I Believe Attitude
Leadership: Choosing Your Direction
Charting the Difference
Empower Student Ownership by Creating New Opportunities
A Culture Where Everyone Is Connected and Leadership Matters
Creating a Community of Support by Design: Networking and Storytelling
Chapter 4: Stronger Backs, Not Lighter Loads
A Contribution is Mandatory
Making a Mark: The Best Ways to Make an Impact
Systematizing Strengths
Defining the Roles and Naming the Positions
Everybody Makes a Difference
Technical Tip #1: Survey for Strengths, Hobbies, and Fun Projects
Technical Tip #2: Hiring Contributors
PART III: POSITIVITY FUELED BY CELEBRATIONS: BEYOND THE BASICS
---
Chapter 5: Committing to a Culture of Celebration
The Power of Connection
The Revolving Door
You Can't Lift Anything Up While You're Pushing It Down
There's More Than One Way to Define Success
Leadership: Choosing Your Direction
Charting the Difference
Know Where You're Going, How to Get There, and if You're in the Right Vehicle
A Culture of Celebration
Creating a Positive Culture by Design: Recognition and Understanding
Chapter 6: Positive Educators Ignite the System
Celebrate Like You Mean It
Two Data Treasure Troves: Create Short-Term Wins Through Goal-Setting
Systematizing Celebrations
Defining What and Why We Celebrate
Diversifying the Who
Technical Tip #1: Building the Budget to Celebrate
Technical Tip #2: Hiring Positive People
Conclusion: A Blueprint for Sustaining Passion in Our Schools
---
References
---
Index
---