Hands-on, Practical Guidance for Educators
From math, literacy, equity, multilingual learners, and SEL, to assessment, school counseling, and education leadership, our books are research-based and authored by experts on topics most relevant to what educators are facing today.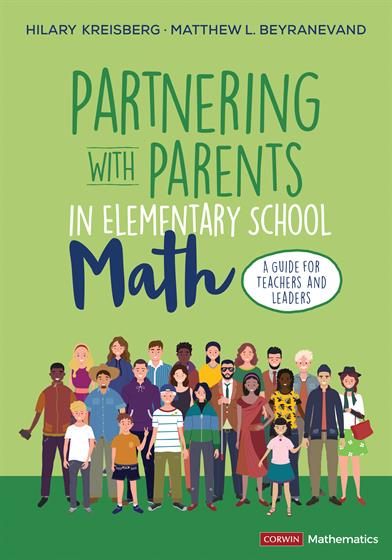 Look Inside
Partnering With Parents in Elementary School Math
A Guide for Teachers and Leaders
Written for teachers and school leaders, this book provides guidance on how to effectively communicate with families about their children's math education.
Product Details
Grade Level: PreK-12
ISBN:

9781071810866

Published By: Corwin
Series: Corwin Mathematics Series
Year:

2021



Page Count: 208

Publication date:

February 19, 2021
Price: $35.95
Description
How to build productive relationships in math education

I wasn't taught this way. I can't help my child! These are common refrains from today's parents and guardians, who are often overwhelmed, confused, worried, and frustrated about how to best support their children with what they see as the "new math." The problem has been compounded by the shift to more distance learning in response to a global pandemic. Partnering With Parents in Elementary School Math provides educators with long overdue guidance on how to productively partner and communicate with families about their children's mathematics learning. It includes reproducible surveys, letters, and planning documents that can be used to improve the home-school relationship, which in turn helps students, parents, teachers, and education leaders alike. Readers will find guidance on how to:

· Understand and empathize with what fuels parents' anxieties and concerns
· Align as a school and set parents' expectations about what math instruction their children will experience and how it will help them
· Communicate clearly and productively with parents about their students' progress, strengths, and needs in math
· Run informative and fun family events
· support homework
· Coach parents to portray a productive disposition about math in front of their children

Educators, families, and students are best served when proactive, productive, and healthy relationships have been developed with each other and with the realities of today's math education. This guide shows how these relationships can be built.
Table of Contents
Praise Pages
---
About the Authors
---
Acknowledgements
---
Introduction
---
Why This Book Now?
Lessons Learned from the COVID-19 Coronavirus Epidemic
Examining Your Core Beliefs
What Role Have You Played?
What is a Parents Role in Their Child's Mathematics Learning?
How to Use This Book
The Goal and Structure of This Book
APPLY IT!
Stepping Into Parents' Shoes
---
Asking Parents About School Communication
What Parents Do and Why
What Can We Learn?
Putting It All Together
Frequently Asked Questions
Apply It! Teacher Activity
Apply It! Leader Activity
Understanding What Parents Need to Know About Today's Math
---
What Parents Really Need to Know About Today's Math
Math Instruction Evolves...Just Like Everything Else
Mathematics is Not a Gene
We Prepare Students for the Future, Not Today
What Parents Really Need to Know About Their Child's Math
Putting It All Together
Frequently Asked Questions
Apply It! Teacher Activity
Apply It! Leader Activity
Planning Effective School-wide Mathematics Communication
---
The Systemic Problem
The Determining Roles of All Stakeholders
Clarifying Roles of Leaders, Teachers, and Other Educators
Clarifying Roles of Parents
Crafting and Communicating Consistent School-wide Policies
Establishing Homework Policies
Communicating Grading Policies
Getting Buy-In and Commitment from All Stakeholders
Putting It All Together
Frequently Asked Questions
Apply It! Teacher Activity
Apply It! Leader Activity
Exploring How to Communicate with Parents About Math
---
What Makes Written Communication With Parents Effective?
Write So They Can Read It
Write So They Want to Read It
Relate to What Parents Know
Communicate Frequently
Tools For Communication and When to Use Them
Traditional Communication
---
Digital Communication
---
Putting it All Together
Frequently Asked Questions
Apply It! Teacher Activity
Exploring What to Communicate to Parents About Math
---
Reaching Parents-at-large
Schoolwide Beginning of Year Letter
Homework Communication from School Level to Parents
Mid-Year Homework Survey
Reaching Parents-as-a-class
Beginning of Year Survey
Beginning of Year Letter from the Teacher
Unit Preview Letters
Weekly Letters
Mid-Year and End-of-Year Surveys from Teacher
Reaching Parents-as-individuals
Putting It All Together
Frequently Asked Questions
Apply It! Teacher Activity
Apply It! Leader Activity
Hosting Parent Events
---
Parent Experiences
Non-Math Specific Events
Back to School Nights
Parent-Teacher Conferences
Math-Specific Events
Family Math Nights
Parent Math Nights
Family Math Days and Mornings
Parent Book Clubs
Mystery Mathematicians
Putting It All Together
Frequently Asked Questions
Apply It! Teacher Activity
Apply It! Leader Activity
Conclusion: Shifting the Narrative
---
Our Top 8 Ways to Support Parents in Mathematics
References
---
Index
---
Reviews
This is a carousel with review cards. Use the previous and next buttons to navigate.
What an amazing, practical resource to support teachers and leaders in intentionally strengthening communication and building partnerships with parents to support student learning in mathematics! Positioning parents as partners underscores that together we can ensure all students see themselves as thinkers and doers of mathematics.
Trena L. Wilkerson
President of the National Council of Teachers of Mathematics (2021–2023)
Parents send us the best they have each day, their children. The dreams, plans, and aspirations for a better and brighter future for their children are entrusted to educators, with the hope that we will do all we can to prepare them. This powerful resource is filled with insights from parents, practical guidance, and tools to help educators truly build the much-needed partnerships with parents to change the narrative.

John W. Staley
Chair of the U.S. National Commission on Mathematics Instruction (2018–2020), President of NCSM Leadership in Mathematics Education (2015–2017)
This book is a must-read for any elementary educator who wants to empower their students and families to love math! It is a how-to guide in helping YOU as an educator improve your best practices. This book will encourage you to hit the ground running and initiate the change we need for today's 21st century math instruction!
Katelin Shepler
First Grade Teacher, Folsom Cordova Unified School District
Parents are assets and critical partners to student's mathematical success! Partnering With Parents in Elementary School Math provides school educators and leaders with just the right strategies, exemplars, and structures to honor the strengths, knowledge, and skills that all families bring to support their child's mathematical journey. This is the book I've been waiting for!


Cathery Yeh
Assistant Professor, Chapman University
Parents and caregivers play an instrumental role in the mathematical success of their children, but many may be surprised by current mathematical teaching practices. Navigating this sometimes new territory is particularly demanding for families thrust into active teaching roles through online education. As the authors emphasize, we need a team approach that will support each and every child. This must-read book bridges home and school with ways to share mindsets and language, build coherent structures, and make mathematics instruction a positive, high-quality, and inclusive
learning experience.

Karen S. Karp and Sarah B. Bush
Co-authors of The Math Pact
This is a great easy-to-implement resource for teachers who want to engage in effective communication with parents and help them make sense of their child's mathematics learning experience.
Kristopher J. Childs
President, K Childs Solutions
Families are crucial partners in children's education, and educators need strategies to ensure partnership works. This is especially true in elementary mathematics education, where content may be unfamiliar or presented in new ways––ultimately leading to confusion between home and school. This guide supports the crucial work of opening communication channels, aligning educators' and families' efforts toward the same goals.
Ilana Seidel Horn
Professor of Mathematics Education, Author of Motivated: Designing Mathematics Classrooms Where Students Want to Join In
Who are our most powerful—and yet underserved—partners in math learning? Parents. In this compelling book, the authors help educators envision what vibrant parent–school partnerships can do for math education, then equip us with the skills and tools we need to build these relationships.
B. Michelle Rinehart
Educational Consultant, HowWeTeach Consulting
Teachers spend a great deal of time planning for effective mathematics instruction; this book offers practical and actionable ways for teachers and schools to maximize the work they're doing around elementary mathematics by bringing parents in as stronger partners in this work.

Kristine Gettelman
Early Learning Mathematics Specialist, Mathematics Institute of Wisconsin
This book provides step-by-step guidance for schools to facilitate effective communication with parents while still giving the schools choices in how and what communication will look like. A must-read to build equitable practices that impact all students.
Lori Mueller
President of the Iowa Council of Teachers of Mathematics, Math Consultant, Great Prairie Area Education Agency
This book offers suggestions, strategies, and structures elementary teachers need and want to educate and inform parents. The authors' work is comprehensive and very practical, and it thoughtfully provides teachers with incredible ready-to-use ideas for promoting math home-to-school connections.

Kristen Mangus
Mathematics Support Teacher, Howard County Public School System
Look no further for an invaluable resource as a reference or professional book study to enhance the parent/community engagement portion of your school's mission or improvement plan. Kreisberg and Beyranevand have created a powerful how-to guide for teachers and school leaders to create and strengthen partnerships with parents, families, and caregivers in service of children's mathematics learning.
Paul Gray
President of NCSM Leadership in Mathematics Education (2021–2023)