Hands-on, Practical Guidance for Educators
From math, literacy, equity, multilingual learners, and SEL, to assessment, school counseling, and education leadership, our books are research-based and authored by experts on topics most relevant to what educators are facing today.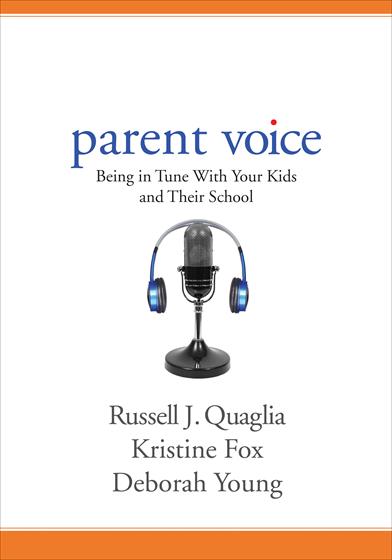 Parent Voice
Being in Tune With Your Kids and Their School
Find the voice to guide and advocate for your child using an age appropriate model that allows for differences in personality, disposition, and supporting players.
Product Details
Grade Level: PreK-12
ISBN:

9781506360102

Published By: Corwin
Year:

2017



Page Count: 152

Publication date:

September 29, 2017
Price: $18.95
Description
Find your best voice to inspire your child to reach their aspirations.

With no single or right formula to teach, reassure, or help a child, no precise age gauge for first experiences, and blurry lines between clear, obvious, and gut decisions, how can a parent know what is best or right in the course of their child's education?

Parent Voice applies thought, experience, and a developmental model for parents to follow that allows for differences in personalities, dispositions, and supporting players.

Real musings give real-life examples of parents positively influencing their child's education
Reflection questions encourage engagement and application
Action items offer guides for each stage of a child's development

Be the guide and advocate your child needs by finding your best parent voice.

"Parent Voice describes how to handle difficult situations with the "Listen, Learn, Lead" structure, and also offers solutions to prevent them in the first place. This book teaches parents how to use their voices in effective ways and how to give their children voice."
Karen L. Tichy, Ed.D., Assistant Professor of Educational Leadership
Saint Louis University, St. Louis, MO



Table of Contents
ACKNOWLEDGMENTS
---
ABOUT THE AUTHORS
---
NOTE FROM DR. Q
---
INTRODUCTION: BE THE PARENT YOU WANT TO BE . . . AND THE PARENT YOUR CHILDREN DESERVE!
---
1. NOISE OR VOICE?
The New Language
The Responsibility of Voice
Mom's Musings on Voice
Dad's Deliberations on Voice
Tuning Into Your Own Voice
Now Hear This!
2. LISTEN: HEARING THE RIGHT NOTES
Listening Matters
Keys to Effective Listening
Mom's Musings on Listening
Dad's Deliberations on Listening
Listening: Take Action
Listening Through the Years
In Their Own Words: Advice on Listening, From Children to Parents
Listening for Life
3. LEARN: GETTING IN RHYTHM
Learning Matters
Mindful Learning
Learning and Interests
Speaking Their Language
Shared Adventures
Keys to Sincere Learning
Mom's Musings on Learning
Dad's Deliberations on Learning
Learning: Take Action
Learning Through the Years
Our Learning From Parents and Children
Never Stop Learning
4. LEAD: WORKING IN HARMONY WITH YOUR CHILD AND SCHOOL
Leading Matters
Digging Deeper
Developing Partnerships
Shared Goals
Keys to Leading Successfully
Proactive Voice at School
Mom's Musings on Leading
Dad's Deliberations on Leading
Leading: Take Action
Leading Through the Years
Our Learning About Leading
We Are All in This Together
5. STAYING IN TUNE WITH YOUR CHILD AND SCHOOL
Accept and Respect the Fact That Your Children Have Different Perspectives Than You
Parents Need and Deserve a Meaningful Role in School
Parenting Should Be a Priority, All the Time
Be Intentional
Be Yourself
INDEX
---