Hands-on, Practical Guidance for Educators
From math, literacy, equity, multilingual learners, and SEL, to assessment, school counseling, and education leadership, our books are research-based and authored by experts on topics most relevant to what educators are facing today.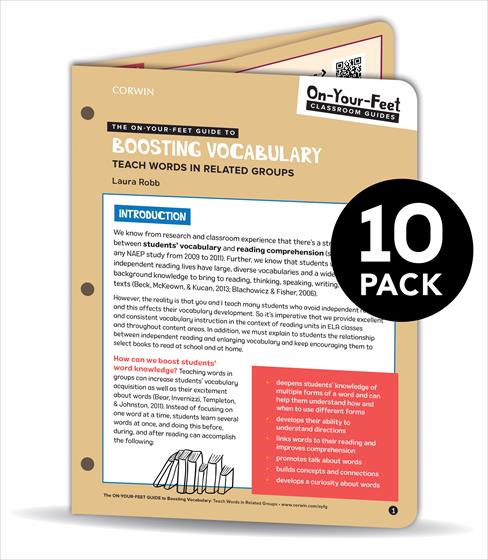 BUNDLE: Robb: The On-Your-Feet Guide to Boosting Vocabulary: 10 Pack
Product Details
Grade Level: PreK-12
ISBN:

9781544382814

Published By: Corwin
Series: Corwin Literacy
Year:

2019



Page Count: 0

Publication date:

October 21, 2019
Price: $128.95
Description
All On-Your-Feet Guide orders receive FREE SHIPPING! Use code SHIPOYFG at check out.
We know from research and classroom experience that there's a strong correlation between students' vocabulary and reading comprehension (see, for instance a NAEP study from 2009-2011. Further, we know that students who have rich independent reading lives have large, diverse vocabularies and a wide range of background knowledge to bring to reading, thinking, speaking, writing, and analyzing texts (Beck, McKeown, and Kucan, 2013; Blachowicz and Fisher, 2006).
However, the reality is that you and I teach many students who avoid independent reading, and this affects their vocabulary development. So it's imperative that we provide excellent and consistent vocabulary instruction in the context of reading units in ELA classes and throughout content areas. In addition, we must explain to students the relationship between independent reading and enlarging vocabulary and keep encouraging them to select books to read at school and at home.
How can we boost students' word knowledge? Teaching words in groups can increase students' vocabulary acquisition as well as their excitement about words (Bear, Invernizzi, Templeton, and Johnston, 2011). Instead of focusing on one word at a time, students learn several words at once, and doing this before, during, and after reading can:
Deepen students' knowledge of multiple forms of a word and can help them understand how and when to use different forms
Develops their ability to understand directions
Links words to their reading and improves comprehension
Promotes talk about words
Builds concepts and connections
Develops a curiosity about words
On-Your-Feet Guides (OYFGs) provide you with the ultimate "cheat sheet" to implement effective change in your classroom while in the moment of teaching. Designed for accessibility, and providing step-by-step guidance, the OYFGs are written by experts who take research-based practices and make them doable for the busy teacher.
Each On-Your-Feet Guide is laminated, 8.5"x11" tri-fold (6 pages), and 3-hole punched.
Use the On-Your-Feet Guides
When you know the "what" but need help with the "how"
As a quick reference to support a practice you learned in a PD workshop or book
To learn how to implement foundational practices
When you want to help your students learn a specific strategy, routine, or approach, but aren't sure how to do it yourself