Hands-on, Practical Guidance for Educators
From math, literacy, equity, multilingual learners, and SEL, to assessment, school counseling, and education leadership, our books are research-based and authored by experts on topics most relevant to what educators are facing today.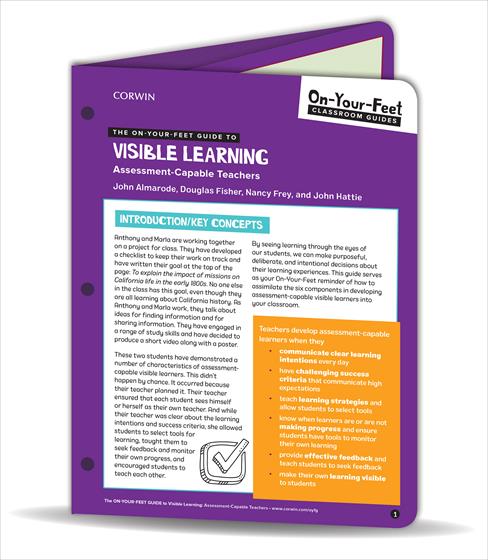 The On-Your-Feet Guide to Visible Learning
Assessment-Capable Teachers
Product Details
Grade Level: PreK-12
ISBN:

9781544385389

Published By: Corwin
Series: On-Your-Feet-Guides
Year:

2019



Page Count: 6

Publication date:

July 16, 2019
Price: $13.95
Description
All On-Your-Feet Guide orders receive FREE SHIPPING! Use code SHIPOYFG at check out.
Developing learners who know where they are in their learning, where they're going, and how to get there—in other words, learners who are assessment-capable—is one of the principal aims of Visible Learning. However, we cannot help students be assessment-capable learners if teachers are not assessment-capable themselves. Teachers create assessment-capable learners through various targeted "moves" designed to:
Increase teacher clarity
Use the right teaching strategies at the right time
Provide effective feedback to learners
Model effective learning strategies themselves
On-Your-Feet Guides (OYFGs) provide you with the ultimate "cheat sheet" to implement effective change in your classroom while in the moment of teaching. Designed for accessibility, and providing step-by-step guidance, the OYFGs are written by experts who take research-based practices and make them doable for the busy teacher.
Each On-Your-Feet Guide is laminated, 8.5"x11" tri-fold (6 pages), and 3-hole punched.

Use the On-Your-Feet Guides
When you know the "what" but need help with the "how"
As a quick reference to support a practice you learned in a PD workshop or book
To learn how to implement foundational practices
When you want to help your students learn a specific strategy, routine, or approach, but aren't sure how to do it yourself
Key features
Developing learners who know where they are in their learning, where they're going, and how to get there—in other words, learners who are assessment-capable—is one of the principal aims of Visible Learning. However, we cannot help students be assessment-capable learners if teachers are not assessment-capable themselves.

Through videos and on-your-feet strategies, this guide will help you:
Communicate clear learning intentions
Create success criteria at the right level of challenge
Track student progress
Provide effective feedback Model effective learning strategies