Hands-on, Practical Guidance for Educators
From math, literacy, equity, multilingual learners, and SEL, to assessment, school counseling, and education leadership, our books are research-based and authored by experts on topics most relevant to what educators are facing today.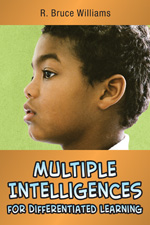 Multiple Intelligences for Differentiated Learning
Practical strategies for tapping into multiple intelligences through curriculum, instruction, and assessment.
This well-articulated text presents a discussion of multiple intelligences based on the fundamental belief that all children can learn. The author offers a framework of strategies, combined with a wealth of graphics, to move teachers from curiosity to confidence and competence in understanding and using multiple intelligences theory in the inclusive classroom. Educators will learn how:
Multiple intelligences theory applies to differentiation
Differentiation and multiple entries create more learning options for students
Student-centered, constructivist methods empower learners to pursue new learning while meeting standards
Product Details
Grade Level: PreK-12
ISBN:

9780971733213

Published By: Corwin
Series: In A Nutshell Series
Year:

2007



Page Count: 104

Publication date:

May 23, 2007
Price: $24.95
Description
There is an intricate literacy to Gardner's multiple intelligences theory that unlocks key entry points for differentiated learning. Using a well-articulated framework, rich with graphic representations, Williams provides a comprehensive discussion of multiple intelligences. He moves the teacher and students from curiosity, to confidence, to competence in understanding and using the multiple intelligences theory in the most practical ways in curriculum, instruction and assessment.
Table of Contents
Introduction
---
Part One: Introducing Multiple Intelligences (Getting Acquainted with the Theory)
The Beginning: Founder and Theory
Gardner's Criteria for Distinguishing an Intelligence
Proponents for Application of the Theory
Implications for Differentiation
Part Two: Multiple Entries to Differentiation
Brain Theory
Curriculum/Standards--Any Subject
Instruction--Calling for Attention--Curiosity
Assessing Active Engagement
Conclusion
Part Three: Multiple Connections for Differentiation
Constructivist Theory
Curriculum/Standards--Focus On Concepts
Instruction--Memory, Confidence
Assessing Conceptual Grasp
Part Four: Multiple Representations in Differentiation
Transfer Theory
Curriculum/Standards--Focus on Details
Instruction--Depth Understanding--Competence
Assessing Performance and Application
Conclusion
---
Bibliography
---