Hands-on, Practical Guidance for Educators
From math, literacy, equity, multilingual learners, and SEL, to assessment, school counseling, and education leadership, our books are research-based and authored by experts on topics most relevant to what educators are facing today.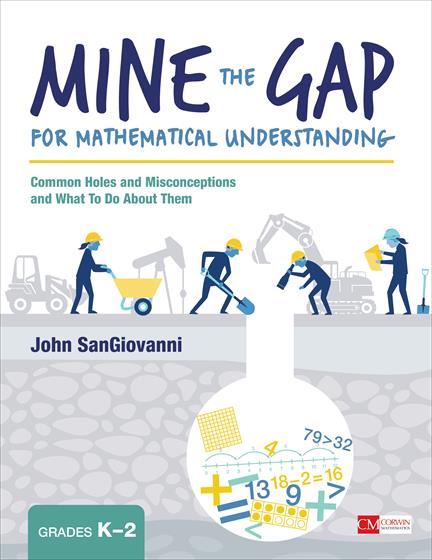 Look Inside
Bestseller!
Mine the Gap for Mathematical Understanding, Grades K-2
Common Holes and Misconceptions and What To Do About Them
It's hard to find the time to figure out the "why" behind students' math mistakes, so here is a bank of 160 downloadable, standards-aligned math tasks, the common misunderstandings, and next instructional steps.

_____________________________________________
A Copy:

How good are you at embracing learners' mathematical mistakes? In this remarkable book, John SanGiovanni reminds us that mistakes are not random, and when we take the time to "mine the gap," we can dispel misunderstandings before they take root. Included are 160 downloadable high-quality tasks, aligned to the standards and big ideas grades K-2 mathematics. Each task includes sample student work, commentary on strengths and gaps, and next instructional steps. Whether you use this bank of tasks for instruction or assessment, you will love how it helps you easily identify students' thinking and then follow-up with instruction that brings clear, complete understanding.
Product Details
Grade Level: PreK-12
ISBN:

9781506337685

Published By: Corwin
Series: Corwin Mathematics Series
Year:

2016



Page Count: 384

Publication date:

November 18, 2016
Price: $37.95
Description
Being an effective math educator is one part based on the quality of the tasks we give, one part how we diagnose what we see, and one part what we do with what we find. Yet with so many students and big concepts to cover, it can be hard to slow down enough to look for those moments when students' responses tell us what we need to know about next best steps. In this remarkable book, John SanGiovanni helps us value our young learners' misconceptions and incomplete understandings as much as their correct ones—because it's the gap in their understanding today that holds the secrets to planning tomorrow's best teaching.

SanGiovanni lays out 160 high-quality tasks aligned to the standards and big ideas of grades K-2 mathematics, including counting and representing numbers, number relationships and comparison, addition and subtraction within 100 and 1000, money and time, and multiplication and division. The tasks are all downloadable so you can use or modify them for instruction and assessment. Each big idea offers a starting task followed by:
what makes it a high-quality taskwhat you might anticipate before students work with the task
4 student examples of the completed task showcasing a distinct "gap"
commentary on what precisely counts for mathematical understanding and the next instructional steps
commentary on the misconception or incomplete understanding so you learn why the student veered off course

three additional tasks aligned to the mathematics topic and ideas about what students might do with these additional tasks.
It's time to break our habit of rushing into re-teaching for correctness and instead get curious about the space between right and wrong answers. Mine the Gap for Mathematical Understanding is a book you will return to again and again to get better at selecting tasks that will uncover students' reasoning—better at discerning the quality and clarity of students' understanding—and better at planning teaching based on the gaps you see.
Table of Contents
Big Ideas & Tasks at a Glance
---
Acknowledgments
---
Publisher's Acknowledgments
---
About the Author
---
Introduction
---
CHAPTER 1. RICH MATHEMATICS TASKS, STUDENT MISCONCEPTIONS, USING TASKS
CHAPTER 2. COUNTING AND REPRESENTING NUMBERS
BIG IDEAS
1. Counting on From Any Number (0–120)
2. Counting on a Number Line
3. Skip-Counting
4. Representing Numbers
5. Representing Numbers to 1,000 With Models
6. Understanding Relationships Between Numbers
CHAPTER 3. NUMBER RELATIONSHIPS AND COMPARISON
BIG IDEAS
7. Comparing Numbers Within 100
8. Comparing Numbers Within 1,000
9. Comparing Numbers Within 1,000
10. Number Relationships Through Number Lines
11. Decomposing Numbers Less Than 100
12. More Decomposing Numbers
CHAPTER 4. ADDITION AND SUBTRACTION
BIG IDEAS
13. Representing Addition
14. Properties of Addition
15. Reasoning About Addition
16. Representing Subtraction
17. Connecting Addition and Subtraction
18. Reasoning About Subtraction
19. The Meaning of the Equal Sign
20. Problem Solving With Addition and Subtraction
CHAPTER 5. ADDITION AND SUBTRACTION WITHIN 100
BIG IDEAS
21. Addition Within 100
22. More With Addition Within 100
23. Reasoning About Addition Within 100
24. Subtraction Within 100
25. Reasoning About Subtraction Within 100
26. Problem Solving Using Addition and Subtraction Within 100
CHAPTER 6. ADDITION AND SUBTRACTION WITHIN 1,000
BIG IDEAS
27. Adding Within 1,000
28. Reasoning About Addition Within 1,000
29. Subtraction Within 1,000
30. Reasoning About Subtraction Within 1,000
31. Problem Solving Within 1,000
CHAPTER 7. MEASUREMENT WITH MONEY AND TIME
BIG IDEAS
32. Working and Problem Solving With Money
33. Working and Problem Solving With Money
34. Telling Time
35. Elapsed Time
CHAPTER 8. MULTIPLICATION AND DIVISION
BIG IDEAS
36. Representing Multiplication and Division
37. Reasoning About Multiplication
38. Properties of Multiplication
39. Representing Division
40. Problem Solving With Multiplication and Division
CHAPTER 9. WHAT DO WE DO NEXT?
References and Additional Resources
---