Hands-on, Practical Guidance for Educators
From math, literacy, equity, multilingual learners, and SEL, to assessment, school counseling, and education leadership, our books are research-based and authored by experts on topics most relevant to what educators are facing today.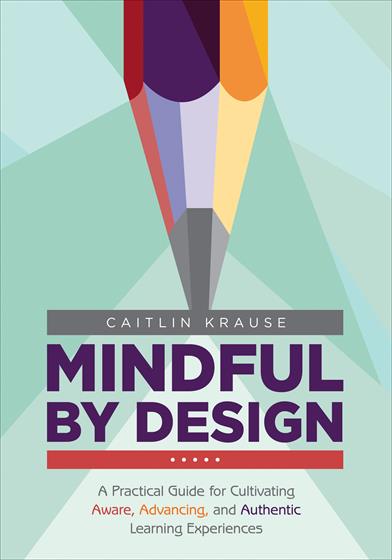 Look Inside
Mindful by Design
A Practical Guide for Cultivating Aware, Advancing, and Authentic Learning Experiences
First Edition

As we navigate complex changes in our professional and personal lives, Mindful by Design is a resource that provides ways to infuse meaningful connection into remote learning, so that learners, teachers, and leaders can flourish.
Product Details
Grade Level: PreK-12
ISBN:

9781506388656

Published By: Corwin
Series: Corwin Teaching Essentials
Year:

2019



Page Count: 224

Publication date:

January 24, 2019
Price: $39.95
Description
"Mindful by Design is a guide to well-being, a practical resource, and a creative call-to-action, as Caitlin Krause helps readers to bridge the gap between prioritizing true connection and achieving it."
– Leah Weiss, author of How We Work: Live Your Purpose, Reclaim Your Sanity, and Embrace the Daily Grind; Lecturer, Stanford Graduate School of Business
"Krause shares valuable strategies that will help any educator, coach, manager, or learning professional bring out the best in those they serve."
—Dorie Clark, adjunct professor at Duke University's Fuqua School of Business and author, Entrepreneurial You and Stand Out
"Mindful by Design is a valuable and inspiring guide, offering generous insights and practical advice for those seeking to center, strengthen, and clarify their efforts both in and outside of the classroom."
—Dinty Moore, author, The Mindful Writer
Take mindfulness beyond the buzzword and spark powerful learning environments!
As we navigate complex changes in our professional and personal lives, Mindful by Design is a resource that provides ways to infuse meaningful connection into remote learning, so that learners, teachers, and leaders can flourish. If you're experiencing "zoom burnout," or just looking for ways to connect more deeply and integrate SEL and mindfulness into the context of your teaching practices, this book is for you!
In a busy world full of challenges and distractions, mindfulness is about increasing a sense of presence and intention in everything we do. This must-have resource explores how mindfulness can improve teaching and learning, promoting the development of future-forward skills including creativity, entrepreneurship, innovation, and communication. Readers will learn how to cultivate a personal mindfulness practice that reflects their individuality, and how to create a community of care and respect through mindfulness, inviting learners to seek more authentic interactions with the curriculum, with themselves, and with each other.
Mindful by Design provides 24 detailed exercises, including step-by-step mindfulness lessons embedded into specific curriculum areas, ready to implement immediately. Filled with practical, accessible explanations and applications that are adaptive and engaging, this book demystifies mindfulness and empowers each individual to embrace a personal mindfulness practice and inspire powerful learning environments.

Caitlin Krause on Mindful by Design
Key features
Teachers will learn:
How mindfulness can benefit them and their classrooms, creating a community of care and respect

How mindfulness helps students develop 21st century skills

24 ready-to-go lessons to implement right away
Table of Contents
Acknowledgments
About the Author
Introduction: Making a Difference
Part I
---
Chapter 1: Mindfulness: Beyond the Buzzword
Chapter 2: Creating a Mindful Learning Environment
Part II
---
Chapter 3: Mindfulness for Teachers
Exercise 1: Just Three Breaths (Breathing Meditation)
Exercise 2: Kiss the Earth (Walking Meditation)
Exercise 3: On Listening and Being Heard: Reducing Stress and Anxiety
Exercise 4: Grateful Heart and Happiness
Exercise 5: Prime Values: Purpose and Presence
Exercise 6: Daring Greatly: Three Exercises for Freedom
Exercise 7: Building Solidarity
Exercise 8: Les Petits Plaisirs: Simple Pleasures for Sustenance
Chapter 4: Mindfulness in the Classroom and Community
Exercise 1: Great Debates: "Fire and Ice"
Exercise 2: Out of this World
Exercise 3: Story of My Name
Exercise 4: Levity Moments
Exercise 5: Gratitude and Mindful Mentors
Exercise 6: Storytelling, Empathy, and Kindness
Exercise 7: Digital Mindful Citizen
Exercise 8: Dignified Selfie
Exercise 9: The Danger of a Single Story
Exercise 10: Mindful Journaling: Nature Journals and Moments of Wonder
Exercise 11: Nature as Teacher: Bold Biomimicry and Design Thinking Applied
Exercise 12: Architecture and Virtual Worlds: Designing Mindful Community Spaces
Exercise 13: What Makes a Mindful Leader?
Exercise 14: Sustainability and Poetry Perspectives: Meditations on "Good"
Exercise 15: Mirror, Mirror: Empathetic Partner Exercises That Help to Hone Focus, Leadership, and Listening Skills in the Age of AI
Exercise 16: The Four P's: Projects, Passion, Peers, and Play
Part III
---
Chapter 5: The Future of Mindfulness
References
Index