Hands-on, Practical Guidance for Educators
From math, literacy, equity, multilingual learners, and SEL, to assessment, school counseling, and education leadership, our books are research-based and authored by experts on topics most relevant to what educators are facing today.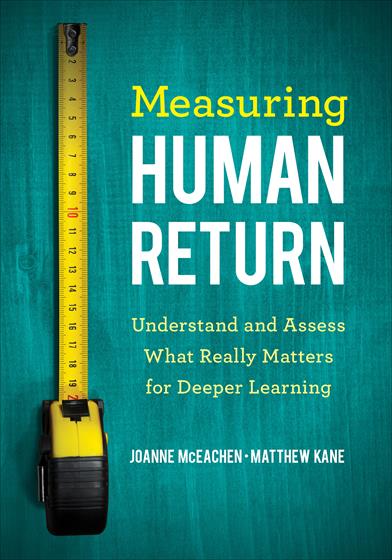 Measuring Human Return
Understand and Assess What Really Matters for Deeper Learning
First Edition

Discover what really matters for students and learn how to bring it to life. Follow this comprehensive guide to measuring self-understanding, knowledge, competencies, and connection.
Product Details
Grade Level: PreK-12
ISBN:

9781544330822

Published By: Corwin
Year:

2018



Page Count: 248

Publication date:

October 12, 2018
Price: $39.95
Description
Measure what matters for deeper learning
Getting at the heart of what matters for students is key to deeper learning that connects with their lives, but what good is knowing what matters without also understanding how to bring it to life? What does it really take to know who students are, what they are truly learning, and why?

Measuring Human Return solves this dilemma with a comprehensive, systematic process for measuring deeper learning outcomes. Educators will learn to assess students' self-understanding, knowledge, competencies, and connections through vignettes, case studies, learning experiences and tools. The book helps readers:
Develop key system capabilities to build the foundation for sustainable engagement, measurement, and change
Discover five comprehensive "frames" for measuring deeper learning
Engage in the process of collaborative inquiry
Commit to the central, active role of learners by engaging them as partners in every aspect of their learning
Discover how to take an authentic, formative, and inquiry-driven approach to measuring the outcomes that drive deeper learning.
The book really hits the mark. The best thing about it is the in-depth discussion of systems. It is with great pleasure that I read and re-read this book. It delivers a good combination of big vision with specific strategies and techniques.
Jeff Beaudry, Professor, Educational Leadership;
University of Southern Maine; Portland, ME
This is just what we need in our district. This engaging book will help Change Teams support their systems to effectively measure deeper learning. Readers will be drawn in by great examples from around the globe of educators putting students first. This energizing book calls us to take action for all of our students today and for our future.
Charisse Berner, Director of Teaching and Learning, Curriculum;
Bellingham Public Schools; Bellingham, WA
Key features
This book will support the following primary outcomes:
Development of System Capabilities. This book describes and provides the process for
developing five key system capabilities:
•! Understanding Your System
•! Engaging Learners, Families and Communities as Real Partners
•! Identifying and Measuring What's Important
•! Leading for Deep and Sustainable Change
•! Creating a Culture of Learning, Belonging and High Expectations for All
Establishment of a Comprehensive System of Measurement. This book describes five
"frames" for measuring deep learning, which walk readers through the process of setting
up and sustaining a system of measurement in their schools and systems.
Engagement in the Process of Collaborative Inquiry. Collaborative inquiry describes the
continuous process of deep learning design, implementation, assessment and measurement
encasing all work with deep learning.
Commitment to the Central, Active Role of Learners. The overarching exploration of this
book is the importance of engaging learners (and parents and communities) as active
partners in every aspect of their learning. With deep learning, pedagogy is no longer solely
the concern of the teacher. Learning design, measurement, assessment and all other
elements of pedagogical practice extend now to students as well, whose roles and
responsibilities are consistent not only with learning, but with those once blanketed under
teaching as well.
Table of Contents
Preface: The Depth of Humanity
---
Part I. Capable Systems of Change
---
1. FROM SURFACE TO DEEP
Deeper Learning in a Changing World
A Comprehensive Measurement Framework
The State of the System
Assumption-Shatterers
2. SYSTEM CAPABILITIES
Shifting Priorities
System Capability 1: Understanding Your System
System Capability 2: Engaging Learners, Parents, and Communities as Real Partners
System Capability 3: Identifying and Measuring What's Important
System Capability 4: Leading for Deep and Sustainable Change
System Capability 5: Creating a Culture of Learning, Belonging, and High Expectations for All
3. THE CHANGE TEAM PROCESS
Collective Cognition for Collaborative Change
An Inquiry Approach
Final Reflections on Part I
Part II. Five Frames of Measurement
---
4. ENGAGING PARTNERS AROUND WHAT MATTERS
Engage, Empower, and Transform
Composing an Evaluative Snapshot
Identifying and Describing What Matters
Breaking Down Deeper Learning
5. DEVELOPING MEASURES OF DEEPER LEARNING
Authentic Measures and a System of Tools
Measuring Self-Understanding, Connection, and Competency
Capability and Practice Tools
Developing Measures in Individual Contexts
6. FINDING CLARITY IN DEPTH
Riding the Wave
Language Development
Establishing System Alignment
Final Reflections on Part II
Part III. Authentic Inquiry Practice
---
7. PROFESSIONAL LEARNING AND INQUIRY
Drilling Down Into Inquiry
Making Sense of Assessment Evidence
Engaging in Professional Inquiry
8. INQUIRING INTO OUTCOMES
Assessing and Measuring Student Outcomes
Designing Authentic Assessments
9. DEEPER LEARNING EXPERIENCES
Practice Applies
A Celebration of Learning and Practice
No Interrupting the Flow
10. COLLABORATIVE MODERATION
Measuring and Sharing Learning and Practice
Exemplars, Evidence, and Inter-Rater Reliability
Final Reflections on Part III
Conclusion: How Deep Are You?
---
Glossary
---
References
---
Index
---
Acknowledgments
---
About the Authors
---