Hands-on, Practical Guidance for Educators
From math, literacy, equity, multilingual learners, and SEL, to assessment, school counseling, and education leadership, our books are research-based and authored by experts on topics most relevant to what educators are facing today.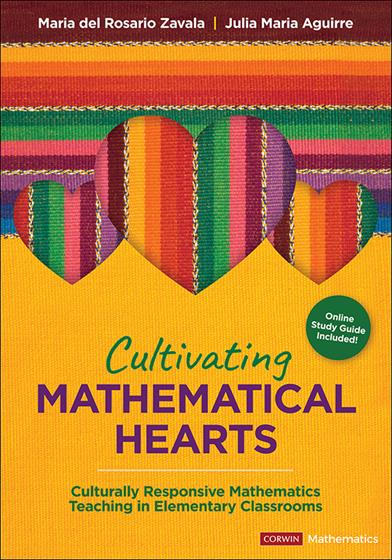 Cultivating Mathematical Hearts
Culturally Responsive Mathematics Teaching in Elementary Classrooms
Unlock the mathematical heart of each student with culturally responsive mathematics instruction, equity-based teaching, and humanizing math instruction. With this book, teachers can nurture the mathematics identities of their students!
Product Details
Grade Level: PreK-12
ISBN:

9781071850107

Published By: Corwin
Series: Corwin Mathematics Series
Year:

2023



Page Count: 248

Publication date:

October 10, 2023
Price: $37.95
Description
Help students see their whole selves in the math they're learning with culturally responsive teaching.

Cultivating Mathematical Hearts: Culturally Responsive Mathematics Teaching in Elementary Classrooms, aims to re-center mathematics as a humanizing endeavor because putting children and their humanity at the heart of mathematics education can result in more engaged, meaningful, and joyful learning.
This book introduces a model and a tool for Culturally Responsive Mathematics Teaching, constructed to create a safe, inclusive space where all learners can come together in their own educational journey and develop a love for math that centers their experiences and comes from the heart. Implementing the Culturally Responsive Mathematics Teaching Tool (CRMT2) will help you cultivate and sustain meaningful, rich, and rigorous mathematical learning spaces for all your students–experiences that foster mathematical curiosity and joy. The book walks you through each aspect of the framework and tool, guiding you to consider how your classroom structures, lessons, tasks, and assessments:
Honor the existing cultural strengths, experiences, and lived realities of all your students
Elicit diverse mathematical thinking and ideas
Support equitable access to rigorous mathematical learning and discourse for all students
Invite a sense of agency in each student's learning experience
Promote high engagement and excitement while learning mathematics
Nurture an understanding that mathematics is a powerful tool for making sense of the world
By weaving these strategies into classroom lessons, teachers can humanize mathematics instruction to successfully build a love for math while providing equitable learning opportunities that empower student voice and promote success in mathematics.
Table of Contents
CRMT in a Bilingual Classroom
---
CRMT in Elementary Classrooms
---
Preface
---
Acknowledgements
About the Authors
---
Part 1: Foundations and Framework of Culturally Responsive Mathematics Teaching
---
Chapter 1: Culturally Responsive Mathematics Teaching: Purpose and Principles
Chapter 2: Unpacking Culturally Responsive Mathematics Teaching: Retooling Your Pedagogy
Chapter 3: Knowledges and Identities
Chapter 4: Rigor and Support
Chapter 5: Power and Participation
Part 2: Culturally Responsive Math Teaching in Elementary Classrooms
---
Chapter 6: Using CRMT to Adapt a First Grade District-Created Lesson By Holly Tate and Olivia Canning
Chapter 7: Using CRMT to Transform a Fourth-Grade Mathematics Classroom Over Time By Holly Tate and Kaitlin Kaplewicz
Chapter 8: Corazones Matemáticas: CRMT in Bilingual Classrooms By Melissa Adams Corral
Chapter 9: CRMT in Special Education Spaces By Talya Kemper and Maria del Rosario Zavala
Epilogue
Appendix: The Culturally Responsive Mathematics Teaching Tool (CRMT2)
References
---