Hands-on, Practical Guidance for Educators
From math, literacy, equity, multilingual learners, and SEL, to assessment, school counseling, and education leadership, our books are research-based and authored by experts on topics most relevant to what educators are facing today.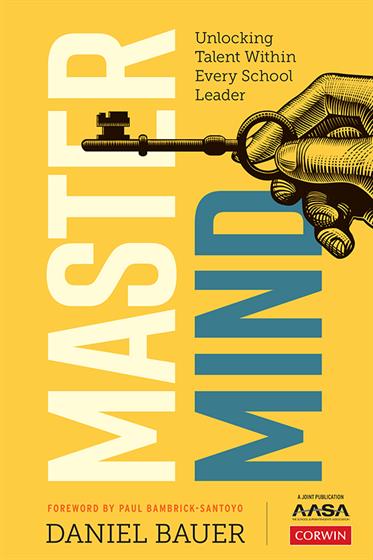 Look Inside
Bestseller!
Mastermind
Unlocking Talent Within Every School Leader
First Edition
Foreword by Paul Bambrick-Santoyo
A Joint Publication with AASA, The School Superintendents Association

Master this age-old and proven strategic advantage, show up as the leader you were meant to be and guide your teams toward new levels of accomplishment.
Product Details
Grade Level: PreK-12
ISBN:

9781071837085

Published By: Corwin
Year:

2021



Page Count: 264

Publication date:

October 12, 2021
Price: $26.95
Description
The secret behind limitless leadership impact
Lack of mentorship and coaching is a leading reason for leader attrition in education, but it doesn't have to be this way. If it's true that "Everyone wins when the leader gets better," then your community is counting on you to prioritize your own professional growth – so that YOU get better.
In Mastermind: Unlocking Talent Within Every School Leader, Daniel Bauer – highly sought-after coach and mentor to thousands of school leaders –  introduces readers to a strategic advantage relied on by business leaders since the 1930s. The mastermind is an exceptional PD model for leaders looking to level up – and if this advantage worked for people like Andrew Carnegie, Henry Ford, and FDR, what could it do for you and your school? Framed around the ABCs of Powerful Professional DevelopmentTM, this book will provide school leaders with:
Templates and tools for starting and running successful mastermind groups
Protocols to encourage collaboration, dialogue, and problem solving so school leaders can work together to overcome challenges
Stories of impact from education mastermind participants all over the world
The question is – what would you be able to accomplish within your school if you showed up this year as the leader you were meant to be?
Table of Contents
Foreword
---
Acknowledgments
---
About the Author
---
Introduction
Alarming Trends
What Successful People Do
The Origins of the Mastermind
My Mastermind Origin Story
What You'll Find in This Book
Ichi-go Ichi-e
Part I
---
Chapter 1. The Problem With PD
Inauthenticity
Isolation
Missed Opportunities
Chapter 1 Reflection Questions
Chapter 2. The Solution
Mastermind Snapshot
The Ideal Member
The Model
Chapter 2 Reflection Questions
Part II
---
Chapter 3. Authenticity
Safety
Self-awareness
Values-Driven
Chapter 3 Reflection Questions
Chapter 4. Belonging
Shared Purpose
Inclusive Environments
Trust
Chapter 4 Reflection Questions
Chapter 5. Challenge
Mindset
Taking Action
Powerful Community
Chapter 5 Reflection Questions
Conclusion
The Only Game Worth Playing
A Brief Look Back
An Invitation
Resources
---
Reference List
---
Index
---
Reviews
This is a carousel with review cards. Use the previous and next buttons to navigate.
Daniel Bauer has the ability to deeply engage others in how to be better leaders, share what he has learned in the process, and offer it in a book. Mastermind is not just engaging from the first sentence; it offers research and practice that can help us have a deeper impact on leading and learning.
Peter DeWitt
Daniel Bauer has created incredible communities for educational leaders worldwide. In this fun-to-read, inspiring, and practical book, Danny shares with us his rationale for starting mastermind communities and how he designs this specific type of professional learning for leaders. You learn how masterminds can create tremendous growth for all who participate.
Jennifer Abrams
When we are isolated we are not fully aware of the possibilities. Daniel does an amazing job in Mastermind revealing what new perspectives offer. Leaning in on unbiased trusted advisors opens the door for unlimited opportunities. Don't miss this one, school leaders.
Aaron Walker
Though Bauer's book is about how masterminds allow K–12 leaders to reach their potential, I recommend it for those in higher education as well. As a college president, I rely on the tools Bauer highlights: opportunities for mentorship, investment in personal growth, a push for innovation, support networks, and the capacity to see challenges and issues through multiple perspectives.
Hilary L. Link
Bauer reveals how isolation, lack of trust, and inadequate professional growth opportunities not only limit the influence of a leader, but even worse, could propel them to leave the profession altogether. The mastermind concept coupled with his ABCs of powerful professional development™ provide the roadmap all school leaders should follow to ensure they develop the support and connectedness they will need to thrive and not just survive.
Joseph Jones
As a university professor devoted to teaching excellence, I'd heard of masterminds but didn't know what they did or value. Daniel Bauer explains them, who does them, why, how, and what to expect from them, illustrated with stories from principals and educators who did them. Now I want to do one. I wish I'd read this book a long time ago.
Joshua Spodek
The concept of a mastermind has long been a way leaders not only transferred knowledge but deepened their own understanding. Especially during a time of global uncertainty, this is an essential book for school leaders to learn how to use their collective experience to grow. Daniel Bauer takes concepts like 'trust' and 'mindset' and provides actionable ways to build these skills in yourself and others.
Anthony Kim
School leadership is tough, isolating work. In Mastermind, Daniel Bauer spotlights the urgent need for school leaders to connect with a supportive cohort of peers so they can grow, get help with the challenges they face, and anchor their work in deeply held values. No one has done more to help leaders connect with each other and continually challenge themselves to be their very best than Danny.
Justin Baeder
In his book Mastermind: Unlocking Talent Within Every School Leader, Daniel Bauer masterfully teaches the true power of creating a mastermind group to become world-class school leaders. From conducting difficult conversations to creating a vision, and so much more, Daniel has created a powerful playbook to unlock your highest leadership potential.
Tommy Breedlove
Unfortunately, school leaders are the educators who receive the least professional learning in the building. No more! This book—one that reads like a casual conversation, laughing with a trusted colleague—opens up a transformative approach to growing the leaders of our schools. Join Daniel Bauer to learn about a bold new approach to growing leadership skills.
Jenn David-Lang
Leading with a mastermind mindset is now more than nice, it is a necessity. In Mastermind: Unlocking Talent Within Every School Leader, Daniel Bauer shares practical tips from extensive knowledge and research on the impact of becoming a better leader and building better schools. Educators will walk away with tool sets, skill sets, and mindsets that will enhance their practices tomorrow.
Jessica Cabeen
A consistent theme from educational leaders is how isolating the work can be—how alone they feel. A powerful antidote to that is to join a community of peers that illuminates perspectives on education-related issues. If you're looking for a surefire roadmap on how to engage in such conversations, look no further. Mastermind—an artful blend of research-based principles and real-world practices.
Jeff Ikler
Every school leader should read this book, and every school leader deserves to be in a mastermind group. Not only does Daniel Bauer outline the qualities of a great school leader, but he also defines the specific ways that we can grow together as a community of learners. At its core, this book reimagines the professional growth experience that school leaders need to be effective in their roles. A must-read!
T.J. Vari
If you are not currently participating in a mastermind group, Daniel Bauer gives compelling reasons why you should be. He shares the necessity and importance of connecting with others in order to reach our maximum potential. The reflection questions, assessment tools, and visuals make this book an interactive learning experience. As you read, enjoy a growth opportunity at your fingertips!
Sanée Bell
This is a must-read for educational leaders looking to transform antiquated public learning systems. Transformation starts within and around other likeminded leaders. Bauer's approach to professional learning is a game-changer.
D'Andre J. Weaver