Hands-on, Practical Guidance for Educators
From math, literacy, equity, multilingual learners, and SEL, to assessment, school counseling, and education leadership, our books are research-based and authored by experts on topics most relevant to what educators are facing today.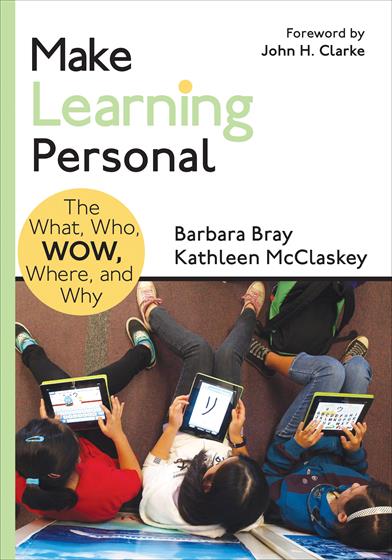 Look Inside
Bestseller!
Make Learning Personal
The What, Who, WOW, Where, and Why
This thorough and timely resource draws from Universal Design for Learning® principles to create a powerful shift in classroom dynamics, guiding learners to become self-directed and self-motivated.
Product Details
Grade Level: PreK-12
ISBN:

9781483352978

Published By: Corwin
Series: Corwin Teaching Essentials
Year:

2014



Page Count: 288

Publication date:

October 20, 2014
Price: $40.95
Description
Click here for a press release about the book!

Put learning back into the hands of the learner!
Through personalized learning, education as we know it is transformed as learners are empowered to take control of their own learning. This thorough and timely resource draws on Universal Design for Learning® principles to create a powerful shift in classroom dynamics by guiding learners to become self-directed, self-monitoring, and self-motivated. You'll discover:
A system that includes tools and strategies to reduce barriers and maximize learning for all learners

A clear explanation distinguishing personalized learning from differentiation and individualized instruction

Teachers' personal stories of moving through the Stages of Personalized Learning Environments to transform teacher and learner roles and school culture

Background information on developing a rationale on why to personalize learning

Strategies to create the change that occurs with the culture shift that happens in classrooms and schools as you personalize learning.
Recognized authorities in personalized learning, the authors have led educational innovation for almost three decades.
"As an educator for more than 30 years, I have seen a myriad of ideas to improve education. Personalized learning could truly be the game-changer! Barbara and Kathleen have certainly done their homework in clearly defining what it means to personalize learning. They identify stages that can help teachers gradually adapt their role, moving from a teacher-centered classroom to a learner-driven environment. This book will serve as a valuable handbook as educators make the decision to empower their learners!"
- Betty Wottreng, Director of Technology Services, Verona Area School District, Wisconsin


Key features
Authored by two well known experts in personalized learning

Clearly explains what personalized learning is and how it differs from differentiated instruction and individual instruction

Covers the three stages of personalized learning implementation

Filled with activities, models, and examples; backed by research

Book supports webinar and online courses created by authors
Table of Contents
Preface
---
Introduction
---
Foreword
---
1. What is Personalized Learning?
2. Who Are Your Learners?
3. Wow! Teacher and Learner Roles Are Changing
4. Where Is Personalized Learning Happening?
5. Why Personalize Learning?
6. Your Turn to Personalize Learning
Conclusion
---
References
---
Appendix
---