Hands-on, Practical Guidance for Educators
From math, literacy, equity, multilingual learners, and SEL, to assessment, school counseling, and education leadership, our books are research-based and authored by experts on topics most relevant to what educators are facing today.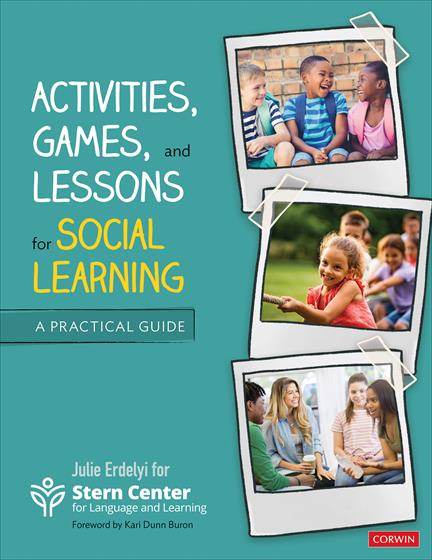 Activities, Games, and Lessons for Social Learning
A Practical Guide
Foreword by Kari Dunn Buron

Each game keeps kids engaged and motivated, with lessons, real-word examples, links to research, expansion ideas and reproducibles for easy implementation.
Product Details
Grade Level: PreK-12
ISBN:

9781544362458

Published By: Corwin
Year:

2020



Page Count: 168

Publication date:

April 13, 2020
Price: $34.95
Description
In these games, the prize is success in school—and life.
Having good social skills doesn't just affect classroom behavior—it's the key to making learning stick. When students improve their self-regulation, social communication, and perspective-taking competencies, they are better prepared to challenge themselves academically, take on tough tasks, and collaborate with teachers and classmates to achieve real, lasting school success. And since these skills also improve life outside school, the benefits come full circle.
Designed for both explicit instruction and "learning by doing," this practical guide provides hands-on activities that are easily adapted into any curriculum and can be used in general education, special education, after-school settings, and in the home. The design of each game keeps kids engaged and motivated, while educators benefit from clear, thorough explanations that unpack the complexities of social learning. Other behind-the-scenes features include:
Evidence-based, teacher-tested lessons
Anecdotes and real-world examples

Links to relevant research

Expansion ideas for applying learned skills to broader situations


Templates and reproducibles for easy implementation
This curated collection of activities puts social-learning theory into practice, helping even the most challenging children develop the social skills necessary for real success in school—and beyond.
Table of Contents
List of Tables and Figures
---
Foreword by Kari Dunn Buron
---
Preface
---
Acknowledgments
---
About the Authors
---
INTRODUCTION: WHY SOCIAL LEARNING? WHY NOW?
---
What Is the Need for Social Learning?
What Is the Ideal Approach to Social Learning?
What Does Social Learning Look Like for Students?
Section 1: Teaching Self-Regulation
---
CHAPTER 1. Self-Regulation: The Basics
What Is Self-Regulation?
Functions of Behaviors and Interventions
Cognitive Skills
The Sensory System
CHAPTER 2. Lesson Plans for Teaching Self-Regulation
Table 2.1 Self-Regulation Lesson Plans Overview
Lesson 1: Suspend
Lesson 2: Taboo
Lesson 3: Tenzi
Lesson 4: Chill Out
Lesson 5: Flexibility Points
Lesson 6: Balloon Release
Lesson 7: Uno
Lesson 8: Personal Space Role-Play
Lesson 9: SKIP-BO
Lesson 10: Spit
Section 2: Teaching Social Communication
---
CHAPTER 3. Social Communication: The Basics
Relationship Types
Complexities of Social Communication
Nonverbal Communication
Teaching Conversation
CHAPTER 4. Lesson Plans for Teaching Social Communication
Table 4.1 Social Communication Lesson Plans Overview
Lesson 1: Hidden Message
Lesson 2: I Doubt It
Lesson 3: Follow-Up Questions
Lesson 4: Hedbanz
Lesson 5: Relationship Types Card Sort
Lesson 6: 5-Second Rule
Lesson 7: Hidden Objects
Lesson 8: Ball Toss Communication
Lesson 9: Word on the Street
Lesson 10: Beanbag Crash
Section 3: Teaching Perspective-Taking
---
CHAPTER 5. Perspective-Taking: The Basics
Theory of Mind
Social Cognitive Theory
Informal Assessment Tasks
The Intersection of Perspective-Taking and Social Communication
Hidden Curriculum
Levels of Friendship
Listen, Care, Change
Comic Strip Conversations and Social Stories
CHAPTER 6. Lesson Plans for Teaching Perspective-Taking
Table 6.1 Perspective-Taking Lesson Plans Overview
Lesson 1: Apples to Apples Personalized
Lesson 2: Celebrity
Lesson 3: Telephone in Pictures and Words
Lesson 4: Spoons
Lesson 5: Suspicion
Lesson 6: Picture Sequencing Activity
Lesson 7: Faceland
Lesson 8: Listen, Care, Change
Lesson 9: Guess My Gaze
Lesson 10: Bubble Talk
CONCLUSION
---
Resources
---
References
---
Index
---