Hands-on, Practical Guidance for Educators
From math, literacy, equity, multilingual learners, and SEL, to assessment, school counseling, and education leadership, our books are research-based and authored by experts on topics most relevant to what educators are facing today.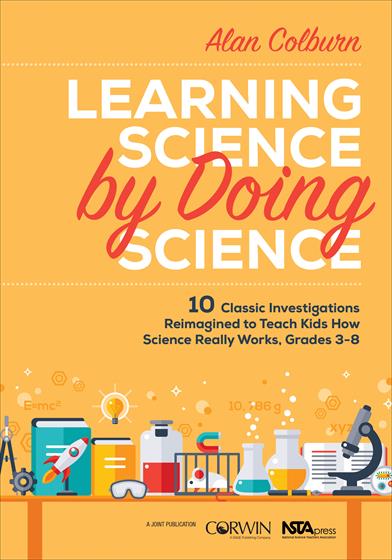 Look Inside
Learning Science by Doing Science
10 Classic Investigations Reimagined to Teach Kids How Science Really Works, Grades 3-8
Adapt classic investigations to illustrate the "big ideas" about the nature of science with clear links to the Next Generation Science Standards and its Science and Engineering Practices.
Product Details
Grade Level: PreK-12
ISBN:

9781506344614

Published By: Corwin
Year:

2017



Page Count: 208

Publication date:

January 25, 2017
Price: $39.95
Description
Time-tested activities to teach the key ideas of science—and turn students into scientists!

Science education is becoming more rigorous than ever, but that doesn't have to make it more difficult. In this straightforward and witty book, Alan Colburn has adapted classic investigations to help students in grades 3 through 8 truly think and act like scientists. Chapter by chapter, this accessible primer walks you through classic science investigations, discussing how each one illustrates a "big idea" about the nature of science, and offering clear links to the Next Generation Science Standards and its Science and Engineering Practices. You'll also find:
A reader-friendly overview of the NGSS
Guidance on adapting the activities to your grade level, including communicating instructions, facilitating discussions, and managing safety concerns
Case studies of working scientists to highlight specifics about the science and engineering practices.
With this elemental guide, you'll teach your students not just what scientists do, but how scientists think—giving them the 21st-century skills they need to become the next generation of scientists.

"Now that the real work of NGSS implementation has begun, there is a high demand for quality instructional resources that show how core ideas and concepts, practices, and the nature of science come together in meaningful, intellectually engaging science investigations supported with content and pedagogical background information for the teacher. Thank you Alan Coburn for providing a resource that addresses the challenges and practical reality of transitioning to quality classroom instruction that mirrors our current best thinking about teaching and learning science."
— Page Keeley, Past-President of the National Science Teachers Association
Key features
Introductory information on the Next Generation Science Standards
Activities in every chapter that clearly illustrate the big idea around the Nature of Science and the NGSS Science and Engineering Practices (SEPs)

Sidebars and callouts with facilitation notes for conducting the activities for different grade levels 3-8

Clear links to NGSS standards and SEPs

Case studies of working scientists to highlight specifics about the SEPs and the nature of science
Table of Contents
Preface
---
Acknowledgments
---
About the Author
---
1. Take Us Out, Mr. Data: What's the most important thing to know about scientific knowledge?
2. Think Different: How is scientific thinking different from everyday thinking?
3. I've Got a Theory About That: How do scientists explain observations?
4. Elementary, My Dear Watson: Why is there no such thing as the scientific method?
5. I Must Be a Bit Indirect in This Chapter: Why is indirect evidence important to science?
6. Scientists Do Experiments . . .: What procedures do scientists use when answering questions?
7. We're Counting on You: What do I need to know about data?
8. Bob the Builder and You: What about engineering and NGSS?
9. Learning to Fish: Where do you go next?
Appendix A. An Introduction to the Next Generation Science Standards
Appendix B. Teacher to Teacher: Advice From Elementary and Middle School Colleagues
Glossary
---
References
---
Index
---