Hands-on, Practical Guidance for Educators
From math, literacy, equity, multilingual learners, and SEL, to assessment, school counseling, and education leadership, our books are research-based and authored by experts on topics most relevant to what educators are facing today.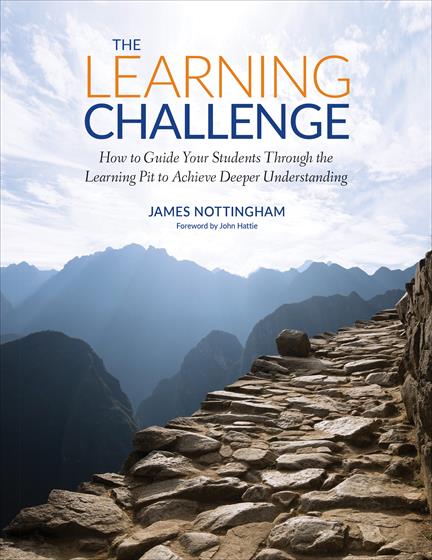 Look Inside
Bestseller!
The Learning Challenge
How to Guide Your Students Through the Learning Pit to Achieve Deeper Understanding
Challenge makes learning more interesting. Nottingham shows you how to promote challenge, dialogue, and a growth mindset for student success in The Learning Challenge.
Product Details
Grade Level: PreK-12
ISBN:

9781506376424

Published By: Corwin
Series: Corwin Teaching Essentials
Year:

2017



Page Count: 280

Publication date:

May 03, 2017
Price: $40.95
Description
Embrace challenge and celebrate eureka!

Challenge makes learning more interesting. That's one of the reasons to encourage your students to dive into the learning pit—a state of cognitive conflict that forces students to think more deeply, critically, and strategically until they discover their "eureka!" moment. Nottingham, an internationally known author and consultant, will show you how to promote challenge, dialogue, and a growth mindset through:
Practical strategies that guide students through the four stages of the Learning Challenge
Engaging lesson plan ideas and classroom activities
Inspiring examples from Learning Challenges across the world
If you and your students focus on grades alone then rich learning opportunities might be missed along the way. A more rigorous and exploratory path to learning leads to a deeper understanding of concepts. When students experience The Learning Challenge, learning lasts for a lifetime.

"Nottingham shows us how to use generative concepts as focal points for engaging deep student thinking and discourse. His visual model of 'pits and peaks' helps us realize that cooperatively grappling with cognitive conflicts in the pit is necessary to eventually reach new peaks of understanding. Nottingham provides a wealth of strategies, tools and examples to aid the teacher. The vast array of questions to stimulate student thinking is second to none."
H. Lynn Erickson, Educational Consultant
Author, Concept-Based Curriculum and Instruction for the Thinking Classroom, 2nd ed.

"Nottingham has provided a clear, concise, and research-based approach to creating cognitively challenging classrooms that captivate, activate, and invigorate learners. This book takes every reader through the learning pit, challenging their prior beliefs, and leads them to construct and consider an innovative way to promote stronger and deeper learning for their students."
John Almarode, Professor of Education & Co-Director of the Center for STEM Education and Outreach
James Madison University, College of Education, Harrisonburg VA
Key features
Teachers will find:
Detailed explanations & graphics of the Learning Pit & the Learning Challenge

Several lesson plan ideas across grade levels and subject areas

Practical strategies for guiding students through each stage of the Learning Challenge

Classroom activities

Examples from Learning Challenges across the world
Table of Contents
Foreword by John Hattie
---
Preface
---
Chapter 1: Introduction to the Learning Challenge
Chapter 2: The Learning Challenge in Practice
Chapter 3: The Learning Challenge Culture
Chapter 4: Concepts
Chapter 5: Cognitive Conflict
Chapter 6: Construct Meaning
Chapter 7: Consider Your Learning
Chapter 8: Mindset Matters
Chapter 9: Links and Perspectives
Chapter 10: The Learning Challenge in Action
Appendix
---
Index of Concepts
---
References
---
Index
---