Hands-on, Practical Guidance for Educators
From math, literacy, equity, multilingual learners, and SEL, to assessment, school counseling, and education leadership, our books are research-based and authored by experts on topics most relevant to what educators are facing today.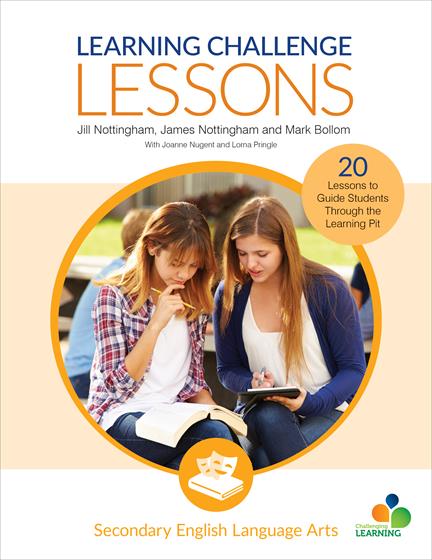 Look Inside
Learning Challenge Lessons, Secondary English Language Arts
20 Lessons to Guide Students Through the Learning Pit
First Edition

For fans of the The Learning Challenge, this book provides everything you need to run dialogue-driven challenges so that students develop literary skills critical to ELA standards.
Product Details
Grade Level: PreK-12
ISBN:

9781544330525

Published By: Corwin
Series: Corwin Teaching Essentials
Year:

2019



Page Count: 264

Publication date:

April 05, 2019
Price: $26.95
Description
Practical strategies for bringing The Learning Challenge to life in your secondary ELA classroom

The Learning Challenge has captured the imaginations of educators, students, and their parents by introducing the idea of Learning Pit"—a state of cognitive conflict that causes students to think more deeply, critically, and strategically until they discover their "eureka!" moment.

Now, fans of the The Learning Challenge who want practical examples and ready-to-use lessons for their secondary ELA classrooms need not look any further. This book provides teachers with everything they need to run thoughtful, dialogue-driven challenges so that students engage more deeply with the classics and develop literary skills critical to ELA standards. Students will analyze texts in lessons grounded in cognitive conflicts such as
We are all responsible for our own actions, and yet we sometimes act because we are following orders or instructions from others (Lesson 1: Who was responsible for the death of William in Mary Shelley's Frankenstein?)
To be successful you cannot fail, but most successful people have experienced many failures along the way (Lesson 7: Was Jay Gatsby a success?)
Love is impossible to define, and yet everyone knows what love is (Lesson 11: Is Romeo really in love?)
From detailed lesson plans and activities for running Learning Challenges in the classroom, to full-color activity cards that enhance each lesson, this must-have resource offers relevant and timely instructional strategies on topics that interest and engage secondary students.
Key features
Teachers will receive:
Learning Challenge lessons that are relevant and timely, on topics that interest and engage students
Detailed lesson plans and activities for running Learning Challenges in their classroom
Full-color activity cards to accompany each lesson
Table of Contents
List of Figures
Index of Concepts
Acknowledgements
About the Authors
About the Contributors
The Language of Learning
Part I: Setting the Scene
---
Chapter 1: Preparing to Use the Lesson Ideas
1.0 Introduction
1.1 The Learning Challenge
1.2 Learning Intentions
1.3 High-Quality Dialogue
1.4 Exploratory Talk
1.5 Underpinning Values
Chapter 2: The Lesson Activities
2.0 Overview
2.1 Mysteries
2.2 Ranking
2.3 Sorting and Classifying With Venn Diagrams
2.4 Opinion Lines
2.5 Opinion Corners
2.6 Fortune Lines
2.7 Living Graphs
2.8 Concept Lines
2.9 Odd One Out
2.10 Concept Target
2.11 Concept Corners
2.12 Concept Map
2.13 Jigsaw Groups
Part II: The Lesson Ideas
---
Lesson 1: Who Was Responsible for the Death of William in Mary Shelley's Frankenstein?
Lesson 2: Do We Feel Sympathy for Scrooge in Stave 1 of A Christmas Carol?
Lesson 3: How Are Dreams Presented in Jane Eyre?
Lesson 4: Does Heathcliff Become More or Less Monstrous Over the Course of the Novel Wuthering Heights?
Lesson 5: Does Louisa May Alcott's Novel Little Women Accept or Challenge Gender Stereotypes?
Lesson 6: Was Toto Dorothy's Only True Friend?
Lesson 7: Which Is the Most Important Symbol in The Great Gatsby?
Lesson 8: Which Example of Foreshadowing in Of Mice and Men Has the Most Impact on the Reader?
Lesson 9: Was It Acceptable for Liesel to Steal in The Book Thief?
Lesson 10: Was Macbeth Really a Tragic Hero?
Lesson 11: Is Romeo Really In Love?
Lesson 12: Who Has the Most Power in Romeo and Juliet?
Lesson 13: Is Tybalt a Villain or a Victim?
Lesson 14: Is Fame Important?
Lesson 15: Was Wilfred Owen a Patriot or a Pacifist?
Lesson 16: Does the Poem 'The Road Not Taken' Show Us How to Make the Right Choice?
Lesson 17: Was the Californian Gold Rush of 1848 the Main Cause of Conflict Between Native and European Americans?
Lesson 18: Did Anne Frank Experience Happiness?
Lesson 19: Why Was Winston Churchill's Speech Effective?
Lesson 20: What Was the Intent of President Reagan's Speech at Moscow State University in 1988?
References
Photocopiable Masters
Index
Reviews
This is a carousel with review cards. Use the previous and next buttons to navigate.
The potential of this book is paramount; a valuable resource for any secondary language arts classroom.



Dr. Miriam A. DeCock
Wadena Deer Creek ISD, Wadena, MN
Learning Challenges for ELA Students by Jill Nottingham and James Nottingham provides a fresh, engaging approach to traditional texts, from poetry to classics like Romeo and Juliet and Of Mice and Men. The constructive approach fosters students' ability to form and support opinions and inferences, supported by text.



Kathleen Swift
Newtown High School Sandy Hook, CT
The lessons included in this text are strong examples that I would recommend to any teacher seeking to guide students through the 'Learning Pit' and engages students in critical thinking based upon textual analysis.



Dr. Audrey L. Harper
Warren County Public Schools, Bowling Green, KY
The authors have provided a pragmatic teacher resource bridging the concepts of Challenging Learning to instructional implementation in context! For some, it will take the guesswork out of creating a lesson that puts students "in the learning pit." For others, this text will be influential in sparking their creativity for systematic lesson design.



Kevin R. Kirkwood
Genesee Valley Educational Partnership (BOCES), Le Roy, NY
Yet another superb Nottingham Learning Pit publication. Detailed, yet accessible, practical yet thought-provoking, this book lays out comprehensive lesson ideas, built around searching questions, which take students through cognitive conflict to deep understanding of secondary English contexts.
Shirley Clarke
This is an excellent resource for any teacher seeking to develop the quality of dialogue in their classroom. It's a very practical resource, which neatly bridges the gap between theory and practical application. Imaginative use of these ideas will enable teachers to offer challenging and engaging learning experiences for students and develop their capacity for creativity and critical thinking. I would whole-heartedly recommend this excellent, highly readable addition to the 'Challenging Learning' library.
Geoff Moorcroft
Isle of Man
The Nottinghams have written a must-read, practical implementation guide for any ELA teacher considering integrating Challenging Learning into their classroom. This book provides ELA teachers with countless strategies and a systematic approach to lesson planning that will move students to deeper understanding of conceptual ideas through dialogue and exploratory talk. This text is the perfect 'how to' companion to Nottingham's previous publications. Read this book and walk away with the confidence to effectively and efficiently plan to move students in and out of 'the Learning Pit' on a regular basis.
Sarah Callahan
Genesee Valley Educational Partnership
The work of James and Jill Nottingham, along with all of their colleagues at Challenging Learning,
has finally provided the 'what next' in education to support deep and engaging learning for all students.
Within their series of Challenging Learning books, including Learning Challenge Lessons
for ELA Students, educators are able to take the key ideas within Challenging Learning and the
Learning Pit, and put them into practice in a practical way. Every secondary ELA teacher needs to
get this resource in their hands!
Garth Larson
FIRST Educational Resources (USA)
The Learning Challenge Lessons book is brilliant for improved learning on several levels. First of all, it provides you with an insight on how to design for deeper learning for students, by role-modelling lots of examples of how to use and 'travel through' The Learning Pit. Second, it helps you as an adult to develop a common language for and a better understand of learning in general. And last, but not least, it challenges your students' thinking (and perhaps yours as well), and therefore their overall learning skills.
Ingelin Burkeyland
This book is a must for secondary teachers searching for strategies to guide adolescents through creating and replicating the thrill experienced from learning. If you are hungry to activate your students to embark on a challenging journey – from being in a state of cognitive dissonance until progressing to the point of 'EUREKA! I'VE GOT IT!' – then the Nottinghams have answers sure to satisfy your craving!
Tara Noe
Guiding students through the Learning Pit to promote challenge, dialogue, productive struggle, critical thinking and a growth mindset has just become easier thanks to the Challenging Learning Team led by Jill and James Nottingham. This book has concrete lessons and activities connected
to great works of literature to guide students from surface-level knowledge to deep understanding – with an overarching goal of transfer. The best part, the activities and lessons presented in this book can be adapted to any complex, engaging text!
Paul Bloomberg
The Core Collaborative Student-Centered Learning Network
As someone who is continually striving to improve the quality of learning experienced by young people I am delighted to see the publication of this book. Another title from Challenging Learning packed full with straightforward practical strategies, outlined clearly for the teacher and applied to learning contexts so that anyone can pick them up and transfer them to their own setting. Just what we need to engage young people and enthuse their teachers in learning. More challenge, more learning!
Archie Bathgate
Brechin High School
This is an extremely useful and relevant resource, which combines a wealth of practical activities and strategies with a comprehensive theoretical explanation of how thinking is deepened using the learning challenge. Since using this knowledge and approach I have seen an improved pedagogy with my teaching staff and a resilient approach to learning with my pupils. I recommend this book to any teacher regardless of their subject or teaching phase.
Jill Harland
Brudenell Primary School
21st Century learning easily comes alive in this latest resource by Jill Nottingham et al. Collaboration, cooperation, creativity and critical thinking will abound in your classroom as you lead your students into 'The Pit' with these engaging ELA lesson ideas. Combining Challenging Learning's research on positive mindset with student growth through productive struggle, these 20 carefully curated lessons include everything from a lesson plan to student materials. Brilliant! This resource is a teacher's dream.
Karen Nguyen
The Downtown School, Bakersfield, California, USA
As someone whose teaching was fundamentally transformed by the Learning Pit and Challenging Learning concepts I was hugely impressed by this new book. James and Jill have taken a highly effective series of concepts and honed them to another level. As well as being an effective manual
on techniques backed up with the pedagogical theory that supports them, it also includes a huge number of activities linked to core texts from the new GCSE curriculum. A well-researched piece carefully constructed to be practical, informative and instantly applicable.
Barry Dunn