Hands-on, Practical Guidance for Educators
From math, literacy, equity, multilingual learners, and SEL, to assessment, school counseling, and education leadership, our books are research-based and authored by experts on topics most relevant to what educators are facing today.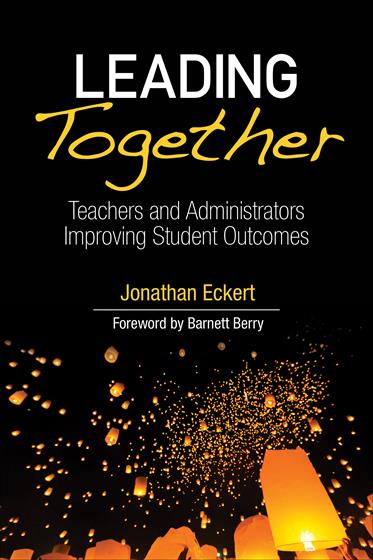 Leading Together
Teachers and Administrators Improving Student Outcomes
First Edition
Foreword by Barnett Berry

Discover this collective approach to progress, process, and programs that help build the conditions in which strong leadership can flourish and student outcomes improve.
Product Details
Grade Level: PreK-12
ISBN:

9781506380155

Published By: Corwin
Year:

2017



Page Count: 240

Publication date:

November 21, 2017
Price: $33.95
Description
It's about the work, not the position.

Leadership is what is done, not who is doing it. The leadership work blurs the lines between teachers and administrators.
Leading Together
introduces a collective approach to progress, process, and programs to help build the conditions in which strong leadership can flourish and student outcomes improve.
All school teams will find applicable insights as they explore the Collective Leadership Development Model for School Improvement. This book:
?
Breaks down this innovative model
and explains the significance and interdependence of each proven and tested component.
?
Asks fearless reflection questions
that both challenge and demand deliberate practice.
?
Offers case study insights
from an urban, rural, and suburban school.
Lead and learn together. Start building your team with an eye on the end game.
"Leading Together is the best guidance we have to date about how to collaboratively dismantle the wall that has stood between teachers and school administrators for over a century. This is a marvelously accessible book in which collective leadership is discovered through the eyes and voices of teachers and principals."
Joseph F. Murphy, Frank W. Mayborn Chair and Associate Dean
Peabody College of Education, Vanderbilt University, Nashville, TN
"Leading Together includes rich research-based stories, reflective activities to spark action, and optimistic evidence about what this needed shift in school hierarchies means for improving student outcomes. Don't just read this; adopt it as your guidebook to become an even more influential leader."
P. Ann Byrd, COO & Partner
Center for Teaching Quality, Carrboro, NC
"Once again, Jon Eckert offers his straightforward, no nonsense thinking to busy practitioners. His authentic knowledge of everyday life in schools coupled with a thoughtful framework informs every chapter in this book. There are elements of his model that can be used right away...big shifts or little tweaks! His stories and humor make it readable (and meaningful!) for those of us seeking creative and collaborative ways to lead schools and districts."
Joan Dabrowski, Assistant Superintendent for Teaching and Learning
Wellesley Public Schools, Wellesley, MA
Table of Contents
Foreword
---
Preface
---
Acknowledgments
---
About the Author
---
Chapter 1: Developing Leadership for the Work that Matters Most
Chapter 2: The "Ideal" School
Chapter 3: The Rural Grassroots
Chapter 4: The Urban Transition
Chapter 5: The Suburban Blueprint
Chapter 6: Ideal Leaders, Not Solo Superheroes
Chapter 7: Fearless Improvement
References
---
Index
---