Hands-on, Practical Guidance for Educators
From math, literacy, equity, multilingual learners, and SEL, to assessment, school counseling, and education leadership, our books are research-based and authored by experts on topics most relevant to what educators are facing today.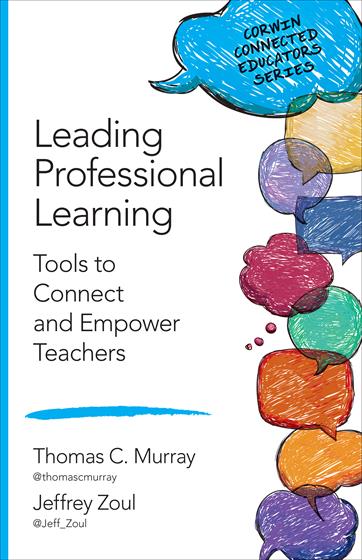 Look Inside
Leading Professional Learning
Tools to Connect and Empower Teachers
Concrete examples, leadership profiles, and robust resources and tips help educators design meaningful and personalized professional learning opportunities using technology, blogs, social media, and more.
Product Details
Grade Level: PreK-12
ISBN:

9781483379920

Published By: Corwin
Series: Corwin Connected Educators Series
Year:

2015



Page Count: 80

Publication date:

January 15, 2015
Price: $12.95
Description
Expert strategies for personalized, 21st Century professional learning!
Empower teachers to take ownership of their own professional learning. Recognized EdTech leaders Murray and Zoul guide you step-by-step through the process. Confidently learn to build a values-driven school culture, personalized professional roadmaps, and a collaboration-minded staff. You'll find concrete examples, leadership profiles, and a wealth of resources to help administrators and teachers:
Take ownership of their professional growth

Design meaningful learning opportunities

Collaborate and learn using technology, blogs, and social media

Model and support professional learning for others
Transform teacher learning and see your student achievement soar!
The Corwin Connected Educators series is your key to unlocking the greatest resource available to all educators: other educators. Being a Connected Educator is more than a set of actions: it's a belief in the potential of technology to fuel lifelong learning. To explore the other books in this series, visit the Corwin Connected Educators website.

Check out the Connected Educator Series matrix to find out which book is right for you.
"Leading Professional Learning: Tools to Connect and Empower Teachers masterfully connects how and why professional learning for teachers can be transformed. It's an accessible, practical resource that every educator should have in their toolkit."
—Cindy Johanson, Executive Director
Edutopia, George Lucas Educational Foundation
"This is a brief, but powerful, book about making professional learning for teachers more meaningful and personal. Murray and Zoul have identified several important ways to improve how we support our teachers' learning so that they are better equipped to support their students. The book offers practical tips that schools and districts can take and use immediately."
—Todd Whitaker, Professor of Department of Educational Leadership
Indiana State University
Key features
This book will help school leaders personalize PD for their teachers

Teachers will be empowered to take more leadership in their PD and therefore be able to design more meaningful learning experiences for themselves

The authors give leaders and teachers a plethora of PD resources

They will also feature stories from other educators who have personalized PD
Table of Contents
Preface by Peter DeWitt
---
Introduction
---
1. A New Vision for Professional Learning
Who Owns the Learning?
Teachers as Learners and Leaders
Tool Spotlight: Google Forms for Soliciting Teacher Feedback
Leadership Profile: Michelle Nebel
2. Lead Learners Model the Way
The Leadership Gap
Time: Stop Spending; Start Investing
Tool Spotlight: Today's Meet
Blogging to Lead, Blogging to Learn
Tool Spotlight: Edublogs, Blogger, Wordpress
Leadership Profile: Jimmy Casas
3. Personalizing Learning Plans in Action
Empower Staff to Design Their Own Learning
Designing the Personalized Roadmap
Expanding Boundaries
Tool Spotlight: Tweetdeck
Tool Spotlight: The Official Chat List
Leadership Profile: Laura Fleming
4. Developing the 21st Century Professional Learning Mindset
Professional Learning is Collaborative
Job-Embedded Professional Learning and the Role of Coaching
Professional Learning Communities
Professional Learning is Engaging
Professional Learning is Relevant and On Demand
Tool Spotlight: Voxer
Leadership Profile: Tom Whitford
5. Shifting the Focus Forward
Common Core Shifts Require Shifts in Professional Learning
From Sage on the Stage to Guide on the Side to Meddler in the Middle
A Call to Action
References
---