Hands-on, Practical Guidance for Educators
From math, literacy, equity, multilingual learners, and SEL, to assessment, school counseling, and education leadership, our books are research-based and authored by experts on topics most relevant to what educators are facing today.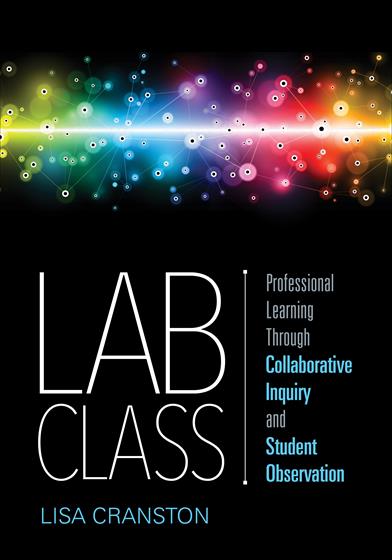 Lab Class
Professional Learning Through Collaborative Inquiry and Student Observation
A Joint Publication with Learning Forward

What if we used classrooms as professional learning labs? Learn how teachers can roll up their sleeves and study what's really happening in their classrooms through the eyes of students.
Product Details
Grade Level: PreK-12
ISBN:

9781544327952

Published By: Corwin
Year:

2018



Page Count: 168

Publication date:

July 11, 2018
Price: $31.95
Description
School-based, collaborative teacher learning that drives student achievement

Meaningful growth in teacher practice comes when we invest in teacher-led, inquiry-based collaborative models where teachers get to roll up their sleeves and study what's really going on in classrooms.

Lab Class introduces an observation-based professional learning design that helps teachers collaboratively plan, investigate, and develop solutions to a specific problem of practice by observing a host teacher's classroom through the eyes of students. This book provides instructional leaders and team facilitators with observation protocols that encourage teachers to:
Plan collaborative inquiry projects by identifying a focus of the inquiry, combing the research literature, creating norms for observations, and identifying resources needed
Observe and analyze student conversations, actions, and products to determine the impact of instructional decisions on students
Identify patterns from observations and determine next steps for professional learning
Close the knowing-doing gap by bringing professional learning out of workshops and back where it belongs—in the classroom!
"For those looking to empower teachers by bringing the learning of teaching closer to the classroom, this resource will help you achieve your goals."
—Jenni Donohoo, Provincial Literacy Lead, Council of Ontario Directors of Education
Author of Collective Efficacy
"
Lab Class
is a professional learning structure to take learning walks to the next level. It provides a process to deepen inquiry and focus teacher observations and learning."
—Ellen S. Perconti, Superintendent
Mary M. Knight School District, WA
Table of Contents
PREFACE
---
ACKNOWLEDGMENTS
---
ABOUT THE AUTHOR
---
CHAPTER 1: AN OVERVIEW OF LAB CLASS
What Is Lab Class?
The Lab Class Model—Step by Step
Rationale for Lab Class
Goals of Lab Class
Considerations for Launching Lab Class
Organizational Models of Lab Class
CHAPTER 2: THE LAUNCH MEETING
Determine an Overall Focus for Lab Class
Narrow the Focus
Theories of Action
Learn to Be Descriptive
Lab Class Simulation
Select Marker Students
Document Student Learning
Document Teacher Learning
Ethical Considerations When Documenting Student and Teacher Learning
Create and Discuss Norms
Establish the Schedule for Lab Class
Troubleshooting Tips
CHAPTER 3: ENGAGING IN LAB CLASS
Classroom Observations
Analysis of Observations
Cluster Observations and Determine Trends
Identify Conditions
Revisit the Inquiry Question and Theories of Action
Determine Next Steps: What Does the Research Say?
Proposed Agendas for Lab Class
Troubleshooting Tips
CHAPTER 4: CONSOLIDATION AND CULMINATION OF LAB CLASS
Reflect on the Learning
Develop a Communication Plan
Proposed Agendas for the Consolidation Meeting
CHAPTER 5: LAB CLASS EXAMPLES
Lab Class One: Multiple Teachers/One School
Lab Class Two: Multiple Teachers/Multiple Schools
Lab Class Three: Multiple Schools/One Teacher
Conclusion and Discussion
FINAL THOUGHTS
---
APPENDIX
---
Template A: Determine a Focus
Template B: Develop Your Team's Inquiry Question
Template C: Data Collection for Student Learning
Template D: Data Collection for Teacher Reflection and Professional Learning
Template E: Teacher Reflection—Sample One
Template F: Teacher Reflection—Sample Two
Template G: Teacher Reflection—Sample Three
Template H: Supports Needed and Next Steps
Template I: Final Report Template—Sample One
Template J: Final Report Template—Sample Two
Template K: Lab Class Feedback—Exit Ticket
Template L: Lab Class Feedback—Survey
REFERENCES
---
INDEX
---