Hands-on, Practical Guidance for Educators
From math, literacy, equity, multilingual learners, and SEL, to assessment, school counseling, and education leadership, our books are research-based and authored by experts on topics most relevant to what educators are facing today.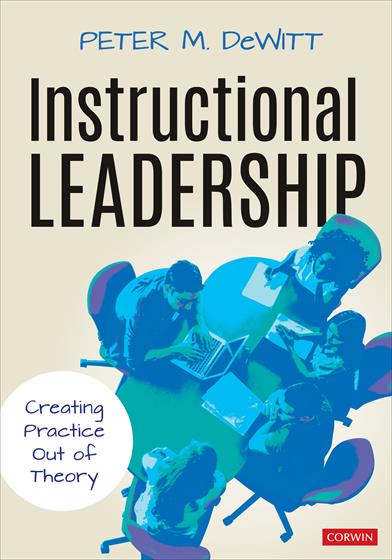 Look Inside
Bestseller!
Instructional Leadership
Creating Practice Out of Theory
This step-by-step how-to guide presents the six driving forces of instructional leadership within a multi-stage model for implementation, delivering lasting improvement through small, collaborative changes.
Product Details
Grade Level: PreK-12
ISBN:

9781544381411

Published By: Corwin
Year:

2020



Page Count: 176

Publication date:

February 11, 2020
Price: $28.95
Description
Watch the video!

Bridge the gap between good intentions and real results
Instructional Leadership is one of the most researched and discussed leadership practices, but most school leaders don't know where to begin or how to balance this role with all of their other responsibilities. Peter DeWitt's Instructional Leadership provides practical tools for delivering lasting improvement through small, manageable changes over time.
This step-by-step, how-to guide presents the six driving forces of instructional leadership—implementation, focus on learning, student engagement, instructional strategies, efficacy, and evaluation of impact—within an easy-to-follow, multi-stage implementation model. It also includes:
· Practical strategies grounded in research
· "Entry point" sections highlighting the best places to start
· Help working with PLCs, faculty meetings, teacher observations, and walkthroughs
· Study questions
As a leader, you are the guide for your teachers, staff, and students. Let this book guide you to a vision of instructional leadership that really works.
Table of Contents
About the Companion Website
---
Why this book?
---
This Book's Features
Publisher's Acknowledgments
---
About the Author
---
Introduction
---
Tap Into Your True Inner Instructional Leader
Blog - Help! My Principal Says He's an Instructional Leader!
Chapter One: Instructional Leadership: A Holistic Approach
What the Research Says About Instructional Leadership
In the End
Study Guide Questions
Chapter Two: The Logic Behind Implementation
What Is Program Logic?
From Program Logic to Implementation Cycle
Implementation Multi-Stage Model
In the End
Study Guide Questions
Chapter Three: A Focus on Learning: Deepening Our Impact as Instructional Leaders
Types of Learning: Knowledge vs. Skills
Levels of Learning: Surface, Deep, and Transfer
delete
Knowledge Dimensions
In the End
Study Guide Questions
Chapter Four: Student Engagement: From Alienation to Social-Emotional Learning
Alienation
Social-Emotional Learning
Five Easy Steps to Social-Emotional Learning
Enabling Conditions
Blog - Educators Need Mindfulness. Their Mental Health May Depend on It.
In the End
Study Guide Questions
Chapter Five: Instructional Strategies: Exploring Surface, Deep, and Transfer Learning
Academic Engagement
Blog - The Myth of Walkthroughs: Eight Unobserved Practices in Classrooms
Teacher Clarity
Classroom Discussion
Metacognition
In the End
Study Guide Questions
Chapter Six: Collective Efficacy: Easy to Define, Hard to Build?
Collective Teacher Efficacy: A Definition
Why Do We Need Collective Teacher Efficacy?
Blog - No Testing Week
No Testing Week
Leadership Efficacy
When Do We Build Collective Efficacy?
Why Is Collective Efficacy Hard to Build?
Collective Efficacy: A Program Logic Model
In the End
Study Guide Questions
Chapter Seven: Evidence: How Will You Evaluate Your Impact?
Evidence of Impact
Student Engagement Practices
Blog - Advisory Groups: Helping to Create a Positive School Climate
Instructional Leadership
In the End
Reflection Tool
---
Study Guide Questions
---
References
---
Index
---
Reviews
This is a carousel with review cards. Use the previous and next buttons to navigate.
Peter De Witt's book is clearly written from the heart, based on his own research and his extensive experience (and challenges faced) in many leadership roles. It is a book that will resound with, and be of immense value to, all existing and aspiring school leaders who attempt to balance the complexity of tasks and the demands of accountability and compliance, while also attempting to be leaders of learners.




Kenneth Muir
So much has been written on the topic of instructional leadership, but too little is known about how to implement it. DeWitt once again finds a balance between research and practice by focusing on implementation, developing program logics, and evidence of impact. He is offering a road map to help leaders put their focus on learning and build credibility with staff while doing it.






John Hattie
University of Melbourne
The practical tips and reflections are highly informative. Continually Peter brings us back to the perception-reality gap that makes the day-to-day processes of educational leadership far more reactive than we think. As Peter explains, what we think we do as educational leaders is often neither what our colleagues observe or how time stacks up.

By following this practical recipe for instructional leadership, busy leaders can adjust their current practices to focus on that which matters most: improving the life chances of learners through increased impact in learning. Leadership will never be easy in an increasingly complex world, but the clarity with which this books unpacks the key ingredients it will certainly be easier.



Steven Cox
Osiris Educational
Instructional Leadership is the nexus between the key instructional leadership research and the practical day-to-day role of the school leader. For the first time, here is a book that addresses and provides the 'why' and 'how' underpinned by an implementation framework that can successfully be adopted to support the learning of all school stake­holders when addressing any school improvement. The book identifies and provides clear examples for leaders on 'what' instructional leadership, based on research and practice, can look like on a day-to-day basis that is effective for all leaders; from the classroom to district or regional roles. This should be a book read by all aspiring leaders in preparation; and by experienced leaders as a reflection of our current leadership and responding to the key questions Peter asks in each chapter. As Peter says in the begin­ning of the book, "This book is about defining a common language and common understanding" about instructional leadership. He has achieved what he set out to address.



Helen Butler
Principals have the potential to magnify and multiple effective instruction. But far too often, this potential is not realized. Peter DeWitt provides a pathway to get the job done. This thoughtful and practical guide will help you become the instructional leader you have always wanted to be. And, if you take his advice seriously, the stu­dents in your school will learn more and learn better. I promise.



Doug Fisher
San Diego State University
This book is long overdue! It is time instructional leaders heed the tools in this book to begin walking the walk of true instructional leaders. DeWitt clarifies that common language does not always equate to common understanding—it requires purposeful planning and design. He does a masterful job of defining instructional leadership and applying it through relatable situations throughout the book. This book alone would help to prevent what I refer to as SOS, Shiny Object Syndrome, in education. We have tended to consistently react to the newest and shiniest program or prom­ise in education, and this has led to initiative overload and reactive leadership as opposed to proactive leadership and creating evidence of impact. The program logic model DeWitt demonstrates is a great way for leadership teams to create evidence of impact through dialogue and action and allow instructional leaders to shift their focus to how learning works and the concepts of learning.



Todd Wiedemann
Kansas MTSS and Alignment
This book will help leaders to overcome the challenge of operationalising instructional leadership. The six areas identified by Peter provide a clear and practical route map for developing the practice of instructional leadership. The mindful moments are timely and effective punctuations that help you to stop and think, process and apply the learning. Likewise, the student voice questions ensure that we calibrate what we think with what our students say, do and experience. As we move into an age with even greater focus on implementation and the fidelity of implementation, Peter's work will support leaders in developing and delivering clarity and action that will improve the life chance of our children and young people.



Sarah Philp
Osiris Educational
Peter tackles the topic of instructional leadership head-on as a researcher, consul­tant, coach and former school administrator. As is his style, Peter shares his find­ings as if the reader were having a personal conversation with him about the hard work of being an instructional leader and at the same time managing the day-to-day operation of the building. This work provides administrators with a road map in understanding this complex topic but, more importantly, identifies six areas of implementation. Peter provides a complete workshop wrapped up within the pages of this book. It is a must-read for school administrators who seek to understand how to implement improvements effectively, build collective efficacy and focus on stu­dent learning.



Jim Verlengia
Drake University
Peter DeWitt draws on research and personal experience as he skillfully unpacks the complexities involved in the practice of instructional leadership. School leaders will find the ideas in this book relatable, practical, and significant in relation to improv­ing student outcomes. If you aspire to lead school improvement by strengthening the quality of classroom instruction and reaching deep levels of implementation, this book will provide the guidance you seek.
Jenni Donohoo
Peter DeWitt has been a learner from day one since he first became a teacher, and especially shortly thereafter when he became a principal. In 2006 he enjoyed being a leader in a small rural community. Then he had a growing and compelling real­ization that something was wrong, and became what I would call a 'positive rebel,' devoting himself to making a difference. Now we have a short, focused book on what he has been learning over the past decade. 'Instructional leadership' is a crystal-clear treatise on 'mindful moments' organized around six principles. If you want to know what instructional leadership is—and, equally importantly, what it is not—this is the book for you. Clear models, guiding questions and insights, and a to-do list that will have you leaning toward action from page 1. Read it, use it, and tell your friends.



Michael Fullan
University of Toronto
Instructional leadership is something that we strive to foster in ourselves as well as those around us because we know, as leaders, it is the type of leadership that leads to the most significant impact on student success. This is not an easy task, as many of us do not fully understand what it means to be an instructional leader or how to successfully grow in that area. In this book, highly acclaimed author and consultant Peter DeWitt guides readers down the path to understanding and becoming an instructional leader through ideas that are grounded in research and presented with the aid of outstanding practical examples and models. If you are ready to begin your journey toward instructional leadership, this book is an excellent place to start!



Heath Peine
Student Support Services Wichita Public Schools
DeWitt brings the heart of a true leader to every sentence in this book. He illuminates important leadership concepts about instruction, social-emotional learning, and collective efficacy with a humanity that allows us to see the potential we hold. DeWitt matches the courage to lead with the tools to do so and, in the process, lets readers see how coherence and clarity drive the growth of students and adults.



Nancy Frey
San Diego State University
Blending personal experience, research, and observations acquired through coach­ing others, DeWitt offers important insights and practical guidance to school leaders aspiring to improve their students' life chances.
Kenneth Leithwood
Ontoria Institute for Studies in Education
DeWitt's Instructional Leadership: Creating Practice out of Theory provides practical solutions to the challenges of being an instructional leader within an educational system not designed to meet the needs of all students. It provides a clear and concise program logic model that I will be using to broaden the impact of our initiatives. This book inspires us and gives us tools to engage teachers and students to co-create inclusive and supportive learning environments that will support our efforts to achieve equity in our schools.



Blanca Baltazar-Sabbah
Salinas Union High School District
Instructional Leadership provides actionable research-based methods to help teams move the needle as instructional leaders in a concrete way. It feels as though Peter is coaching you through the process as you learn to utilize the tools provided to make your schools successful. A perfect choice for principals, assistant superintendents, and superintendents!



Mary Ann Bryan
Weymouth Public Schools
Peter DeWitt's conversational writing style will engage all leaders. He is knowl­edgeable and confident in writing about leadership, as he has been there, done the work successfully, and now writes about 'living in' the instructional leadership role. DeWitt challenges us to be reflective about the strategies that we collaboratively dis­cern make a difference to attain all students' growth and achievement. His thinking is clear about what leaders must do to move all students forward. Most importantly DeWitt gives us the tools, like his comprehensive logic model, pithy myth-busters, real-life vignettes, reflective questions and mindful moments, to do the work together. This inspirational book is a must-read for all aspiring and seasoned leaders. DeWitt convinces us that leadership which makes a difference is doable, personaliz­ing his content with narrative from his own lived experiences as a leader.



Lyn Sharratt
University of Toronto
This book is well-timed in a world where school leaders are expected to be instructional leaders but also building managers. Peter understands that being an instructional leader is complicated, and this book has both challenged and reinforced my thinking around my leadership practices. His experience as a principal allows him to identify the many challenges and the important impact of instructional leadership on student achievement. He recognizes that, due to our competing responsibilities as leaders, we cannot be expected to focus solely on instructional leadership, yet we can set aside some time to focus on it. As leaders, we decide how much and when, but we need to commit to it to make it a part of our leadership time. This book helps identify the key components we need as leaders, as well as structures that will help us make a positive impact. It is a fantastic read if you are looking to find ways to balance the competing challenges of a leadership position. Thank you, Peter, for inspiring my instructional leadership as I begin my 17th year as a principal.



Dave Westway
Ontario Principals' Council
Peter DeWitt sets out to connect research and practice—and he has succeeded! The two are interwoven superbly, resulting in a book that is both practical and wise. The chapters dig deeper into the meaning and practices of instructional leadership in ways that are relevant to an international readership.



Elaine Munthe
University of Stavanger
From his personal experience and urgency, Peter wrote this wonderful book about Instructional Leadership, as a practical 'how to achieve the necessary impact', with very helpful Program Logic Models. I especially loved the Mindful Moments and the Student Voice Questions, because this is how I came to know Peter: a person with a very large focus on the impact on students learning. To wrap it all up this books gives you a Reflection Framework to keep you going.



Monique van den Heuvel
Rotterdam University of Applied Sciences
In his latest book, Peter provides practical ideas for how to implement instructional leadership strategies in a school, for principals with all levels of experience. It is a go-to resource that everyone should have on hand. Instructional Leadership is full of concrete ideas to start implementing instructional leadership the way it should be, with the ultimate goal of improving teaching strategies and having an impact on student learning.



Marie-France Crête
École Catholique Pape-François
Peter DeWitt provides tremendous context and understanding of what principals face today each day in meeting the demands of educating all students. He provides an excellent framework and practical applications to move leadership from managerial to authentic instructional leadership. He gives in-depth advice and strategies to improve the work and efficacy of school leadership. His use of mindful moments, student voice questions, study guide questions, and reflection allows each reader to look at their practice and challenge the norm. Instructional Leadership: The What, Why and How is a must-read for all school leaders.



Peter D. Marano
Bellingham Public Schools
I have never read an educative book that was so compelling. What makes this book so powerful is that it tackles every challenge from various angels, as the perspective of the teacher and the student are taken into account as well. Not only would I advise every principal to read this book, but also every other member of the team as it gives the reader a profound understanding of what instructional leadership entails, what it should look like, and how it can effectively be implemented. Instructional leadership encompasses all the right ingredients that can help lead any school toward success.



Charly Boerboom
Rotterdam University of Applied Sciences
Peter Dewitt's approach to instructional leadership takes what sometimes feels as a hugely overwhelming and sometimes unsustainable task into a bite-size framework. Each chapter's content and mindful moments provide practical guidance and encourages purposeful reflection. This book is a must read for principals who are seeking best practices for effective instructional leadership in an ever-evolving and busy role.



Crystal Haskins
James Blair Middle School
Peter DeWitt's Instructional Leadership book is a perfect balance between theory and practice. As a principal, these two elements are essential for the implementation of the instructional leadership model, which includes implementation, focus for learning, student engagement, instructional strategies, collective efficacy, and understanding impact through evidence. Instructional Leadership also offers a framework to use with building and district leadership teams. For example, each chapter lends itself to taking a deeper dive with the components using lenses such as student voice and mindfulness moments. Peter's Instructional Leadership work has inspired and motivated me to develop sustainable habits to be an instructional leader for my school community.



Susan Inman
Willard School
Peter's newest book answers key questions for any school administrator interested in the what, why, and how of instructional leadership. With its focus on defining a common language and common understanding, the inclusion of a logic model, research, and clear examples from practice this book is a must-read for any leader engaged in the implementation of practices to positively impact student learning!



Trista Hollweck