Hands-on, Practical Guidance for Educators
From math, literacy, equity, multilingual learners, and SEL, to assessment, school counseling, and education leadership, our books are research-based and authored by experts on topics most relevant to what educators are facing today.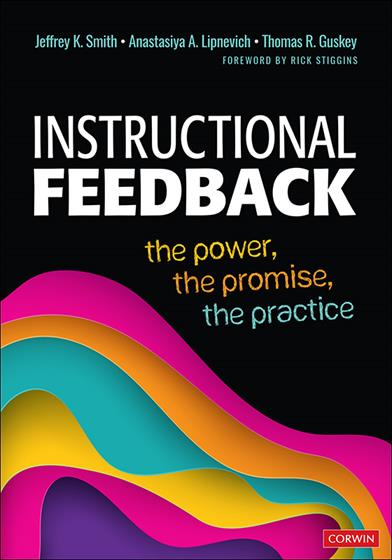 Instructional Feedback
The Power, the Promise, the Practice
Foreword by Rick Stiggins

Engaging and concise, this book covers a broad range of topics pertaining to instructional feedback and offers educators research-based advice.
Product Details
Grade Level: PreK-12
ISBN:

9781544385211

Published By: Corwin
Year:

2023



Page Count: 128

Publication date:

March 15, 2023
Price: $31.95
Description
Implement evidence-based feedback practices that move learners forward
Feedback is essential to successful instruction and improved student performance, but learners often dread and dismiss feedback, and its effectiveness can vary. Thus, sharing intentions, clarifying success criteria, knowing what type of feedback to provide and when, and activating students as owners of their learning are essential feedback functions.
Instructional Feedback presents a comprehensive summary of the most recent research on instructional feedback and describes its successful implementation. With a focus on evidence-based approaches adapted to specific contexts, the authors use common classroom situations to demystify feedback and place it within a broad instructional context, along with definitions, characteristics, and precautions about its effect on students' emotions and behaviors. Inside you'll find:
Coverage of all grades and concentrations, including math, language arts, music, art, and science
Peer feedback, self-assessment, and subject-specific nuances
Student and teacher examples of feedback and suggestions for improvement
Engaging and concise, Instructional Feedback discusses why feedback is so powerful, how it is promising, and what it looks like in practice.
Table of Contents
About the Authors
---
Foreword
---
Chapter 1: Introduction: What is Instructional Feedback All About?
---
Chapter 2: Feedback from the Perspective of the Learner
---
Chapter 3: Characteristics of Effective Feedback Messages
---
Chapter 4: What is Feedback?
---
Chapter 5: Feedback to Parents and Caregivers
---
Chapter 6: Grades as Feedback
---
Chapter 7: Efficiency and Efficacy in Feedback
---
Chapter 8: Examples of Instructional Feedback
---
Chapter 9: Feedback for Teachers: What Feedback Do Teachers Find Most Useful?
---
Chapter 10: Bringing It All Together
---
References
---