Hands-on, Practical Guidance for Educators
From math, literacy, equity, multilingual learners, and SEL, to assessment, school counseling, and education leadership, our books are research-based and authored by experts on topics most relevant to what educators are facing today.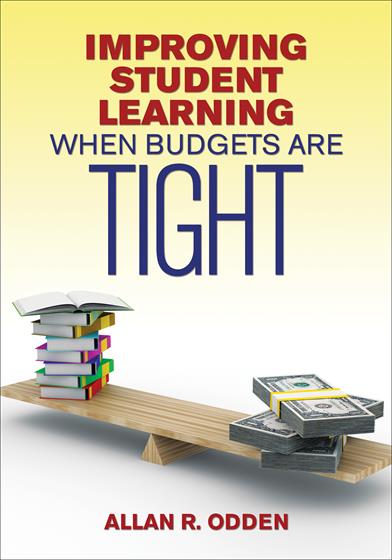 Look Inside
Improving Student Learning When Budgets Are Tight
This how-to manual for achieving excellence despite budget cuts provides a school improvement action plan and shows how to target resources to implement that plan.
Product Details
Grade Level: PreK-12
ISBN:

9781452217086

Published By: Corwin
Year:

2012



Page Count: 208

Publication date:

February 06, 2012
Price: $42.95
Description
A how-to manual for achieving excellence despite budget cuts
How do you stay focused on increasing student learning when budget cuts threaten everything you are striving for? This book offers a comprehensive framework to enhance student achievement in good times and in bad. School reform expert Allan R. Odden outlines a school improvement action plan focused sharply on student learning and then shows how to target resources to implement each strategy in that plan. More than just a "theory" book, this text describes concrete, specific actions that can be taken immediately. Key strategies include
Using data to support boosting student performance
Focusing on effective instruction
Setting goals to drive resource allocation priorities
Establishing priorities for situations that require budget cuts
Hiring top teachers and providing ongoing professional development
Providing needed technology resources
Educators will find a wide range of real-life examples of schools and districts that have implemented these strategies and significantly improved student learning. Also included is research-based guidance for optimizing teacher and principal talent, teacher recruiting and hiring, online learning, and more. This book successfully communicates many years of work and offers well- grounded advice that will help educators move from financial frustration to effective action.
Key features
The book will be anchored in a "Plan of Action" about how schools can improve, will include multiple, specific ideas for better resource use, and will discuss how these local actions can be reinforced or structured by state policies and regulations.
It will address how to set priorities for situations that require budget cuts, which is the situation for many districts and schools around the country and will discuss multiple possibilities both for cutting back budgets in strategic ways and for targeting resources to the all the elements of the Plan of Action to dramatically improve student learning – regardless of the budget context.
It will identify 10-12 strategies that have emerged from a wide range of literature, including the turnaround literature from the last few years.
It will summarize new approaches for how schools and districts can acquire the teacher, principal and central office talent needed to implement rigorous, comprehensive, robust and effective educational improvement strategies in an economically stressed climate.
Table of Contents
List of Tables
---
Preface
---
Acknowledgments
---
About the Author
---
1. A Plan of Action: Turning Around Low-Performing and Enhancing High-Performing Schools
A Strategic Approach to Using the Education Dollar
A Plan of Action for Dramatically Improving Student Performance
Summary
2. The Resource Needs of the Plan of Action
Details of the Resource Needs of the Plan of Action
Example of a High-Spending District That Could Cut Spending
Linking Table 2.1 to School Finance Adequacy
Summary
3. Targeting Resources to Student Learning When Budgets Are Tight
Understand and Resist the Cost Increase Pressures on Schools
An Example of Strategic Resource Reallocation for a Midwestern Middle School
More Detail on Strategic Budgeting
Summary
4. Recruiting, Developing, and Compensating Top Educator Talent: Local Practices and Supporting State Policies
Acquiring, Developing, and Retaining Teacher Talent
Teacher Salary Structures
Educator Pensions
Summary
5. Computers and Technology in Education: Costs and Online Options
Costs of Technology Software and Hardware
Using Information Technologies for Instruction
Summary
6. When Budget Cuts Are Necessary
Cost Pressures, Goals, and Principles to Guide Strategic Budgeting
Ensuring a Solid Talent Foundation in Tight Fiscal Times
Engaging in Strategic Budgeting
Summary
References
---
Index
---