Hands-on, Practical Guidance for Educators
From math, literacy, equity, multilingual learners, and SEL, to assessment, school counseling, and education leadership, our books are research-based and authored by experts on topics most relevant to what educators are facing today.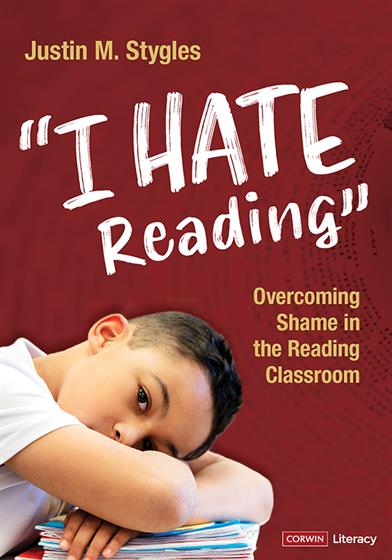 "I Hate Reading"
Overcoming Shame in the Reading Classroom
With I Hate Reading, learn how to build relationships so shame-bound readers trust enough to risk enough to grow.
Product Details
Grade Level: PreK-12
ISBN:

9781071844823

Published By: Corwin
Series: Corwin Literacy
Year:

2022



Page Count: 272

Publication date:

October 18, 2022
Price: $28.95
Description
It can take a lifetime to eradicate a reader's shame—or it can take one great teacher

Shame-bound readers want someone to notice them. It's true. But then what does a teacher do to help students? Justin Stygles found fresh answers in Gershen Kaufman's seminal research on shame and applied it to his teaching. The results proved to him—and now us—that building relationships and taking deliberate actions to alleviate shame is crucial.
With this remarkable book, Stygles shows us how to build an interpersonal bridge with students and make vulnerability okay. But make no mistake—disengaged readers need to feel competent before they fully buy in, and so the author packs the book with powerful instructional ideas. Learn to:
Spot all the distress signals, including withdrawal, perfectionism, and compliance.
Help students see that they are not permanently locked out of a reading life
Use assessment instruments to note and celebrate incremental change
Plan mini-units that develop skills in concert with engagement
Design small group experiences that are free of levels and other shame-inducing labels
Pump up independent reading with scaffolding and sociability
Harness writing about reading to convince students of their uniqueness.
The shame factor is real. It's time we meet it head on, with innovation and the best thinking from multiple research fields. I Hate Reading is the tool that does just that.
Table of Contents
Introduction
---
Chapter 1: Disrupting Pedagogy: Prioritizing Students in the Shadows of Shame
Chapter 2: Mentoring Readers: Why You Matter Most of All
Chapter 3: Getting to Know the Reader: Identity, Experience, and Mirrors
Chapter 4: Reading for Themselves: Helping Students Claim their Reading Independence
Chapter 5: Pathways Toward Comprehension: Using Reader Perceptions Strategically
Chapter 6: Rethinking Intervention: When It's Time to Go "Eye to Eye, Knee to Knee"
Chapter 7: Finding the Reader Through Writing About Reading
Afterword