Hands-on, Practical Guidance for Educators
From math, literacy, equity, multilingual learners, and SEL, to assessment, school counseling, and education leadership, our books are research-based and authored by experts on topics most relevant to what educators are facing today.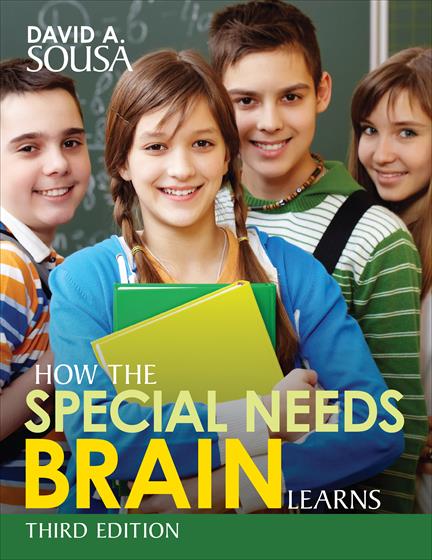 Look Inside
Bestseller!
How the Special Needs Brain Learns
Third Edition

Discover cutting-edge brain research and innovative instructional strategies to help you effectively teach students with ADHD, LD, dyslexia, autism, emotional and behavioral challenges, and more!
Product Details
Grade Level: PreK-12
ISBN:

9781506327020

Published By: Corwin
Year:

2016



Page Count: 296

Publication date:

March 10, 2016
Price: $44.95
Description
Teaching students with learning challenges just got easier with this groundbreaking guide!

More and more students are having difficulty acquiring basic reading, writing, and computation skills. If you seek effective strategies to meet their needs, look no further! Use this updated third edition from education expert David A. Sousa to explore the causes of many common learning disorders and discover how to identify, accommodate, and motivate your students. Dr. Sousa answers your questions about common disabilities and provides the latest alternative instructional approaches to ensure mastery occurs. Discover cutting-edge brain research and innovative instructional strategies to help you:
Improve your understanding of the learning process
Understand genetic and environmental triggers of learning problems
Effectively instruct students with ADHD, LD, dyslexia, writing disabilities, autism, emotional and behavioral challenges, and more
Utilize assistive technologies to remove barriers to learning

Differentiate instruction in speech, reading, writing, and mathematics
Learn how the brain works and the practical know-how to transfer that knowledge to the classroom for the benefit of all students. This expert resource shows you how!

"By providing the specific neurological processes behind learning difficulties, Dr. Sousa gives teachers and teacher candidates a useful resource to understand and respond to challenges experienced by students with learning difficulties and special educational needs."
Gina Garner, Assistant Professor of Education, Learning Disabilities Program Director
Aquinas College

"This book provides knowledge of the neurological basis of learning without inundating the reader with complex terminology. The author arms the reader with strategies to address various disabilities and a plethora of ways to support their learning and emotional needs. The teacher-friendliness of this book makes it stand out."
Francine Del Vecchio, Associate Professor
Division of Education, Caldwell University
Table of Contents
List of Strategies to Consider
---
About the Author
---
Preface to the Third Edition
---
Acknowledgments
---
Introduction
---
Chapter 1 - The Brain and Learning
Chapter 2 - When Learning Difficulties Arise
Chapter 3 - Attention Disorders
Chapter 4 - Speech Difficulties
Chapter 5 - Reading Disabilities
Chapter 6 - Writing Disabilities
Chapter 7 - Mathematical Disabilities
Chapter 8 - Emotional and Behavioral Disorders
Chapter 9 - Autism Spectrum Disorder
Chapter 10 - Putting It All Together
Glossary
---
References
---
Resources
---
Index
---