Hands-on, Practical Guidance for Educators
From math, literacy, equity, multilingual learners, and SEL, to assessment, school counseling, and education leadership, our books are research-based and authored by experts on topics most relevant to what educators are facing today.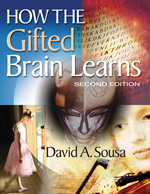 Look Inside
Bestseller!
How the Gifted Brain Learns
Second Edition

Translates the latest neuroscientific findings into practical strategies for identifying, understanding, and engaging gifted learners in different subjects, grade levels, demographics, and special need areas.
Product Details
Grade Level: PreK-12, Elementary, Secondary
ISBN:

9781412971737

Published By: Corwin
Year:

2009



Page Count: 296

Publication date:

July 30, 2009
Price: $46.95
Description
"Pulls many areas of gifted research, knowledge, and applications together in a clear and concise manner. This is a one-stop book for teachers who have high-ability/gifted students in a classroom and need to understand how these students' brains work and how to plan effective instruction."
—Mary Beth Cary, Teacher
Worth County Primary School, Sylvester GA
Identify, understand, and engage the full range of gifted learners with practical, brain-compatible classroom strategies!
What does it mean to be gifted and talented? The second edition of David Sousa's best-selling How the Gifted Brain Learns helps bring clarity to this topic, leveraging the latest neuroscientific findings to separate fact from fiction and provide teachers with practical strategies for engaging artistically and intellectually advanced learners.
This reader-friendly guide gives elementary and secondary teachers the help they need to not only recognize and challenge their gifted learners, but also to support gifted students who underachieve. Acknowledging that students are often gifted in specific subject areas, the text includes chapters dedicated to talents in language, math, and the arts. Special "From the Desk of a Teacher" sections offer classroom-tested examples of the instructional applications suggested by research. In addition to featuring new research and expanded curriculum ideas, this second edition helps answer questions about:
How the brains of gifted students are different
How to gauge if gifted students are being adequately challenged
How to identify students who are both gifted and learning disabled
How improving programs for the gifted and talented benefits other students
How to better identify gifted minority students, who are often underrepresented in gifted programs
This resource is a one-stop shop of brain-compatible strategies for teaching the full range of gifted students!
Key features
New to this addition are:
New applications in each chapter
Updated research on the gifted and talented brain
Classroom examples in each chapter for the elementary and secondary levels
Table of Contents
About the Author
---
Acknowledgments
---
Preface to the Second Edition
---
Introduction
---
What Do We Mean by Gifted and Talented?
Gifted and Talented Programs in Today's Schools
About This Book
1. What Is a Gifted Brain?
Understanding Intelligence
Theories of Intelligence and Giftedness
Characteristics of Giftedness
Social and Emotional Characteristics of Giftedness
Impact of Praise on Gifted Students
2. Challenging the Gifted Brain
Differentiated Curriculum and Instruction
A Supportive Learning Environment
Curriculum Content Initiatives for Gifted Learners
Instructional Processes for Gifted Learners
The Products of Gifted Learners
Gifted Visual-Spatial Learners
Avoiding the Pitfall of Academics Versus the Arts
3. Underachieving Gifted Students
What Is Underachievement?
Some Causes of Underachievement
Identifying Gifted Underachievers
Underachievement Among Gifted Minority Students
Reversing Patterns of Underachievement
4. The Twice-Exceptional Brain
Identifying Twice-Exceptional Students
Giftedness and Attention-Deficit Hyperactivity Disorder
Giftedness and Autism
Hyperlexia
5. Language Talent
Sources of Language Ability
Identifying Students Gifted in Language Arts
Developing Language Ability
6. Mathematical Talent
Number Sense Is an Innate Capability
Mathematical Thinking and the Brain
Identifying the Mathematically Gifted
Teaching the Mathematically Gifted
7. Artistic Talent
The Arts for All Students
Musical Talent
Reading and Memorizing Music
Developing Musically Talented Students
Dance Talent
Theatrical Talent
Visual Art Talent
8. Putting It All Together
Identifying Gifted Students
Developing the Learning Environment
Strategies for the Gifted in the Inclusive Classroom
Where Do We Go From Here?
Conclusion
Glossary
---
References
---
Resources
---
Index
---