Hands-on, Practical Guidance for Educators
From math, literacy, equity, multilingual learners, and SEL, to assessment, school counseling, and education leadership, our books are research-based and authored by experts on topics most relevant to what educators are facing today.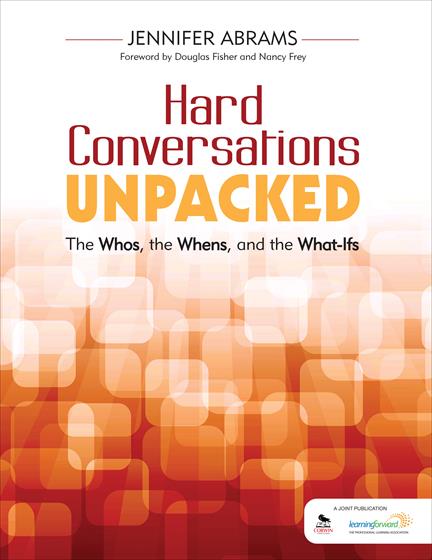 Look Inside
Bestseller!
Hard Conversations Unpacked
The Whos, the Whens, and the What-Ifs
Foreword by Douglas Fisher and Nancy Frey
A Joint Publication with Learning Forward

Prepare for hard conversations by knowing what to plan for before, during, and after the talk. Explore potential influences and discover how to frame growth-producing, other-centered outcomes.
Product Details
Grade Level: PreK-12
ISBN:

9781506302904

Published By: Corwin
Year:

2016



Page Count: 112

Publication date:

January 22, 2016
Price: $31.95
Description
Learn to speak up for what really matters

Tough talks are never easy, but in her best-selling book, Having Hard Conversations, Jennifer Abrams showed educators how to speak intentionally with colleagues about work-related issues through a planned, interactive, and personal approach. In this sequel, she moves readers deeper into the nuances of how to prepare for those conversations while building expectations for positive and meaningful outcomes.

Putting clarity before accountability, or by being clear about what should be understood before going in, can and will increase the favorable results of those tough talks. With an emphasis on what needs to happen before, during, and after hard conversations, this resource explores
What humane, growth-producing, and "other-centered" conversations sound like
How race, culture, gender, and generational filters influence perceptions and how to account for them
How to spot and work with organizational dynamics that could influence discussions
How to conduct hard conversations with supervisors
Plan for positive outcomes from hard conversations. Let this resource empower you to expect and professionally navigate environmental influences, unexpected pushback, and uncomfortable silences toward real understanding and progress.
"Abrams, who cites a broad and current body of literature, provides a valuable rationale for why certain ways of talking are more effective than others."
Robert J. Garmston - Professor Emeritus & Co-Developer of COgnitive Coaching & Adaptive Schools
California State University, Sacramento

"In order to grow as learners, educators and leaders, we need to be provided with feedback that will enhance our growth. That feedback doesn't come easily. We shy away from providing honest feedback because we're afraid it will be "taken the wrong way." That is why I love Having Hard Conversations 2.0. Jennifer Abrams brings us through the process beautifully with a great deal of honesty, and we can learn a great deal from her insight. This is an important read for anyone in education."
Peter De Witt - Former School Principal
Finding Common Ground Blog, Corwin


Key features
(1) Designed to promote a deeper understanding of what needs to happen before, during, and after hard conversations.
(2) Emphasizes the critical need for greater clarity around the goals and desired outcomes of hard conversations ("clarity precedes accountability")
(3) Includes many new and important topics that weren't addressed in the first Hard Conversations book, e.g., filters of perception such as race and gender, the significance of organizational politics, productive responses ("what if they say this to you?"), and effective listening strategies.
(4) Comes with an array of valuable tools, templates, and checklists to ensure that participants have what they need after leaving the training room.
(5) Includes a variety of vignettes and case studies, based on Abrams' own practice.
(6) Under discussion: video clips linked to book via QR codes. (We can use the clips developed for Abrams's Hard Conversations course as the foundation for this)
Table of Contents
Foreword by Douglas Fisher and Nancy Frey
---
Preface
---
Acknowledgments
---
About the Author
---
Chapter 1. Is This Really a Hard Conversation or Something Else?
Chapter 2. Clarity, Clarity, Clarity
Chapter 3. Being Other-Focused: Planning the Hard Conversation
Chapter 4. Organizational Politics, Working With Supervisors or Groups, and Hard Conversations
Chapter 5. Scripting a Humane, Growth-Producing Conversation
Chapter 6. What If They Say . . . ? Possible Responses
Chapter 7. How to Be a Better Recipient of Feedback
Conclusion
---
Resource: Inspirational Quotes for Having Hard Conversations
---
References and Suggested Readings
---
Index
---