Hands-on, Practical Guidance for Educators
From math, literacy, equity, multilingual learners, and SEL, to assessment, school counseling, and education leadership, our books are research-based and authored by experts on topics most relevant to what educators are facing today.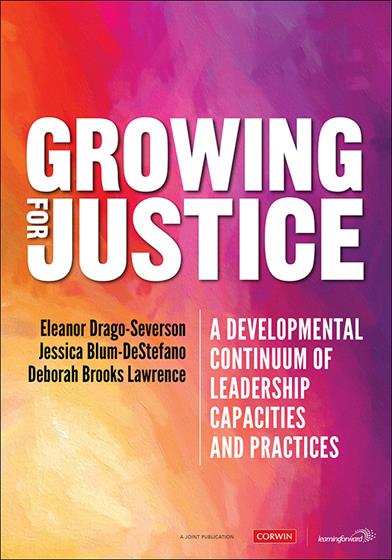 Growing for Justice
A Developmental Continuum of Leadership Capacities and Practices
Joint Publication with Learning Forward

This groundbreaking book, drawn from a first-of-its-kind study, helps school leaders take concrete steps toward improved advocacy—wherever they are in their social justice journey.
Product Details
Grade Level: PreK-12
ISBN:

9781071818893

Published By: Corwin
Year:

2023



Page Count: 240

Publication date:

April 03, 2023
Price: $39.95
Description
Be the leader you want to see in the world.
Educators committed to social justice enter into the work in markedly different ways. Drawing from research with 50 educational leaders from across the United States, Growing for Justice explores how leaders committed to social justice support the growth of others while also developing their own capacities to engage, connect, and lead for change. This groundbreaking book, informed by adult developmental theory and based on a first-of-its-kind study, helps school leaders assess their own strengths and areas for growth—and then take concrete steps toward improvement. Features include:
Exploration of meaning-making systems and how they affect leaders' understandings of diversity, equity, and social justice
A research-based, developmental model of justice-centering educational leadership capacities and practices
Leaders' personal stories of growth and development as advocates
Planning activities and reflective exercises to drive decision-making, action, and internal capacity-building
Wherever you are in your social justice journey, wanting to do better is the first step toward actually doing better. With this book's help, you'll outline the supports, stretches, and scaffoldings you need to continually grow for justice.



Table of Contents
Chapter 1
Chapter 2
Interlude 1
Chapter 3
Chapter 4
Chapter 5
Chapter 6
Interlude 2
Chapter 7