Hands-on, Practical Guidance for Educators
From math, literacy, equity, multilingual learners, and SEL, to assessment, school counseling, and education leadership, our books are research-based and authored by experts on topics most relevant to what educators are facing today.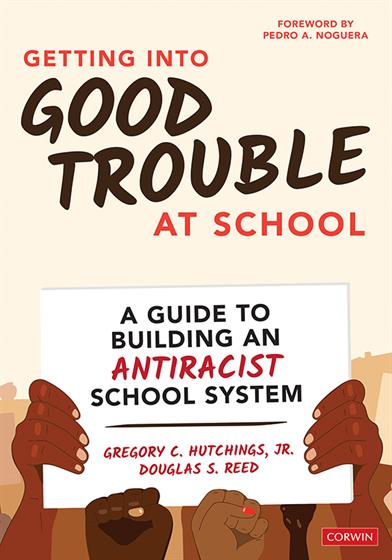 Getting Into Good Trouble at School
A Guide to Building an Antiracist School System
Foreword by Pedro A. Noguera

This detailed study of antiracist educational transformation provides a six-step model for actively dismantling institutional racism, and implementing policies that benefit the entire school community.
Product Details
Grade Level: PreK-12
ISBN:

9781071857014

Published By: Corwin
Year:

2022



Page Count: 176

Publication date:

June 16, 2022
Price: $39.95
Description
Turn the promise of equitable education into reality.
This is your guidebook for building an antiracist school. Written by two education leaders with very different life experiences, Getting into Good Trouble At School provides the context, empowerment, and concrete actions needed to dismantle racist policies and practices that for decades have kept students of color from experiencing the same success as their white counterparts.
The journeys of Gregory Hutchings and Douglas Reed – which include systemic racism and white privilege - provide a unique model superintendents, principals, school board members and other educators can use to reimagine educational equity, actively dismantle institutional racism, and implement strategic, methodical policies that benefit the entire school community. In this book you'll find
A detailed case study of antiracist educational transformation
What it really means to commit to racial equity
Guidance for dismantling tracking and in-school segregation
Positive, equitable alternatives to typical disciplinary practices
Six steps to building an antiracist school system
Racism isn't always intentional. Antiracism, on the other hand, must be. Now antiracist education leaders can put their intentions into action—and grant the promise of an equitable and culturally rich education to all students.
Key features
Superintendents, school boards, and district administrators will find:
A detailed case study of the transformation that Alexandria Public Schools has undergone

Practical wisdom for district leaders who want to dismantle racist policies in their districts

Positive and equitable alternatives to the typical approaches to school discipline, tracking, and other systems that (whether intentionally or unintentionally) uphold racist outcomes
Table of Contents
Foreword by Pedro A. Noguera
---
Preface
---
Acknowledgments
---
About the Authors
---
Introduction
---
Chapter 1. ReImagining the Titans
Chapter 2. Know Your History to Rewrite Your Future
Chapter 3. Commit to Racial Equity
Chapter 4. Dismantling Tracking and Within-School Segregation
Chapter 5. Making School Discipline Different From Policing
Chapter 6. Implement Strategic Thinking and Strategic Planning
Chapter 7. Choose Good Trouble: Be a Bold and Courageous Antiracist School Leader
Chapter 8. Conclusion
Appendix
---
References
---