Hands-on, Practical Guidance for Educators
From math, literacy, equity, multilingual learners, and SEL, to assessment, school counseling, and education leadership, our books are research-based and authored by experts on topics most relevant to what educators are facing today.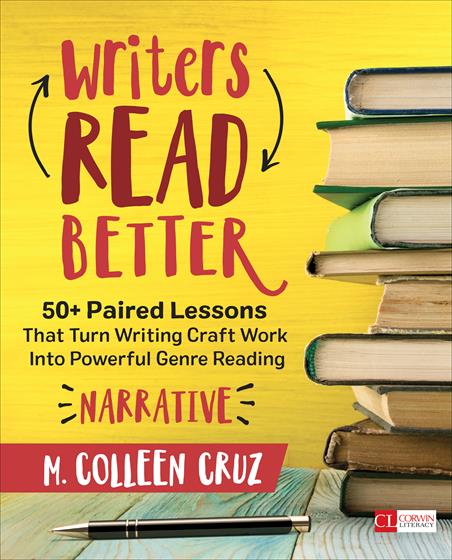 Look Inside
Writers Read Better: Narrative
50+ Paired Lessons That Turn Writing Craft Work Into Powerful Genre Reading
First Edition

By flipping the traditional "reading first, writing second" sequence, this innovative book lets you make the most of the writing-to-reading connection via 50 carefully matched lesson pairs.
Product Details
Grade Level: PreK-12
ISBN:

9781506349442

Published By: Corwin
Series: Corwin Literacy
Year:

2019



Page Count: 312

Publication date:

June 13, 2019
Price: $30.95
Description
When It Comes to Reading, Writers Have an Advantage

We know that writing skills reinforce reading skills, but what's the best way to capitalize on this beneficial relationship? By flipping the traditional "reading lesson first, writing lesson second" sequence, Colleen Cruz ingeniously helps you make the most of the writing-to-reading connection with carefully matched, conceptually connected lesson pairs. The result is a healthy reciprocity that effectively and efficiently develops students' literacy skills.

Backed by long-term academic and field research, Writers Read Better: Narrative presents a series of 50 tightly interconnected lesson pairs that can be implemented either as a complete curriculum or as a supplement to an existing program. Each pairing leads with a writing lesson, used as a springboard for the reading lesson that will follow.

Throughout the book's four sections, organized to help you teach tightly aligned lessons and units on reading and writing narrative, you'll discover
Kid-friendly approaches to virtually every matter of craft, including symbolism, tenses, the role of first and last words, dialogue as character fingerprint, giving weight to what's important, and much more
Clear guidance on the intention of each lesson, the type of narrative genre it's ideally suited for, and step-by-step plans
Sample teacher language for introducing and coaching each lesson
Mentor text excerpts to use as models for personal narrative, memoir, and story writing
Tips on building and organizing a contemporary classroom library filled with inspiring, illustrative texts, and how you can incorporate the tools, technology and media available in your classroom to make each lesson most effective
Sample student work, online videos and other supporting resources
Complete with practical suggestions on adapting the lessons to suit the particular needs of your classroom as well as individual students, Writers Reader Better: Narrative offers a solid foundation for giving your students the advantage of powerful, transferable literacy skills.
Table of Contents
List of Videos
---
Solutions at a Glance
---
Acknowledgments
---
Introduction: Preparing for Aligned or Complementary Units on Narrative Reading and Writing
---
PART 1: LESSONS FOR GENERATING STORY: ENVISIONING CHARACTERS AND SETTINGS
---
LESSON 1
Writing: Write Our Truest Selves
Reading: Characters Offer Clues to Authors' Selves
LESSON 2
Writing: Flaws and Quirks for Character Development
Reading: Studying Flaws to Seek Deeper Meaning
LESSON 3
Writing: Finding Freedom in Familiar Character Types
Reading: Identifying Archetypes to Develop Depth of Understanding
LESSON 4
Writing: Maps, Photographs, and Songs as Tools for Setting Creation
Reading: Connecting Setting to Meaning
LESSON 5
Writing: Letting Characters and Settings Lead Us to Story
Reading: Following the Path of a Story to Understand Other Elements
LESSON 6
Writing: Finding Important Ideas in the Most Personal Piece of Our Lives
Reading: Focusing on the Details of a Text to Uncover Bigger Notions
LESSON 7
Writing: Studying Places for Stories to Explore
Reading: Making the Connection Between Place and an Author's Message
LESSON 8
Writing: Revising the Arc to Match the Meaning
Reading: Connecting the Shape of the Plot to the Theme
FOR DIGITAL CLASSROOMS
---
Writing: Apps and Tools to Help Keep Track of Story Ideas
Reading: Reading Stories Digitally Requires Readers to Purposefully Set Themselves up to Reread
PART 2: LESSONS FOR DRAFTING A NARRATIVE, FOLLOWING PLOT, AND FINDING SIGNIFICANCE
---
LESSON 9
Writing: Draft Fast to Create Energy
Reading: Reading Voluminously to Build Momentum
LESSON 10
Writing: Drafting Stand-Alone Scenes
Reading: Studying One Scene for Larger Understanding
LESSON 11
Writing: Deciding When to Summarize
Reading: Summarizing Text to Check for Comprehension
LESSON 12
Writing: Research for Personal Writing
Reading: Noting When a Writer Uses Research or Artifacts
LESSON 13
Writing: Drafting With Truth in Mind, Leaving Space for Facts
Reading: Deciphering an Author's Truth and Perspective
LESSON 14
Writing: Drafting With Perspective in Mind
Reading: Considering the Author's Choice of Perspective and Its Effects
LESSON 15
Writing: Research Makes Fiction Believable
Reading: Researching Outside a Text Can Open New Interpretations
FOR DIGITAL CLASSROOMS
---
Writing: Choosing the Best Platform for Your Story
Reading: The Platform Affects the Way You Interact With a Story
PART 3: LESSONS FOR REVISING FOR MEANING AND SIGNIFICANCE: ANALYSIS AND CRITIQUE
---
LESSON 16
Writing: Exploring Deeper Meaning in Drafts to Begin Revision
Reading: Identifying an Author's Deeper Meaning Through Rereading and Writing
LESSON 17
Writing: Compelling Stories Thrive on Conflict
Reading: Identifying the Scenes That Point to Conflict in a Story
LESSON 18
Writing: Craft Settings That Connect With Characters' Emotions
Reading: Noticing a Relationship Between Setting and Character
LESSON 19
Writing: Stories Extend and Elaborate on Larger Ideas
Reading: Tracking the Weight of a Story
LESSON 20
Writing: Increasing Suspense Through Revision
Reading: Spotting Moves Authors Use to Build Suspense Helps Readers Make Predictions
LESSON 21
Writing: Craft Dialogue to Match Character Personality and Uniqueness
Reading: Dialogue Gives Insights Into Characters
LESSON 22
Writing: The Narrator's Voice Makes Perspective Clear
Reading: The Narrator's Voice Sets up a Reader's Inferences and Interpretations
LESSON 23
Writing: Knowing the Significance of a Personal Story Can Help Writers to Foreshadow
Reading: Identifying Foreshadowing in a Story to Help Discover Theme
FOR DIGITAL CLASSROOMS
---
Writing: Revising Digitally Allows for Powerful Peer Feedback
Reading: Other Readers Can Give New Perspectives
PART 4: LESSONS FOR PERFECTING THE PROSE AND PURPOSE: DEEP INTERPRETATION
---
LESSON 24
Writing: Designing Beginnings and Endings That Entice and Linger
Reading: Savoring Beginnings and Endings
LESSON 25
Writing: Fewer Words Can Make More Impact
Reading: Considering Words Used and Not Used When Interpreting
LESSON 26
Writing: Using Symbolism to Give Readers Direction
Reading: Interpreting Symbols in Stories—When Everything Can Have Meaning
LESSON 27
Writing: Choosing and Smoothing Tense
Reading: Looking to Tense for Meaning
LESSON 28
Writing: The Many Purposes of Narrative Paragraphs
Reading: Reading Narrative Paragraphs on Surface and Inferential Levels
LESSON 29
Writing: Using Tools to Make Smart Spelling Decisions
Reading: Knowing an Author Carefully Chooses Words Helps Readers Develop Deeper Understanding
LESSON 30
Writing: Making Publishing Decisions Based on the Intended Audience
Reading: Judging the Effectiveness of an Author's Decisions
FOR DIGITAL CLASSROOMS
---
Writing: Using Digital Tools to Call Attention to Theme
Reading: Looking Across Highlights, Bookmarks, and Notes to Help Identify Unifying Themes
Resources
---
References and Further Reading
---
Index
---