Hands-on, Practical Guidance for Educators
From math, literacy, equity, multilingual learners, and SEL, to assessment, school counseling, and education leadership, our books are research-based and authored by experts on topics most relevant to what educators are facing today.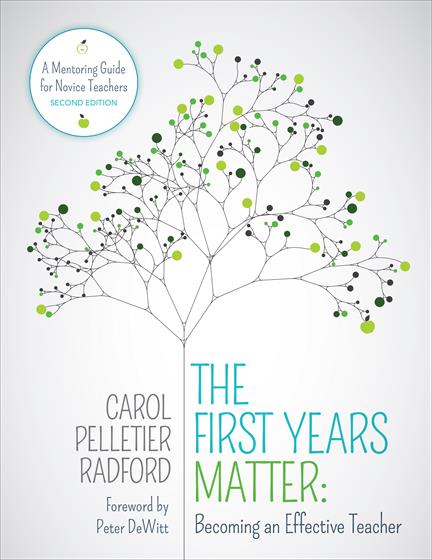 Look Inside
Bestseller!
The First Years Matter: Becoming an Effective Teacher
A Mentoring Guide for Novice Teachers
Second Edition
Foreword by Peter DeWitt

This newly revised edition prepares new teachers for the rigors and expectations of the classroom. Includes mentor-teacher strategies, a flexible twelve-month curriculum, companion website, and more!
Product Details
Grade Level: PreK-12
ISBN:

9781506345062

Published By: Corwin
Series: Corwin Teaching Essentials
Year:

2016



Page Count: 296

Publication date:

July 15, 2016
Price: $39.95
Description
Use this updated resource to prepare for your journey into teaching

Teaching is an ongoing learning process. Where do you begin? This newly revised and updated 2nd edition of The First Years Matter sheds light on what your first years are all about. Key actions steps and a flexible twelve-month curriculum - including July for reflection and planning - keeps you proactively prepared for the classroom. Use this book to collaborate more effectively with your mentor who may be using the companion text Mentoring in Action.

The First Years Matter includes a planning section, affirmations, and activities to help you master classroom management, instruction, assessment, goal setting, and more. Whether you're a first year teacher or entering your second or third year, you'll learn to mindfully
Align mentoring to your state or district evaluation standards
Integrate student voice to build a community of learners
Prepare for teacher observations and standardized testing
Apply mentoring lessons to differentiate instruction
Develop leadership opportunities

Gather evidence to document your progress
This updated version includes convenient QR codes and a robust companion website featuring videos, downloadable forms, and a journal for reflection. Start your teaching journey off right. Use this empowering book to become a competent and confident teacher!

"I love the idea of having mentors and mentees work alongside each other with Mentoring in Action and The First Years Matter, sharing their thoughts about challenges and successes each month and opening up a reflective dialogue."
Karen Mayotte, Grade 2 Classroom Teacher/ Co-coordinator Mentor Program
Nashoba Regional School District
Use with
Mentoring in Action
, the companion guide for mentors!
Table of Contents
Foreword: Peter M. DeWitt
---
Preface
---
Acknowledgements
---
About the Author
---
Introduction
---
Part I Beginning Your Journey Into Teaching
---
The Purpose of Induction and Mentoring
Sustainable Mentoring
What is Mentoring in Action?
Building a Relationship With Your Mentor
Purposeful Mentoring Conversations
Part II Month-by-Month Mentoring: Being Mentored in Action
---
Why Do We Need a Mentoring Curriculum?
A Month-by-Month Cycle for Mentoring
The Transformation of a Teacher
August Orientation to the School and Community: Resources and Values
---
September Beginning the School Year Successfully: Creating a Community of Learners in the Classroom
---
October Teaching For Understanding: Planning and Delivering Effective Instruction
---
November Assessing Diverse Learners: How Do Teachers Know Students Have Learned?
---
December Maintaining Balance: Teaching and Keeping the Students Interested
---
January Beginning a New Calendar Year: Looking Back and Moving Forward
---
February Engaging Students in the Curriculum: Focus on Content through Active Inquiry
---
March With Your Mentor: Building a Trusting Relationship
---
April Standards: Creating Meaningful Standards-Based Learning Experiences for Students
---
May Assessing Students' Progress: High-Stakes Tests and Teacher Assessment
---
June Completing the Year: Paperwork, Relationships, and Closing a Room
---
July Final Reflection and Planning For Next Year: Retreat, Reflect, Review
---