Hands-on, Practical Guidance for Educators
From math, literacy, equity, multilingual learners, and SEL, to assessment, school counseling, and education leadership, our books are research-based and authored by experts on topics most relevant to what educators are facing today.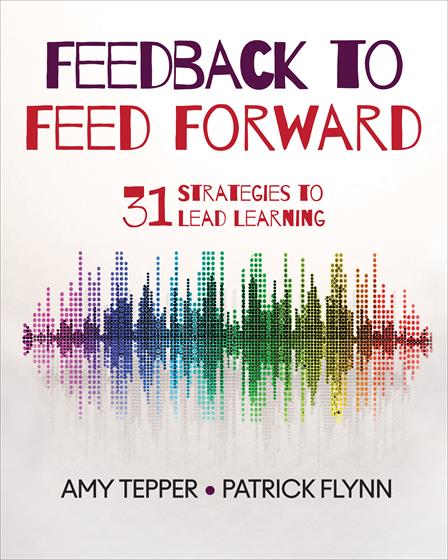 Feedback to Feed Forward
31 Strategies to Lead Learning
With ready-to-use strategies and field-tested lesson examples, this how-to guide helps leaders conduct comprehensive observations, analyze lessons, develop high-leverage action steps, and craft effective feedback.
Product Details
Grade Level: PreK-12
ISBN:

9781544320229

Published By: Corwin
Year:

2018



Page Count: 256

Publication date:

July 10, 2018
Price: $39.95
Description
Watch the video!

Feedback that works—for leadership that makes a difference.

As a leader, you know that feedback is essential to teachers' growth and development. But crafting the right feedback can be daunting. How do you conduct comprehensive observations, accurately analyze lessons for effectiveness, and develop high-leverage action steps that bring lasting change to teacher practices and student outcomes?

This how-to book, designed for leaders in all roles and at all experience levels, provides a dynamic yet practical leadership model focused on precisely those key tasks. Features include
Comprehensive explanations of standards and descriptions of discrete core skills
Explicit think-alouds, ready-to-use strategies, and field-tested lesson examples
Evidence-collection notes—with templates—from live observations
Feedback samples across grade levels and content areas
Replicable case studies for professional learning
Simply inspecting teaching practice through observation might be easy; providing feedback that feeds forward and promotes growth is far more challenging. With this comprehensive learning tool, you'll use feedback to make the most of your role as a leader of learning—for both teachers and students.

Feedback to Feed Forward has been recognized for focusing on practices that have high effect sizes and will help you translate the groundbreaking Visible Learning research into practice. When educators use strategies that have high effects (greater than 0.40), they can accelerate student achievement. The power of the Visible Learning research lies in helping educators understand which factors have the highest impact on student achievement so that educators can begin making strategic decisions based on evidence that will utilize their time, energy, and resources to the best extent possible. The Visible Learning research is based on Professor John Hattie's unmatched meta-analysis of more than 1,600 research reviews comprising 95,000 studies, involving more than 300 million students—the world's largest evidence base on what works best in schools to improve student learning. From that research, Dr. Hattie identified more than 250 factors that have an impact on student achievement.
View a full list of Visible Learning® Supporting Resources


Table of Contents
Preface
---
Acknowledgments
---
About the Authors
---
Chapter 1: What does it mean to lead learning?
Finding Time to Lead Learning
Rethinking Evaluation
Leading Change Through Educator Evaluation
Core Assumptions About Current Practice
Feedback as the Common Thread
A Shift From Summary to Analysis
Core Skills for Observation and Feedback
What's Ahead?
Chapter 2: How can you use an instructional framework to improve observation and feedback practices?
Skill Set for Building Understanding of a Framework
Deconstructing Your Framework
Unpacking Expectations
Using a Feedback Frame
Final Thoughts
Chapter 3: How can you collect evidence in the classroom to improve feedback?
Skill Set for Collecting Evidence
Bias in Observation
Identifying Types of Data
Evidence Collection: The Basics
Evidence Collection: Student Engagement and Learning
Using a Balance of Evidence to Feed Forward
Final Thoughts
Chapter 4: How can you determine effectiveness of instruction and a teacher's impact on learners?
Skill Set for Determining Effectiveness
Using Your Evidence to Analyze Effectiveness
Understanding What We Are Analyzing
Analyzing Engagement
Influences on Engagement and Learning
Final Thoughts
Chapter 5: How can you determine a teacher's areas of instructional strength and growth?
Skill Set for Determining Areas of Strength and Growth
What Teachers Need to Know
Using Analysis
Determining Areas of Strength and Growth
Citing Areas of Strength and Growth
Understanding Research-Based Strategies
Using Research-Based Strategies in Feedback
Pulling It All Together
Final Thoughts
Chapter 6: How can your feedback feed forward?
Skill Set for Developing Objective Feedback
Bias in Feedback
Increasing Objectivity
Feedback to Feed Forward
Skill Set for Developing Feedback as a Learning Tool
Defining "Actionable" Next Steps
Developing Action Steps
Prioritizing Next Steps
Developing Reflective Practices
Pulling It All Together
Final Thoughts
Chapter 7: What professional learning builds your capacity to lead learning?
What's Next?
The Current Approach
Essentials of Effective Professional Learning Design
Building a New Approach
Professional Learning Designs in Action
Final Thoughts and Beyond
Strategies List
---
Tables and Figures List
---
References
---
Index
---