Hands-on, Practical Guidance for Educators
From math, literacy, equity, multilingual learners, and SEL, to assessment, school counseling, and education leadership, our books are research-based and authored by experts on topics most relevant to what educators are facing today.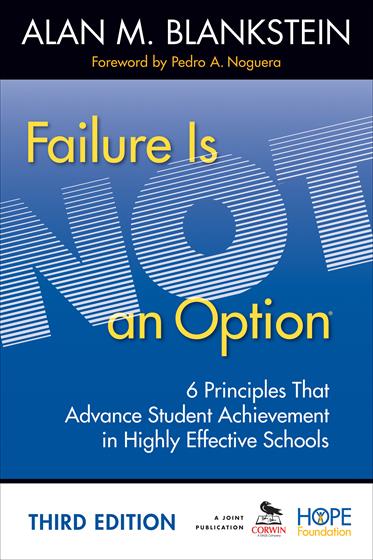 Look Inside
Bestseller!
Failure Is Not an Option
6 Principles That Advance Student Achievement in Highly Effective Schools
Third Edition
Foreword by Pedro A. Noguera
A Joint Publication with The HOPE Foundation

New case studies, videos, and field-tested processes help educators build high-performing leadership teams and create a school culture that sustains success for every student.
Product Details
Grade Level: PreK-12
ISBN:

9781452268279

Published By: Corwin
Year:

2012



Page Count: 352

Publication date:

December 20, 2012
Price: $40.95
Description
School improvement that lasts: find out how with this masterful guide!
Common Core requirements, merit-based pay, new teacher evaluations, project-based learning—21st-century learning is a demanding and rapidly changing landscape. Advance from overwhelmed to empowered with Alan Blankstein's Failure Is Not an Option, used by more than 350,000 educators to create schools that sustain success for every student.
New case studies and field-tested techniques uncover indispensable insights into successful school change. Develop high-performing leadership teams through
Powerful engagement strategies and capacity-building questions to help staff and students leverage what's working and target measurable goals
New real-world examples to help stakeholders maintain collaborative cultures in the face of new teacher evaluations and merit pay, sustain successful RTI and Common Core initiatives, thrive in diverse settings, and promote community engagement
New tools, forms, and video segments on a companion website
Use this handbook to discover what makes results-oriented, enduring school improvement models work!

Praise for the Second Edition:
"An overwhelming body of research shows that educational change and improvement must come from the inside. Here is a practical road map for improving the climate and culture of schools in ways that are meaningful and enduring. We must be open to new ideas, new strategies, and new opportunities. School transformation is something you do with educators, not to them. This book will show you how."
—Dennis Van Roekel, President
National Education Association


Key features
Offers school leaders the FNO framework for action, which consists of 6 principles for building and sustaining a professional learning community that will result in a high-performing school.
Brief case examples and longer case stories, all drawn from the author's/HOPE Foundation's work with school leaders and schools/districts to vividly illustrate concepts with which the reader will connect and show how to implement the 6 principles.
Numerous tools in the Resources section provide school leaders with concrete assistance in applying the 6 principles of the FNO framework for action.
Table of Contents
List of Resources
---
Foreword by Pedro A. Noguera
---
Preface
---
Acknowledgments
---
About the Author
---
Chapter 1. Why Failure Is Not an Option
Chapter 2. Courageous Leadership for School Success
Chapter 3. 10 Common Routes to Failure, and How to Avoid Each
Chapter 4. Relational Trust as Foundation for the Learning Community
Chapter 5. Principle 1: Common Mission, Vision, Values and Goals
Chapter 6. Principle 2: Ensuring Achievement for All Students: Systems for Prevention and Intervention
Chapter 7. Principle 3: Collaborative Teaming Focused on Teaching for Learning
Chapter 8. Principle 4: Data-Based Decision Making for Continuous Improvement
Chapter 9. Principle 5: Gaining Active Engagement from Family and Community by Alan M. Blankstein and Pedro A. Noguera
Chapter 10. Principle 6: Building Sustainable Leadership Capacity by Alan M. Blankstein with Andy Hargreaves and Dean Fink
Conclusion
---
Resources
---
Book Group Discussion Questions
---
References and Further Readings
---
Index
---