Hands-on, Practical Guidance for Educators
From math, literacy, equity, multilingual learners, and SEL, to assessment, school counseling, and education leadership, our books are research-based and authored by experts on topics most relevant to what educators are facing today.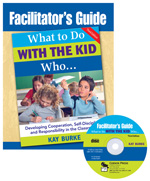 Facilitator's Guide to What to Do With the Kid Who...
Third Edition

Train teachers how to use behavioral RTI strategies and record data with electronic templates to establish a classroom climate that encourages students to interact courteously with teachers and peers.
CD-ROM is PC and Mac compatible.
Product Details
Grade Level: PreK-12
ISBN:

9781412966245

Published By: Corwin
Year:

2009



Page Count: 64

Publication date:

January 06, 2009
Price: $23.95
Description
Demonstrate how teachers can use proven disciplinary ideas and strategies in diverse classrooms!
Based on the third edition of Kay Burke's best-selling book What to Do With the Kid Who . . ., this guide gives staff developers and workshop leaders the tools to facilitate book study groups, seminars, and professional development events that demonstrate how teachers can proactively address common disciplinary issues before they become major problems. Facilitators will be able to show how teachers can establish a caring classroom climate that fosters a spirit of cooperation, respect, and love for learning while encouraging students to interact courteously with their teachers and peers. Participants will discover classroom management tips and RTI strategies, and electronic templates for 20 strategies from the book to address for students who have:
Trouble accepting responsibility for their choices and actions
Weak interpersonal skills
Behavioral problems or special needs
A tendency to cause disruptions
The chapter-by-chapter study guide follows the same format as the companion book and features: 
Workshop activities 
Chapter summaries 
"Big ideas" and "essential questions"
Suggestions for practical applications
Reflections
Handouts, overheads, and templates of 20 strategies on a CD-ROM 
Sample agendas for half-day, one-day, and two-day workshops
A workshop evaluation form
The Facilitator's Guide to What to Do With the Kid Who . . . is ideal for staff developers administrators, or anyone leading professional training for groups of any size—pairs, small workshops, or large seminars.
Table of Contents
About the Author
---
Introduction
---
How to Use the Guide
Additional Resources for Facilitators
Chapter-by-Chapter Study Guide: Facilitator's Guide to What to Do With the Kid Who...Developing Cooperation, Self-Discipline, and Responsibility in the Classroom, Third Edition, by Kay Burke
---
1. Meeting the Educational Challenges of the Twenty-First Century
Big Idea
Summary
Essential Questions
Activities
Materials
Reflections
Timeframe for Entire Chapter
2. Reviewing Current Teaching and Learning Theories
Big Idea
Summary
Essential Questions
Activities
Materials
Reflections
Timeframe for Entire Chapter
3. Setting a Positive Classroom Climate for Learning
Big Idea
Summary
Essential Questions
Activities
Materials
Reflections
Timeframe for Entire Chapter
4. Teaching Students How to Use Appropriate Social Skills
Big Idea
Summary
Essential Questions
Activities
Materials
Reflections
Timeframe for Entire Chapter
5. Helping Students Who Won't Accept Responsibility
Big Idea
Summary
Essential Questions
Activities
Materials
Presentations
Reflections
Timeframe for Entire Chapter
6. Helping Students Who Lack Effective Interpersonal Skills
Big Idea
Summary
Essential Questions
Activities
Materials
Reflections
Timeframe for Entire Chapter
7. Addressing Students Who Cause Class Disruptions
Big Idea
Summary
Essential Questions
Activities
Materials
Reflections
Timeframe for Entire Chapter
8. Working With Students Who Have Special Needs
Big Idea
Summary
Essential Questions
Activities
Materials
Reflections
Timeframe for Entire Chapter
Epilogue: What to Do With the Class That...:Conducting a Class Meeting to Address Problems
References
---
Handouts and Overheads
---
Implementing Effective Classroom Management Strategies
---
Half-Day Workshop Agenda
One-Day Workshop Agenda
Two-Day Workshop Agenda
Workshop Evaluation Form
---