Hands-on, Practical Guidance for Educators
From math, literacy, equity, multilingual learners, and SEL, to assessment, school counseling, and education leadership, our books are research-based and authored by experts on topics most relevant to what educators are facing today.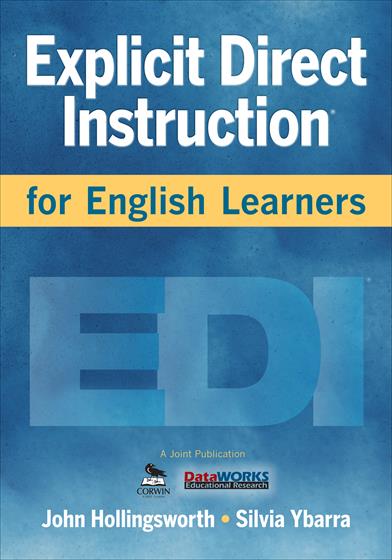 Look Inside
Bestseller!
Explicit Direct Instruction for English Learners
Embed vocabulary development, listening, speaking, reading, and writing in lessons across the curriculum—helping ELLs learn language skills and new content at the same time!
Product Details
Grade Level: PreK-12, Elementary, Secondary
ISBN:

9781412988414

Published By: Corwin
Year:

2012



Page Count: 344

Publication date:

December 20, 2012
Price: $40.95
Description
Boost achievement for English learners in all subject areas!
Every teacher of English learners struggles with the very same issue. How do you build language skills at the same time that you're teaching new content? That balancing act is about to get a whole lot easier. In this step-by-step guide, John Hollingsworth and Silvia Ybarra combine the best of educational theory, brain research, and data analysis to bring you explicit direct instruction (EDI): a proven method for creating and delivering lessons that help every student learn more and learn faster.
Teachers across all grades and subjects will learn how to
Craft lessons that ELs can learn the first time they're taught
Check for understanding throughout each lesson
Embed vocabulary development across the curriculum
Address listening, speaking, reading, and writing in all lessons—thus meeting the goal of the Common Core
Featuring sample lessons, classroom examples, and boxed features, this accessible handbook provides the tools you need to become an EDI expert—and see real results from your English learners every day.
"What a great addition to every teacher's toolkit! The authors show us how to include language acquisition in every lesson: It's just 'good teaching' for ELs!"
—Amy Nichols Webb, ESL Teacher
Hillcrest Elementary School, Morristown, TN
Key features
Includes step-by-step directions for implementing the highly successful Explicit Direct Instruction (EDI) teaching method from DataWORKS
Offers coverage of key topics such as how to craft well-designed lessons for ELLs; how to check for understanding throughout the lesson; how to \ embed vocabulary development in all lessons; and how to include the language objectives of listening, speaking, reading, and writing in all lessons
Provides numerous classroom examples and samples of complete lessons for ELLs at both the elementary and secondary level
Includes several appendices covering the nuts and bolts of designing pair shares, addressing sub skill gaps, and creating learning objectives and standards-based pacing guides
Table of Contents
Preface
---
Acknowledgments
---
About the Authors
---
Part I. Getting Ready
---
1. English Learners Learning Every Day: Who Are They? What Do They Need?
2. English Learners Need Explicit Direct Instruction: The Well-Crafted, Powerfully Taught Lesson
3. Checking for Understanding: How to Verify That English Learners Are Learning
Part II. Strategies for English Learners
---
4. Vocabulary Development: How to Teach English Learners New Words in Every Lesson
5. Language Objectives: How to Have English Learners Listening, Speaking, Reading, and Writing English in Every Lesson
6. Content Access Strategies: How to Make English Easier to Understand for English Learners
Part III. Integrating Strategies for English Learners Into EDI Lessons
---
7. How to Present a Learning Objective to English Learners
8. How to Activate Prior Knowledge for English Learners
9. How to Teach Concepts to English Learners: Concept Development
10. How to Teach Skills to English Learners and Provide Guided Practice
11. How to Teach Lesson Importance to English Learners
12. How to Close a Lesson and Provide Independent Practice and Periodic Review for English Learners
13. Well-Crafted, Powerfully-Taught Lessons: Implementing Explicit Direct Instruction for English Learners
Appendices
---
Annotated References
Bibliography
Index