Hands-on, Practical Guidance for Educators
From math, literacy, equity, multilingual learners, and SEL, to assessment, school counseling, and education leadership, our books are research-based and authored by experts on topics most relevant to what educators are facing today.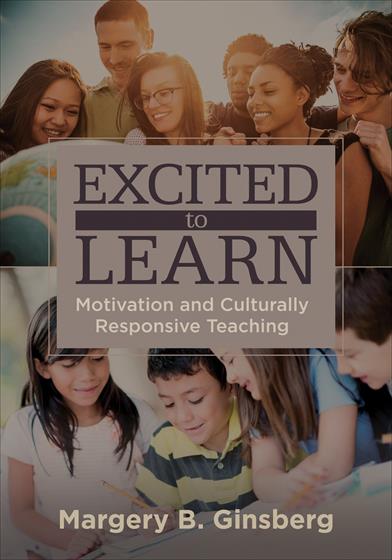 Look Inside
Excited to Learn
Motivation and Culturally Responsive Teaching
Excited to Learn
provides a field-tested
and research-validated tools to provide a blend of theory and practice for educators.
Product Details
Grade Level: PreK-12
ISBN:

9781452259536

Published By: Corwin
Year:

2015



Page Count: 296

Publication date:

March 19, 2015
Price: $39.95
Description
Foreword Review's 2015 Indiefab Book of the Year Award Winner!
Motivation is to learning as oxygen is to breathing
Most experts agree that student motivation and engagement are critical components of teaching and learning. Yet both are vulnerable to distraction. Effective instructional planning is also motivational planning!
Excited to Learn: Motivation and Culturally Responsive Teaching helps teachers leverage students' natural curiosity and academic potential, featuring:
Over 50 strategies to enhance students' emotional safety, value for learning, engagement, and competence

A field-tested and research-validated model to make instructional planning also motivational planning

Abundant tools, templates, and protocols to strengthen student motivation and learning

A clear rationale for intrinsic motivation, especially in culturally diverse classrooms

Essential information for teaching linguistically diverse students and students who have been historically underserved
Excited to Learn begins with background on intrinsic motivation. Next, it introduces the motivational framework for culturally responsive teaching, the foundation of award-winning schools throughout the United States and abroad. Then it provides specific strategies that can be adapted to different subject areas and developmental levels. The epilogue provides guidelines for adult learning and includes an activity to introduce the book to teachers.

Support students' curiosity, engagement, and success as life-long learners!

Check out these related videos:
For more information, check out this article by Margery Ginsberg: Making Diverse Classrooms Safer for Learning
"How can you work with classroom dynamics to increase your culturally diverse students' investment in learning? In this theoretically sound and immensely practical guide, Margery Ginsberg offers teachers a clear framework loaded with wonderful hands-on activities that have the power to change how teachers and students relate to each other and to academic learning. This book is designed to enable teachers to unlock their students' inner motivation and reach the students teachers find most challenging."
— Christine Sleeter, Professor Emerita
California State University Monterey Bay

Key features
Table of Contents
Preface
---
Acknowledgments
---
About the Author
---
1. Culture and Motivation to Learn
2. Critical Features of a Motivating and Culturally Responsive Classroom
3. Establishing Inclusion
4. Developing a Positive Attitude
5. Enhancing Meaning
6. Engendering Competence
7. Epilogue
Appendix
---
References
---
Index
---