Hands-on, Practical Guidance for Educators
From math, literacy, equity, multilingual learners, and SEL, to assessment, school counseling, and education leadership, our books are research-based and authored by experts on topics most relevant to what educators are facing today.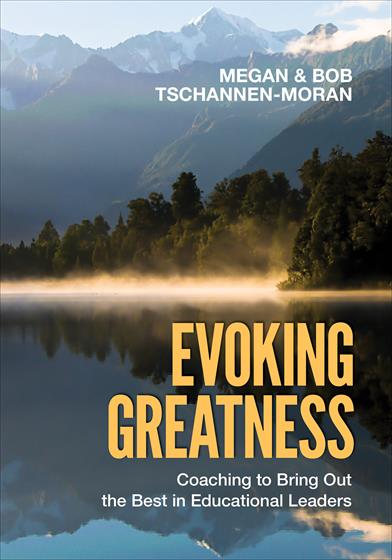 Look Inside
Evoking Greatness
Coaching to Bring Out the Best in Educational Leaders
Addressing the needs of leadership coaches for guidance and professional development, this inspiring and engaging resource outlines the evocative coaching model that generates the collaborative dialogue, empathy, and self-efficacy essential for designing change.
Product Details
Grade Level: PreK-12
ISBN:

9781506377803

Published By: Corwin
Year:

2017



Page Count: 240

Publication date:

August 11, 2017
Price: $39.95
Description
Discover coaching strategies to inspire greatness in any educational leader!
Centered on evocative coaching, a person-centered, no-fault, strengths-based coaching model, this book will equip those who coach educational leaders to host engaging and productive coaching conversations. Coaches who read this book will learn to LEAD: Listen, Empathize, Appreciate, and Design, as well as to discover:
Guidance for coaching leaders with specific questions, things to listen for, and ways to generate new ideas and motivation
Research-based theories that ground the strategies presented in each chapter
Real-life vignettes that illustrate the evocative coaching model in action
Reflection and discussion questions, templates, and other materials to scaffold the learning of coaches as they innovate their way forward
"Leadership coaching has arisen as a powerful intervention to support the professional learning of leaders. In this book Megan and Bob Tschannen-Moran invite us to see into their world of evocative coaching. They demonstrate how coaching conversations can lead to a flow of energy, enthusiasm and possibilities that bring out movement in people. The authors combine their theoretical knowledge with their experience as coaches, exemplified in wonderful stories and practical examples. As a coach myself I could not stop reading because I was so curious about the next chapter. The book is a great example of how high quality professional learning can enhance educational leaders' daily leadership practice."
—Marit Aas, Associate Professor
University of Oslo, Oslo, Norway
Table of Contents
PREFACE
---
ACKNOWLEDGMENTS
---
ABOUT THE AUTHORS
---
CHAPTER 1 INTRODUCTION
The Promise and Practice of Coaching
The Five Concerns of Coaching
The Dynamic Dance of Evocative Coaching
Why Evocative Coaching Works
Key Points in This Chapter
Questions for Reflection and Discussion
CHAPTER 2 COACHING PRESENCE
Evocative Coaching as a Way of Being
The Mindful Coach
Fostering Trust and Rapport
Holding the Coaching Space
Conveying Coaching Presence
Creative Energy Check-In
Coaching Presence in Lateral and Vertical Relationships
The First Coaching Session
Key Points in This Chapter
Questions for Reflection and Discussion
INTERLUDE: LOOP I: THE NO-FAULT TURN
---
CHAPTER 3 LISTENING FOR STORIES
The Story of Principal A and Principal B
The Power of Story
Evoking Coachable Stories
Attentive Listening
Imaginative Story Listening
Key Points in This Chapter
Questions for Reflection and Discussion
CHAPTER 4 EXPRESSING EMPATHY
Understanding Empathy
Leading With Heart
The Language of Compassion
The Golden Sigh
Key Points in This Chapter
Questions for Reflection and Discussion
INTERLUDE: LOOP II: THE STRENGTHS-BUILDING TURN
---
The Learning Brief
CHAPTER 5 APPRECIATIVE INQUIRY
The Principles of Appreciative Inquiry
SOAR: Illuminating the Best of What Is and What Might Be
SOARing Into the Future
Key Points in This Chapter
Questions for Reflection and Discussion
CHAPTER 6 DESIGN THINKING
Designing SMARTER Experiments
Choreographing the Coaching Dance
Key Points in This Chapter
Questions for Reflection and Discussion
CHAPTER 7 THE DYNAMIC FLOW OF CHANGE
Getting Into Flow
Rolling With Resistance
Honoring Ambivalence
Getting out of the Way
Coaching as a Catalyst for Systems Change
Key Points in This Chapter
Questions for Reflection and Discussion
CHAPTER 8 THE REFLECTIVE COACH
Coaching the Self
Hearing Our Own Story
Self-Empathy
Inquiring Into Our Own Professional Practice
Designing Our Own SMARTER Experiments
Professional Coaching Code of Ethics
Conclusion
Key Points in This Chapter
Questions for Reflection and Discussion
APPENDIX: EVOCATIVE COACHING PRINCIPLES, QUESTIONS, AND REFLECTIONS
---
REFERENCES
---
INDEX
---