Hands-on, Practical Guidance for Educators
From math, literacy, equity, multilingual learners, and SEL, to assessment, school counseling, and education leadership, our books are research-based and authored by experts on topics most relevant to what educators are facing today.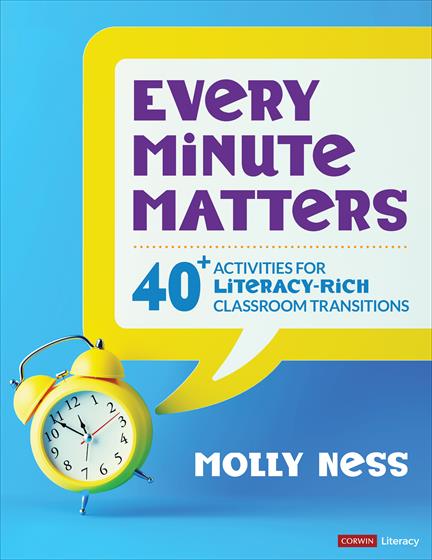 Look Inside
Every Minute Matters [Grades K-5]
40+ Activities for Literacy-Rich Classroom Transitions
Forty innovative activities designed to replace seatwork include literacy-rich alternatives for classroom transitions presented alongside research, strategies, and suggestions for improving efficiency and maximizing instructional time.
Product Details
Grade Level: PreK-12
ISBN:

9781544382449

Published By: Corwin
Series: Corwin Literacy
Year:

2020



Page Count: 152

Publication date:

July 28, 2020
Price: $30.95
Description
Make the most of every instructional minute with engaging literacy activities
Time—or lack thereof—may be the most precious commodity in the classroom. From covering all the necessary curriculum and imparting life skills to attending meetings and answering emails, educators are faced with real challenges when there never seems to be enough time to do it all. Although teachers don't have the power to create more minutes in the school day, they do have the power to be effective and efficient with the time given.
Molly Ness asks teachers first to examine their use of time in the classroom in order to make more space for literacy. She then introduces 40 innovative activities designed to replace seatwork. These literacy-rich alternatives for classroom transitions are presented alongside
Research on instructional time in K–5 classrooms

Strategies for how to maximize every minute of instruction

Suggestions for improving efficiency to expand independent reading and writing time

Reflective practices to help teachers examine how they use the time they have
The instructional day is ripe for redesign with a thoughtful and authentic time audit. Every Minute Matters guides educators through that process by outlining literacy-rich activities to optimize transitional times and minimize lost instructional minutes.
Table of Contents
Guide to Literacy-Rich Experiences
---
Acknowledgments
---
Introduction: So Much to Do, So Little Time
---
Activity Walkthrough
---
PART ONE: Thinking Through Instructional Time
---
Time Audits: Why and How
Maximize Your Routines and Transition Times
Think Flexibly
PART TWO: Literacy-Rich Experiences at Your Fingertips
---
Rotate Your Writing
Reader's Notebook Tours
Library Love
Be a Book Matchmaker
"I Wonder" Writing
Beach Ball Bonanza
Laughing Through Rereadings
Read, Record, Reflect
Book Tasting
Go Fish
Concentration
Lining Up With Literacy
I Spy
Category Chain
Ghost Writing
Build a Word
Classroom Charades
Telephone
Would You Rather?
Hink Pinks
Human Hungry Hippos
Spelling Connect Four
Vocabulary Vase
Book Pass
Parking Lot
Sink or Spell
Headbands
Twister
Letter Formation
Sight Word Search
Letter Tile Table
Tower Tumble
Checkers
A to Z About
Sticky Sort
Reading Graffiti
Jot Lot
Wordoodle
Wordo
Character Cards
Categories
Character Chats
Blackout Poetry
Appendix
---
References
---
Index
---
Reviews
This is a carousel with review cards. Use the previous and next buttons to navigate.
"'Bell-to-bell teaching' can be full of variety and delight, and Molly Ness offers teachers of all grade levels a huge assist here with her trove of concrete, wide-ranging activities to enhance and lighten the hard work of any class. My favorites are the Reading Graffiti and Sticky Sort, and her conversational style leaves even a seasoned teacher reminded of old favorites like 'Hink Pinks' and recommitted to use every moment we have with our young ones. I will be recommending this book widely."
Gretchen Bernabei
"Have you been looking for sensible ways to enrich and energize your transition times? Stop searching and simply turn these pages! In Every Minute Matters, Molly Ness has carefully curated a menu of literacy-linked ideas that will engage learners and maximize instructional time. Once you start using Ness's ideas, your students will surely be asking for more."
Maria Walther
"Molly Ness is a fierce advocate for literacy, dedicated to amplifying and improving the learning lives of children everywhere. In Every Minute Matters, Ness continues this vital mission. I greatly appreciate that this smart, practical resource is centered on a common challenge: it often feels like there's never enough time. The included explanation of 'time audits' helps readers prepare to rethink current practices and uncover hidden minutes. Ness then provides forty practical learning routines to make each 'found' minute matter. Perhaps what I most appreciate is the joy and playfulness inherent in each research-supported suggestion! The flexible instructional practices detailed throughout the book are a powerful antidote to worksheets and workbooks. Additionally, in the Minute Mentor feature, Ness points readers in the direction of where they can find more, read more, learn more, and do more. I am confident this multifaceted resource will be well-loved by hardworking educators as they rethink and reimagine the infinite opportunities for meaningful, integrated literacy learning that could be tucked into every day."
Pamela Koutrakos
"Molly Ness has written a book that belongs in every teacher's hands. Through both cited and her own research, she reminds us of the importance of instructional minutes. Maybe even more important, she challenges readers to consider how they spend their time, and she provides authentic, relevant, and fun activities that are so much more than time fillers. Every activity has a specific purpose and explanation, and she has designed them to fit into and enhance the structure of our students' learning lives. This book is not only valuable and practical for enhancing instruction, it will bring fun and joy into classrooms!"
Melanie Meehan
"Every Minute Matters is loaded with practical activities that teachers can use to insert meaningful literacy instruction into those precious minutes otherwise lost to transitions. But this is so much more than an activity book. It's a guide to reflecting upon how we use our students' most precious resource: time."
Lauren Prosoff
"Every Minute Matters is a tremendous resource for educators looking to enhance their literacy curriculum and provide purposeful instruction. Dr. Molly Ness has expertly curated an engaging catalog of games and activities to support the development of a child's reading, writing, speaking, and listening skills. I've already found a few favorites my students love!"
Gary Wellbrock, PhD
PS347 The American Sign Language and English Lower School