Hands-on, Practical Guidance for Educators
From math, literacy, equity, multilingual learners, and SEL, to assessment, school counseling, and education leadership, our books are research-based and authored by experts on topics most relevant to what educators are facing today.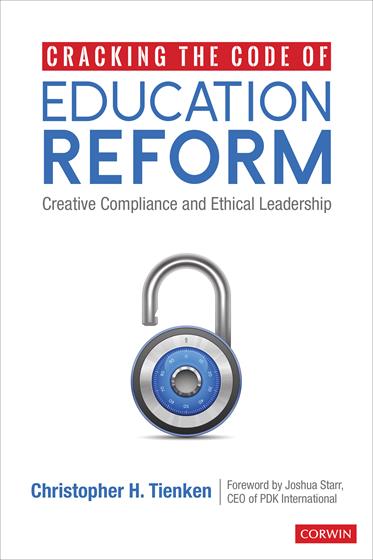 Look Inside
Cracking the Code of Education Reform
Creative Compliance and Ethical Leadership
First Edition
Foreword by Joshua Starr, CEO of PDK International

Beyond simple commentary on reforms, this book introduces evidence-informed critique, ethical considerations, and creative compliance strategies as a practical framework school leaders can use in their everyday practice.
Product Details
Grade Level: PreK-12
ISBN:

9781544368214

Published By: Corwin
Year:

2019



Page Count: 176

Publication date:

September 03, 2019
Price: $39.95
Description
Lead between the lines— evaluate Ed policies to emphasize the positives and minimize the negatives
Although educational reform is intended for positive change, sometimes it misses the mark. However, when school leaders capitalize on the positive aspects of reforms they can strategize to ensure the best outcomes for students.
Christopher Tienken, professor and international speaker, shares his insights on how to identify both positive and negative aspects of education reform to maximize the benefits for students. This book introduces a practical framework for interpreting educational reform within an evidence-based practice, and provides thoughtful ways to finesse results out of challenging policies. Designed for use on the ground level, this book features:
•
Seven specific creative compliance strategies to maximize student and educator success
•
Case studies that illustrate how to critique reforms and take action
•
Reflective questions to guide evaluation and application
•
Ethical decision-making checklist
Analyzing both successful and unsuccessful reform ideas from the past, this book champions creative compliance and how to lead innovatively/judiciously.
Key features
There is no shortage of challenging issues confronted by public school leaders. The list seems to grow each year. School accountability plans, educator evaluation programs, standardization of curriculum and assessment, contradictory policy-maker expectations, and influences from international testing programs are just some of the current issues that exert pressure on public school leaders via rhetoric and education reform policy proposals. The lack of an integrated and practical framework from which to critique reforms can leave some school leaders in the position of supporting reforms that have long-term negative effects on students or educators. School leaders should be able to make accurate judgments about the ethics and efficacy of education reforms so they can decide whether they must defend students and educators from practices and policies built on nothing more than rhetoric, junk-science, and anti-intellectual ideology, or whether they should support a proposal or program founded on evidence of positive outcomes. This book is not an academic treatise on education reform. It is aimed squarely at practitioners and it is meant to be practical, yet it rests solidly on a foundation of empirical evidence.
· Part I presents the critique framework
· Part II presents critiques of some of the more dubious education reforms enacted since the inception of the No Child Left Behind Act: (a) rigor, (b) uses of standardized test results, (c) merit pay, and (d) TBD.
· Each chapter presents a case study critique, based on the six lenses of the framework
Table of Contents
Foreword by Joshua Starr
---
Acknowledgments
---
About the Author
---
INTRODUCTION
Creatively Comply!
Reform Defined
Purposes
Audience
Framing the Issues
Organization of the Book
Features of the Book
Why I Wrote This Book
Part I. Reform Critique
---
CHAPTER 1. ETHICAL CONTEXT OF EDUCATION REFORM AND COMPLIANCE
Reform
Ethics Within the Context of Education Reform
The Ethical Dilemma
Ethical Responsibility
Leadership Take-Away: Ethics
CHAPTER 2. CREATIVE COMPLIANCE
Creative Leadership Pathways
Seven Creative Compliance Strategies
Compliance Entrepreneur
Failure Is an Option
Leadership Take-Away: Creative Compliance
CHAPTER 3. REFRAMING REFORM
Reframe It!
Framing Reform
A Framework for Critique
Ethical Evidence
Now What? and Creative Compliance
Leadership Take-Away: Framing Reform
Part II. Reform Case Studies
---
CHAPTER 4. CASE STUDY 1: REFRAMING RIGOR
Origins of Rigor
What Is Rigor?
Redefining Rigor
Complexity Versus Difficulty
Goldilocks View of Rigor
Complex Curriculum Standards
Rigor in the Context of Democracy
Functional Fixedness and Knowledge Reproduction
So What? Understanding the Big Picture of Rigor
Ethical Considerations
Creative Compliance and Now What?
Leadership Take-Away: Rigor
CHAPTER 5. CASE STUDY 2: USING OR ABUSING STANDARDIZED TEST RESULTS?
Large-Scale Use
Three-Legged Stool of Validity
Standards of Testing
So What? Understanding the Big Picture of Assessment Use
Ethical Considerations
Creative Compliance: Now What?
Leadership Take-Away: Testing Use
CHAPTER 6. CASE STUDY 3: MERIT PAY
Money for Merit
Theoretical Frameworks for Merit Pay
Previous Experience With Merit Pay in Education
Profit Over People
So What? Understanding the Big Picture of Merit Pay
Ethical Considerations
Creative Compliance: Now What?
Leadership Take-Away: Merit Pay
Part III. Promising Practices
---
CHAPTER 7. CASE STUDY 4: RECESS OF THE MIND
Walking in Their Shoes
Options for Recess of the Mind
Move It!
Recess of the Mind at Work
S.W.A.G
Mindfulness in Nanuet
Well-Being in White Plains
Charting a Course in Pennsylvania
So What? Understanding the Big Picture of Recess of the Mind
Creative Compliance
Leadership Take-Away: Recess of the Mind
CHAPTER 8. CASE STUDY 5: PROBLEM- AND PROJECT-BASED LEARNING
Importance of Active Learning
So What? Understanding the Big Picture of PBL
Creative Compliance
Leadership Take-Away: PBL
CHAPTER 9. FINAL ISSUES
Spencer Returns
Top 10
Crack the Code and Act!
References
---
Index
---
Reviews
This is a carousel with review cards. Use the previous and next buttons to navigate.
In Cracking the Code of Education Reform Creative Compliance and Ethical Leadership Chris Tienken offers the reader an action plan for how to stay true to core values and ethics and still implement education reform on behalf of all students. Even in the era of "accountability" Tienken reminds us all that the student, not any test or reform is our "why" as educational leaders. Throughout the book, the "Try This" features offer in the moment professional learning opportunities. This is a must read for anyone interested in education!



Michael Lubelfeld, EdD, Author & Public School Superintendent
North Shore School District 112, Illinois